Will N.H. really benefit from major energy projects?
It's still unclear whether Northern Pass or Kinder Morgan pipeline will help ratepayers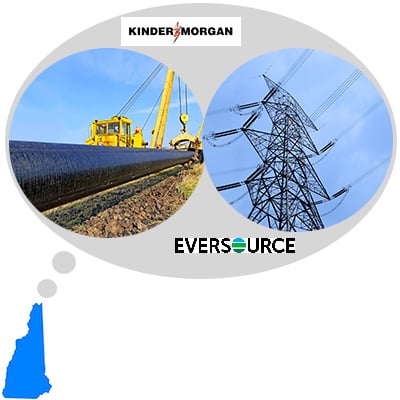 Nobody knows for sure how much New Hampshire ratepayers would benefit from the billions of dollars spent on two proposed energy projects crisscrossing portions of the Granite State, but early estimates indicate that it isn't very much.
One project, Eversource's Northern Pass electrical transmission line, would carry about 1,200 megawatts of Hydro-Quebec-generated electricity over 185 miles from northern New Hampshire to a substation in Deerfield, where it would enter the New England power grid. It would, according to a 2010 market impact analysis prepared for Northern Pass Transmission LLC by Boston-based Charles River Associates, save New Hampshire ratepayers $20 to $35 million a year.
Spread over 700,000 ratepayers, that comes out to a maximum of $50 a year, or $4.16 a month.
"It's in the right direction," said Martin Murray, spokesperson for Eversource NH (formerly Public Service of New Hampshire), who added that the utility will be redoing the five-year-old study and, given the volatile price of natural gas and electricity last winter, "I wouldn't be surprised that it would be more savings."
But this winter the spot market price for electricity was at near-record lows, so who knows?
Northern Pass officials have for years been trying to pin down Hydro-Quebec for a better discount for New Hampshire ratepayers, and Murray said he is "confident" that will happen. Hydro-Quebec, however, did not comment.
The second project is Kinder Morgan's proposed expansion of the Tennessee gas pipeline. The company doesn't provide an estimate of savings that would be created by its $4 billion project, which would snake 71 miles through portions of southern New Hampshire. The company only claims that there is a "potential" for savings.
But an official from the company points to two studies that project regional savings if a pipeline enabled New England to access gas produced in the Marcellus Shale fields. Neither study provides a state-by-state breakdown, but the regional savings are not projected to be much more than those seen in the Northern Pass study.
A 2012 report for Kinder Morgan said that the direct benefit would be $210 million to $310 million annually. Another, in 2013, pegs the benefits at anywhere from $118 million to $411 million.
Energy infrastructure
Critics of the projects, citing the difficulty of assessing volatile energy prices on either an annual or monthly basis, scoff at such long-term estimates. And in the case of the natural gas pipeline, they make the argument that if it results in large-scale exports of liquefied natural gas, it could actually push local energy prices higher.
But such doubts shouldn't stop officials from pushing forward on some solutions, emphasized Bob Scott, a commissioner at the N.H. Public Utilities Commission who advocates that the state do something to insure that more energy comes into the region, particularly in light of the $5 billion wallop that last winter cost ratepayers.
"We need energy infrastructure," he said. "These higher prices put us at a disadvantage with the rest of the country."
But David Moloney, a Hollis software architect who helped found nhpipelineawareness.org, one of the groups opposing the Kinder Morgan pipeline, sees it another way. "The argument is you simply add more capacity, the price goes down. It's a very simple idea for the public to wrap their heads around if they only have two or three minutes to think about this. But the issue is far more complicated than this dumbing-down, and the audience isn't that stupid."
Predicting prices
Nothing is simple when it comes to energy price prediction. Last winter, electricity prices skyrocketed because of a cold spell that put a strong demand on natural gas for heating, leaving little remaining for electricity generators. And since almost half of New England's electricity comes from natural gas, that pushed up prices on the spot market.
But this winter, after a mild December, has actually been two degrees colder. Yet the average hourly price for electricity is less than half of a year ago. This is due to a variety of reasons, most prominently the world price for liquefied natural gas.
That's why critics like the Conservation Law Foundation dismiss Eversource's claim that the project would save ratepayers any money at all.
"They have to run an hourly model for decades," said Christophe Courchesne, CLF's senior attorney. "It is hard to assume what the prices will be. It's really just a guess."
Murray said that the process of predicting prices is much more than a mere guess, noting that Charles River Associates is a highly respected global consulting firm. Besides, he said, "on a very simple level, you replace one source with a cheaper source, and there will be savings."
But what will be the cheaper source or sources in a decade? When ISO New England, which oversees the regional power grid, holds auctions for future capacity, it is for three years out. During last year's auction, generating capacity came up slightly short. This year, a surplus of 500 megawatts emerged at the auction held earlier in February.
Opponents say the results of this year's auction show there isn't such a need for these large projects subsidized by the ratepayers.
"The market signal that ISO sent worked as planned," Courchesne said.
But "the key is how much we are on the hook to pay," Murray said.
Peak debate
Aside from savings, the power Northern Pass provides during the winter will prevent the peak pricing that the overreliance on natural gas caused last year, Murray argued. "It will smooth out some of the high prices."
But Courchesne questioned whether it actually will.
Indeed, Courchesne noted that Hydro-Quebec actually cut back electricity during peak hours last winter, even though it's even colder in Quebec than New Hampshire. If it isn't operating at capacity on the existing line when it needs it most, why would it send more electricity on a bigger line?
"Yes we peak in the winter, but for a very limited time period of minutes," said Gary Sutherland, a spokesman for Hydro-Quebec.
According to Sutherland, Hydro-Quebec generated a lot of energy last winter – some 1,700 megawatt hours during on-peak periods. And even at the time of Quebec's highest peak demand this winter, 900 megawatts were delivered to New England, three times the amount it is required to do under the agreement, added Sutherland.
If the savings accrued through a high-power transmission line are difficult to quantify, the effects of a natural gas pipeline are even harder.
First, it is still unclear how big the pipeline will be, and who it will serve.
Kinder Morgan originally proposed a huge line, transporting from 1.2 to 2.2 billion cubic feet per day – much more than the region actually would need, according to most studies. It has since said that it only needs about 700 million cubic feet per day in order to press ahead. The company has already announced that it has about 500 million cubic feet per day under contract, but they are all with gas distribution companies like Liberty Utilities, whose sister company, Liberty Utilities (Pipeline & Transmission) Corp., is a wholly owned subsidiary of Algonquin Power & Utilities Corp. and Kinder Morgan Operating L.P. Algonquin also owns Liberty Utilities.
There will be a benefit, of course, for those users in the southwestern area of the state, who could now switch to using natural gas, which remains a cheaper heat source.
But there is already enough natural gas for existing residential heating customers. Indeed, the 2013 study conducted for Kinder Morgan by Black & Veatch estimated 95 percent of its anticipated savings would go to electric customers.
Even pipeline supporters admit that such savings won't materialize unless there are long-term contracts for it.
A gas pipeline "will help a little bit," said Scott. "It puts more availability on the secondary market. But it won't really solve the problem, unless it's subscribed to."
However, that would take a surcharge on everyone's electric bill on a regional level. For a while, officials from all the New England states were considering doing just that, but Massachusetts had second thoughts, and the idea has been put on hold.
One concern was how to assess the surcharge to each state. The second was whether ratepayers should pay for something whose benefits remain unclear.
"When they started talking about tariffs, that's when we started paying attention," said Peter Shattuck, director of the Clean Energy Initiative. "It's transferring the risk from private industry to the public side."
Scott has been a strong supporter of at least evaluating whether it makes economic sense to go ahead "with the best economic data we have at the time" but admitted that the "legal hurdles for something that is absolutely unprecedented will be litigated six ways to Sunday."
Contract mandate
With a federal tariff still up in the air, some states are considering a statewide subsidy from ratepayers.
Maine passed a law instructing its PUC to considering using ratepayer money to buy as much as 300 million cubic feet of capacity per day from the Kinder Morgan line. But Maine, like New Hampshire, only constitutes about 10 percent of the regional power grid, so it would be "unrealistic for either to go it alone," said Scott, although he added that New Hampshire should look into some type of coalition with other states.
"It's in the discussion stages," he said. "We are not ready to pull the trigger on that."
Another possible solution that Scott is pushing at the regional level is for ISO-NE to mandate that generators purchase a portion of their electricity on a contract basis.
ISO already has a pay-for-performance program that rewards generators that are able to provide power during peak periods. But pay-for-performance – which is not yet in effect – mainly encourages generators to put in place some backup fuel, usually oil, rather than to buy pipeline capacity.
Besides, generators like short-term contracts because even with the volatility they tend to be cheaper overall.
LNG exports?
If there aren't any long-term electric contracts, where will the rest of the natural gas from a larger pipeline go?
One possibility – opponents think it is a probability – is liquefied natural gas exports.
Currently, LNG has been coming into the country, not out. Indeed, there are no Atlantic ports that can now export LNG.
But that is changing. There are four LNG export proposals in Atlantic Canada and one in northern Maine that "could find capacity on the (Northeast expansion) project useful," according to the Kinder Morgan website.
Indeed, Pieridae Energy mentioned the Kinder Morgan pipeline as a possible supplier for its proposed LNG terminal in Goldboro, Nova Scotia, causing pipeline opponents to file an objection to the plan.
(While the proposal mainly envisions most of the gas going to Canada, in 2013 Pieridae signed a $35 billion, 20-year deal with a German buyer to supply gas to Western Europe.)
In addition, "the focus now for several areas of the U.S. is shifting from imports to potential exports," according to the December regional outlook by the Natural Gas Association.
Kinder Morgan implies exports aren't its focus.
"First and foremost, the Northeast Energy Direct Project is for the benefit of citizens of the United States living in the Northeast and New England," said Kinder Morgan Spokesman Richard Wheatley.
But Moloney of nhpipelineawareness.org said such a claim is "just ludicrous."
The gas, he said, "is going to be available on the global market to the highest bidder, and since LNG prices are higher in Europe than in the U.S. that could drive up prices here."
Wheatley called that "pure speculation," but, while Kinder Morgan said it has signed no export contracts, he declined to comment on whether the company was trying to negotiate one. And he noted that under federal regulations, the company "cannot discriminate among customers based on the ultimate destination or use of the gas, such as the Northeast vs. Canada or another foreign country (via export of LNG)."
Still, Wheatley said, "Canadian and Maine LNG (export) proposals are just that at this time – proposals. Do we know what LNG exports from Atlantic Canada, if in fact they ever happen, will do to natural gas prices? The answer is no; therefore, we can't speculate. "
Interestingly, critics use the same word in their opposition to either the Kinder Morgan or Northern Pass proposals when the claim is made either will lead to lower prices.
"All this is highly speculative," said the CLF's Courchesne about Northern Pass' ability to lower prices during the winter.
And Moloney said that "speculation" about the rising price of natural gas "has been their political justification" to build the pipeline.
When it comes to speculation, maybe both sides are right.