When the chip comes in
New credit card technology on its way to NH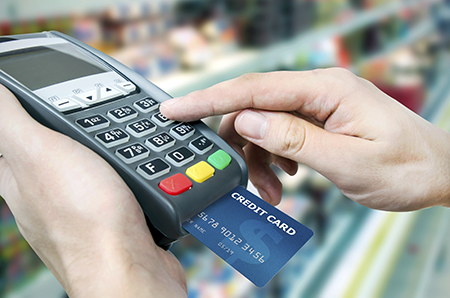 You may be unaware that this year or next you will be receiving new debit and credit cards in the mail, and they will change the way you pay for things.
Instead of swiping, as customers have done for the past 40 years, you will be dipping, or inserting, a card into a payment device, leaving it there throughout the transaction and then removing it.
Welcome to EMV (Europay, MasterCard, Visa) chip card technology. Europe has been using it since the 1990s; Canada adopted it in the mid-2000s. The little chip on the new cards is harder for thieves to copy than the magnetic stripe, and will reduce in-person fraudulent charges. (EMV will have no effect on online fraud, which actually might see an increase as thieves look for opportunities elsewhere.)
The process may sound simple enough, but teaching the public how to use the card will require some education from banks and in-person help from retailers. ​
"There is going to be confusion," said Shirley Matthew, former head of chip platforms for Visa Canada, speaking during an American Banker webinar in April. Matthew helped with Canada's transition to EMV.
Just how foreign could the concept of chip cards be? Some customers thought the chip was a sticker and tried to peel it off, said Matthew.
The whole transaction process has changed. Customers will be searching on different terminals for the different spots where the card can be inserted. And some customers will walk out of the store and leave their card in the machine.
"They get into a routine with their POS [point of sale], but different POS devices gave you different prompts, asked you to confirm different things. So what we had to teach the cardholders was just follow the prompts," said Matthew.
Education efforts
The transition is going to require a big PR educational campaign on the part of banks, which Matthew recommended should create videos about using the card, with arrows pointing to the chip.
Bank of New Hampshire will be starting education efforts in the late summer and early fall, ahead of its card reissuance, which will likely occur in the first quarter of 2016, said Eric Carter, senior vice president of electronic banking.
Education efforts will be starting early because customers will be hearing about chip technology ahead of an October deadline for retailers to install terminals, or else be liable for fraudulent transactions.
But Bank of New Hampshire, like many New Hampshire banks, is still considering its options, which include whether to require customers to enter a PIN or signature for each transaction, or add another method altogether, called contactless payment.
A MasterCard issuer, Bank of New Hampshire already has contactless debit cards that can be tapped on a terminal with the PayPass symbol, seen at participating merchants like McDonald's and Cumberland Farms.
"It's been tough because a lot of the merchants don't yet have the contactless technology," said Carter. "What we've been waiting for is EMV. With the impending liability shift, merchants will be
upgrading terminals to support EMV. These newer terminals will also support contactless payments so merchant acceptance is expected to increase."
With the popularity of Apple Pay and mobile wallets, contactless may be the wave of the future. A tap is quicker than an EMV transaction, and where a contactless generates a new CVV code for each transaction, called tokenization, these transactions are safer, said Carter.
But it's more expensive to issue cards that include both the chip and contactless technology, so Bank of New Hampshire will have to make a decision soon, Carter said.
Multiple options
A traditional debit or credit card costs about 75 cents, but EMV cards alone will be over $2, he said. Bank of New Hampshire has been paying more all along for its contactless cards, but Carter said the increased cost may be tough for smaller institutions that may not have as much to gain.
"The bank only benefits from a liability shift if that merchant, where the fraud happened, isn't accepting EMV," he says.
Then it's a question of requiring a four-digit PIN for each transaction or a signature. Most banks appear to be leaning toward chip and signature to minimize the impact to the customer, says Carter.
Cindy Hemeon-Plessner, senior vice president and marketing officer at Meredith Village Savings Bank, said her bank is early in its decision-making process, but she would be shocked if any bank in the state isn't actively looking at EMV and moving on it.
"There are multiple options, and we're weighing that as to what's best for our customers. But like any bank we're moving as quickly as we can," says Hemeon-Plessner.
"It sounds like nationally, and one could assume this would the case in New Hampshire, that about 50 percent of banks and retailers will be completely transitioned by October 2015," said Christiana Thornton, president of the New Hampshire Bankers Association.
"It's likely if you have an expiring card, you're more likely to have a replacement card issued to you by October," Thornton said. Or banks may prioritize cards with a high transaction volume.
In Canada, "what we saw, the devices came in first and the cards came out later," said Matthew. The devices started appearing in 2005, and cards were issued more aggressively in 2008, she said.
Cost-benefit analysis
Not every retailer will purchase a new device to accept EMV, so the magnetic stripe will remain for some time on cards.
Nancy Kyle, president of the New Hampshire Retail Association, said it will require a cost-benefit analysis by retailers, who will need to examine the potential for fraudulent charges based on items they sell and their resale value. If you sell TVs, there's a high chance someone will attempt to make a purchase with a fraudulent card, versus a candy store, for example.
"Of course, we urge our members to get the updated equipment; there's some increased liability if you don't have it, in terms of a chargeback," says Kyle.
Kyle said that, ironically, in looking into buying a device to thwart fraud, members have told her there are scammers posing as device salespeople.
"We have been talking to our members since before Thanksgiving because there were a lot of awful sleazy people out there saying they had to change before the end of the year" in 2014, she said.
Daniel Masera, owner and general manager of Plymouth Ski and Sports bought a few new terminals last year for "peace of mind." He had seen a few fraudulent charges in the past, though nothing big.
He took advantage of a deal through the National Sporting Goods Association, whose vendor sold him the terminals for $250-$300, about half the price they are now, he said.
He complained about banks not requiring a PIN, which is an extra tool to thwart fraud.
"This is better than what we have, the magnetic stripe, there is no question about it, but they don't go all the way. They went halfway with the system, that's my opinion," he said.
Carter from the Bank of New Hampshire responded, "From a retailer standpoint, they pay more per transaction for signature transactions than PIN transactions. I honestly haven't heard the argument (from a bank's standpoint) for chip and signature as income-related. It's been all about the customer experience."