What's the deal with Texas Hold'em tournaments?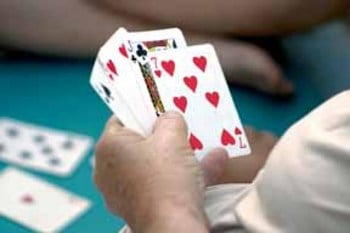 It's a hot and sticky Monday afternoon in June, but some 40 card players are involved in games of Texas Hold'em, spread among six tables in the air-conditioned Manchester Bingo Center.
The action is slow at 2 p.m., but the hall will fill up as the day goes on. Sometimes poker tournaments like these draw hundreds of players who often play past midnight with thousands of dollars at stake.
In this afternoon mini-tournament, William McTighe tosses his $25 at the dealer to get into the game. McTighe, a self-described professional gambler, surveys the scene with a can of Red Bull at hand.
McTighe is from Rhode Island, visiting a card buddy who is trapped in New Hampshire because he's on probation on a marijuana rap. McTighe plays at Foxwoods and Atlantic City, and he was pleasantly surprised to see the same kind of poker games – albeit on a much smaller scale – right here in the Granite State.
"I thought stuff like this is illegal," he said. "I guess that it's for charity makes it all right."
Poker, casinos, Monte Carlo – it all isn't just legal in New Hampshire. They're the most loosely regulated form of gambling in the state, part of an industry that's growing so fast it has caught the attention of some lawmakers.
Seven years ago, charitable games of chance (excluding bingo and Lucky Seven) brought in less than $150,000. Last year, gamblers plopped down $2.5 million, and this year the games are on pace to rake in $4.3 million, according to data supplied by the Charitable Trust Division of the New Hampshire Attorney General's office.
There are now usually two or more charitable gaming events going on every day of the week in New Hampshire.
This has resulted in the rapid expansion of businesses that organize the games, from paid solicitors like New England Fundraising Co. Inc., which runs five games a week in Nashua, to rental companies like Casino Game Rental, which went from two days a week to daily games at Manchester and Concord bingo halls, to the Funspot entertainment arcade in Laconia and Hinsdale Greyhound Park.
The Clubhouse Card Room, which opened June 15 at Hinsdale, attracted more than 80 people its first day, mostly younger men who never before saw the inside of a race track. And they were not only buying food, but casting an occasional simulcast bet.
"This is ideal," said Hinsdale track owner Joe Sullivan of the lure of poker. "We hope for a lot of crossover. This is a new demographic."
Texas Hold'em, as anyone with a TV set can tell by now, has taken on a life of its own and pushed aside casinos as the hot new gambler's choice.
While bets in regular games are limited by New Hampshire law to $2, the big money can be found in tournaments, for which a player must pay anywhere from $25 to $500 to buy into a game. In some multi-table tournaments, payouts can be as high as $30,000.
"Hold'em has taken such a hold in the area – it's just amazing," said Joseph Ross, owner of New England Fundraising, which has hosted more than 800 gaming events in the last six years, hauling in nearly $1 million.
Ill-equipped police
Charity is the reason New Hampshire allows this form of gambling. That's why it's legal to play bingo in a church, but illegal to bet on the Final Four in your office pool. In addition, the state gets a piece of the bingo action as it does when it comes to pari-mutuel racing and the state-sponsored lottery.
But poker – despite being one of the oldest games of chance in the nation – has caught on so quickly that the state has yet to figure out how to tax it or regulate it.
While the charities, and their paid fund-raisers, are required to file applications and expense reports for their gaming events with the state Charitable Trust Division, the actual license, and enforcement powers, comes from local police, who are ill-equipped to deal with the new phenomenon.
In fact, sometimes it's unclear whether the games are there for the charities or the charities are there for the games.
State law allows charities to hold 10 gaming events a year, so for Casino Games Rental to expand its offerings to four nights a week at Hinsdale the company has to dig up 26 charities a year to run the events. While Casino Games has lined up a number of charities it has worked with in the past, like the Monadnock Marauders Football Club, and has found others, such as Greyhound Placement Service (which Sullivan said has nothing to do with the Hinsdale track), it is clearly looking for more.
It's no doubt that charities are benefiting from the craze. They hauled in $622,450 in such gaming events last year, according to the Charitable Trust Division – about a quarter of the total revenue – for an average of $1,300 an event. On the other hand, that's a little more than the amount paid out in winnings, and slightly less than the amount paid out to vendors for rent, equipment and consulting fees.
How much charities benefit varies greatly. For one, charities seem to do better without the paid fund-raisers, raising an average of $1,700 per event – more than a third of the revenue – as opposed to $526 per event with fund-raisers, less than a tenth of the revenue.
Some charities, like On the Road to Recovery, clean up, making on average more than $5,460, while others, like the Humane Society of New England, only come away averaging $37.85 per event.
Professional fund-raisers do make life easier for these volunteer organizations, both in promoting the event and setting it up. And those charities that try to hold a gambling event on their own always have the "chance of losing your shirt. We guarantee that they'll get something," said Ross, whose business paid out slightly more than 7.3 percent of revenue to the charities last year.
Tri-State Gaming Consultants, which runs games four nights a week at Amoskeag Bingo Center and the Empire Lounge in Manchester, has hosted some tournaments with a $350 buy-in. They have paid out some 14 percent of revenues to charities.
"Everything we do is to benefit the charities. This is more than a business. It's a positive thing we do to help non-profit organizations," said Ken Donoghue.
Blurry line
Under state law the charities themselves are supposed to be running the gambling events. The games must be staffed by volunteers who can only be reimbursed $8 a day for their services. But in reality – according to both dealers and industry insiders – at least some of the dealers are paid.
One dealer told the Business Review that he makes $10 an hour in salary and more than that in tips, raking in $300 for a 12-hour day. And he says he often makes more than that when he plays, which is whenever he isn't dealing.
"Beats what I pulled in at Sears," he said.
Another promoter confided that he does pay his dealers, adding that volunteers are "really not capable of dealing this game."
Things get even murkier when dealing with promoters like Casino Game Rental.
Because the Laconia LLC is "strictly a rental" company, it does not have to file with the Charitable Trust Division as a paid fund-raiser.
"We supply the equipment, we set the hall up, we train and coach the dealers, we set up the rules," said Arthur Phillips, Casino Game Rental's president.
Its Web site states that Phillips and his partner, Pete J. Dupont, have been "running charity poker tournaments around the state for a number of years as Casino Game Rental."
Phillips, however, maintains that the company does not run the games because they charge a flat rate and "we don't do the marketing, and we don't handle the money."
Though Phillips and Dupont are usually at the games, a volunteer with the charitable organization is actually assigning players to their tables.
On one June afternoon, the volunteer is Terrie Anderson from Girls on the Run, an organization that helps young female athletes. Anderson, who said she will be staffing the games until late into the night, said she doesn't know much about poker, or about Girls on the Run.
"I volunteer for lots of organizations," she said.
Indeed she does. She is listed as a bona fide volunteer for charitable gambling events for the American Classic Arcade Museum and the Miss Winnipesaukee Scholarship — two Funspot events that also contract with Casino Game Rental. Phillips insists that neither Anderson nor his dealers are paid for their time, though he does acknowledge that the dealers might get tips.
Sometimes the line between charity and vendor gets blurry. For instance, former state Rep. David Lawton signed the application as treasurer of Lake Winnipesaukee Historical Society for an event at Funspot, where he works as marketing director. The two groups are listed as affiliates on their Web sites.
The historical society paid an average of $2,688 in rent for each of its 10 events there – the same amount the charity received, and the second-largest average amount for rent of any charitable event. The largest ($2,791) was paid by American Classic Arcade Museum. That amount raised the eyebrows of the Charitable Trust Division, which noted that Funspot got more than the charity.
"Please provide a copy of the contract with Funspot, together with a list of exactly what Funspot does in return for this rent," wrote Audrey M. Blodgett, a paralegal in the division.
The charity wrote back that it was supposed to receive the same amount that it paid in rent, and had received a payment that straightened the matter out.
Lawton said that there is no conflict of interest between his two roles. Neither Funspot nor the historical society received special treatment, and the money was used to build the society's new museum.
"The rent wasn't excessive. It was a great deal for us," said Lawton, speaking for the historical society and not Funspot.