Wanted: social entrepreneurs up to the challenge
Gary Hirshberg to speak at kickoff of second UNH Social Venture Innovation Challenge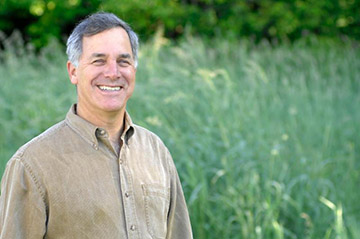 Have a business idea that you think could change the world, or at least New Hampshire, for the better? The University of New Hampshire wants to hear about it, and if it's good enough, you just might take home a cash prize to help fund the proposal.
Organized and hosted at UNH by the Peter T. Paul College of Business & Economics, the Carsey School of Public Policy, the Sustainability Institute, NH EPSCoR, and Net Impact UNH, the second annual Social Venture Innovation Challenge asks participants to identify a social or environmental issue – whether at the state, national or global level – and develop a business-oriented approach to solving the problem.
As a social business, it should aim to fund its operations and growth through earned revenues rather than donations, and have an objective that is primarily social, not financial. Submissions are welcomed from individuals or teams.
Deadline is Thursday, Oct. 30, to file an intent to compete in the challenge.
The Social Venture Challenge has two tracks: one for current New Hampshire college or university students, and one for New Hampshire residents who are, or aspire to be, social entrepreneurs.
For the Oct. 30 deadline, participants don't need to submit detailed business plans, but rather proposals in the form of a three-minute video and a two-page paper.
Entrants should either be starting up a new enterprise or growing an existing social business, but submissions from existing businesses should either be in their early, formative stages, or should represent a new entrepreneurial initiative for the established business.
Cash prizes for the community track are made possible in part by the New Hampshire Charitable Foundation and are intended to provide investment to a social venture to help fund its establishment and/or growth. First prize is $10,000; second, $5,000; third, $2,500. Cash prizes for the student track are provided by Timberland: first prize is $5,000; second, $3,000; third, $1,500.
In addition, the winner of the community track will receive 100 hours of consulting from Pixel Media of Portsmouth and the AlphaLoft business incubator will provide it with six months of its Flex membership.
To launch the challenge, Gary Hirshberg, co-founder and chairman of Stonyfield Farm, will speak at a kickoff event, "Pathway to the Challenge," on Tuesday, Oct. 28 at UNH.
Hirshberg will discuss the lessons he learned from building the world's leading organic yogurt producer, as well as his work with "Just Label It, We Have the Right to Know," the national campaign to label genetically engineered foods.
The event will also feature a "Fireside Chat" between Hirshberg Gary and Sally Sampson, founder and president of ChopChop Kids: The Cooking Magazine for Families, a nonprofit social venture, and In the Hot Seat with Gary Hirshberg," with the entrepreneur provide feedback to those who plan to enter the 2014 challenge.
Pathway to the Challenge will be held from 5 to 8 p.m. Tuesday, Oct. 28, at Paul College, Room G45, 10 Garrison Ave., Durham.
For more information, visit unh.edu.