Volunteers tackle repairs at Monadnock State Park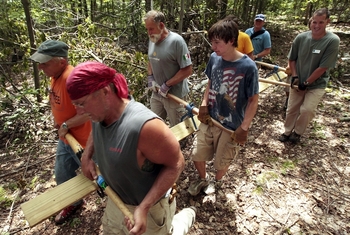 JAFFREY – When Dave Anderson saw the masses of downed trees and branches on the side of the road as he entered Monadnock State Park, he thought someone must have been cutting trees illegally.
However, before he reached the parking lot, he realized that the woodland carnage was caused by December's devastating ice storm."You see photos and you read about it, but when you see it in person it's like, 'Wow, this place really got hammered,' " he said.
Though the ice storm that left thousands without power for weeks is a distant memory, its effect can still be seen eight months later on the trails of one of the world's most climbed mountains: Mount Monadnock.
Every year, the Society for the Protection of New Hampshire Forests, of which Anderson is the director of education and volunteer services, organizes Monadnock Trail Week in an effort to clear downed branches from the trails on the mountain. This year, because of the damage caused by the ice storm, those efforts had to be intensified. Professional loggers had to be brought in to cut up some of the fallen trees so volunteers could then move them from the path.
Though the hiking trails had been cleared by the Monadnock State Park employees, cross-country ski trails had been untouched before Trail Week started on July 11.
Most years, it only takes the first day of Trails Week to clear fallen brush before maintenance projects, like the construction of drainage channels, can begin. This year, it took three full days and part of a fourth for the group to get the trails cleared.
About 20 Society members and volunteers showed up, enough to be broken into two groups.
Volunteers Alan Gross, of Swanzey, and his son John helped clear the fallen wood from the trails on Saturday and Sunday and then came back Tuesday to help build two foot-bridges over small ravines along one of the trails.
They had to carry six 6-by-6 pressure-treated wooden beams – with lengths of 12 and 16 feet – about a mile over the rocky, uneven trail with before construction could start.
Matthew Badten, 18, was there volunteering with another member of his Keene-based youth group. When Badten volunteered, shuttling cumbersome beams along a narrow path was not what he had in mind, he said.
"The joke's on me. 'You'll be clearing brush,' they said. . . . But it's all good," he said.
Gross was admittedly excited about the prospect of constructing a bridge and said he jumped at the chance to help because his family uses trails like these all the time.
"I love hiking and backpacking, and we do an enormous amount of it," he said. "So it's kind of like paying your dues."
"We live in a state that doesn't pay much attention to things like this. If you don't pitch in, it's not going to get done," he said.
The work started Tuesday at 9:30 a.m. when the group split into two teams and headed in different directions to get to work.
One team went to build two footbridges on a cross-country trail that connects to the Hinkley Trail, while the other headed for Gilson Pond to finish brush cleanup and build a footbridge.
Jack Savage, vice president of communications/outreach for the Society, was among those who headed for Hinkley Trail.
"We have enough people to run two crews on two different places, so we're real pleased with how's it going," he said.
Just because Trail Week ended Wednesday doesn't mean the work is over, however, Savage said.
"There's still a ton of work," he said. "This is one week, so we kind of focus on this, but I guess the one point I would make is that there's always work to be done."