Video on demand
Hudson company's engineering skills give broadcasters an edge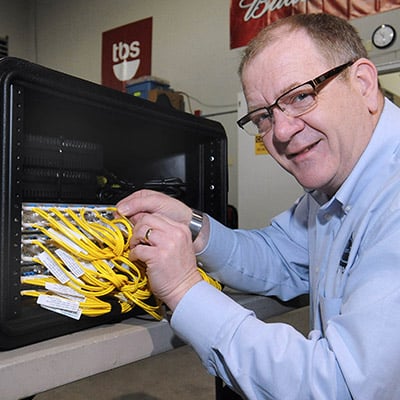 Just some of the 17,000 cables that Icon Broadcast installed in this mobile production unit.
From the perspective of WWE fans, the moment the wrestling network converted from standard-definition television to high-definition in 2008 was as easy as flicking a switch. That was the final step, but as Ian Bowker, president and founder of Hudson-based Icon Broadcast, explains, there's more behind what meets the eye.
"It took 18 months of preparation," says Bowker, who was consulted to design, build and train the people to run the system out of WWE's studio in Stanford, Conn. Since then, Bowker has worked with the network on an HD shared editing project, allowing WWE to edit its live broadcasts to fit the cultures and regulations of its 46 markets.
"For example," explains Bowker, "in Germany, you're not allowed to show blood at a live sporting event. In Saudi Arabia you're not allowed to show bare skin on a woman. So what they do is take their live program and, before it goes to a live venue, they'll shoot dark matches, and these matches are not shown on the TV as a live event, but they're recorded onto a hard disk. [Then] they're put into this shared editing pool and they'll recut or reedit the live event to be redistributed in other markets."
Bowker says for every match the WWE may do four dark matches and record them onto the video server to allow specific versions for each country.
"Within 48 hours of a live event in the U.S., WWE puts that back into its big video server in Stanford, Conn., and it's edited for all these different markets and then delivered either electronically or cut back to tape and issued to the country – and that's done for 46 countries," says Bowker.
Bowker's projects can be as small as connecting a half-dozen cables across a TV studio to building a production tractor-trailer used to broadcast major league sports events.
Olympics broadcast
His most recent project has Bowker managing the buildout of New England Cable News' studio in Newton, Mass., which will take about nine months, he says. NBC recently announced that NECN will replace Channel 7 News out of Boston at the end of the year.
Top: A production area under construction. Bottom: A completed production area. Bowker is currently managing the build out of NECN's studio in Newton, Mass., which will take about nine months.
"At the moment, NECN is a 24-hour news channel, so what you'll probably see is the news that goes out becomes the main Boston news for NBC," says Bowker.
He is also working on a project to help broadcast the 2016 Summer Olympics in Rio de Janeiro, Brazil back to the U.S.
"I'm building what they call flypacks, so when broadcasters go down to the Olympics, they typically take cases of the equipment that's pre-wired, and they just put big connectors between the cases to hook them up that will provide the signal to bring it back to the home country," explains Bowker.
Fifty pieces of equipment will be in the four flypacks, but it will take only a half-hour to connect them to each other and the cameras. It would take all week if they were wired on the spot, says Bowker. It's also not practical logistically to wire on the spot, since there are different venues so the broadcasters will move around nearly every week.
Game Creek relationship
Bowker has always worked in technical broadcast engineering positions, though in a variety of roles. Born in England, he started his career working for the U.K. government on aircraft flight trials.
"My role was more of doing these flight trials and filming them, and the more I got into that, from film it became video and then editing them, and I ended up leaving that role and running a film and TV unit for the police in the U.K., and then I left them and went to train at the BBC," he says.
Bowker left the BBC for private sector technical roles, which led to working on a three-year project for Avid Technology in Tewksbury, Mass., in the mid-90s. He returned to the U.S. shortly after with another company and ran a technical broadcast engineering team for a big broadcast company.
But in 2006, the company was bought out by Thomson Broadcast, a French conglomerate.
"I was laying people off every month," says Bowker, who called such a task demoralizing. That same year, Bowker resigned after being asked to head up another layoff. "I said, 'You can have my salary and distribute it among these guys.'"
That's when Bowker started Icon Broadcast in Hudson. WWE reached out to him, having known him from consulting them for several years. Shortly thereafter it built a mobile production unit for HD provider Game Creek Video – another Hudson-based company. Since then, Bowker has built all but two of the company's mobile units.
A full view of the trailer, which takes 10 weeks for Bowker's team of seven or eight people to install the wiring, followed by a three-week test cycle.
That's 46 trailers since 2006, plus 90 small news trucks in the past year alone.
Ebbs and flows
There are about 17,000 or 18,000 cables in each vehicle, and every cable is labeled, meaning there are 34,000 labels that have to be printed and attached to wires, says Bowker.
"It's a big jigsaw puzzle in making sure everything gets done and gets done quickly," he says.
A large trailer will take four months to be built in Ohio, during which Icon Broadcast's team will fly out to Ohio to inspect it. Then the vehicle comes to New Hampshire for a 10-week build cycle with seven to eight people working full time to install the wiring, followed by a three-week test cycle.
There are only a dozen or so companies like Icon Broadcast, says Bowker, who adds that networks like NBC stopped running their own trailers about 20 years ago and instead leased vehicles and engineers through middlemen like Game Creek Video.
Ian Bowker, president and founder of Icon Broadcast, inspects a video input bay of Game Creek Video's mobile production unit that Icon Broadcast built in 2012.
Bowker says the ebbs and flows of the business make it more practical to lease out the equipment and expertise, including smaller stations, like New York's public television channel, WNET.
"Although the TV industry as a whole is a roller coaster ride, what I found, certainly for me as a business owner, is year on year I've been doubling my numbers," says Bowker. "It's been a wild ride for the last 10 years. The volume of business that I'm doing is just incredible."
The industry has evolved as well during Bowker's career.
"When I started, it was all analog pictures and fuzzy pictures on home screens and now it's 4K and 8K ultra-high-definition and things like that – crystal-clear pictures," says Bowker. "But the big tech breakthrough that's starting to occur in our industry is video over IP, so using a network connection like you would do in your house but a wired network connection to send videos over with audio."
At the beginning of the year, Icon built the first IP truck in the country for Game Creek Video, which went to Fox Sports.
"This is a huge step forward in reducing the weight of the trailers, increasing the amount of pictures you can display – moving pictures around from the truck to a studio location, you can send it over a dedicated IP line. It just opens up a whole world in our industry," says Bowker. "We're able to be on the technological forefront, which is fun too."