Video gamers look to jump-start N.H. industry
Event links high-tech and gaming community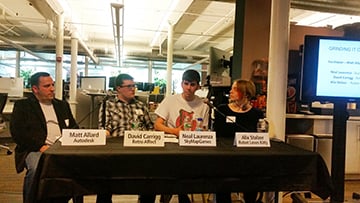 Where was the first video game console created? In New Hampshire, and that's where a group of millennials is looking to build an indie subset of the gaming industry.
On April 2, the New Hampshire High Tech Council held its first video game forum, connecting the professional high-tech community with the younger gaming community.
"We didn't know this culture existed until about a month ago," said Matt Cookson, executive director of the council. "It's building and we're happy to provide a venue."
That venue was tech giant Dyn's headquarters in Manchester.
Before a panel discussion, attendees gravitated toward a section set up with screens, consoles and seats to test a handful of locally made games firsthand.
At one of those tables was Bacon Man, a game created by Manchester-based Skymap Games. With his toaster gun in hand, Bacon Man aims to clear his name, after the Food Kings frame him for the murder of his grandfather, Old King Roast Beef.
As one attendee attempted to hop Bacon Man across a river of lava, he hit an invisible wall that would not let him go further, a coding error. Chelsea Stearns, who handles marketing for Skymap Games, had noticed the glitch and told the user to jump into the lava to continue on.
"It's a great testing experience," said Stearns. She said they've learned a lot by testing out the game at various events, including where to fix glitches such as this one.
Neil Laurenza, CEO of Skymap Games, said the company is preparing to launch Bacon Man on Steam (a digital game store for Windows and Mac computers) in October, ahead of the holiday season. The game will cost $20 per download.
They've already started a following through social media, mailing lists, Kickstarter and the gaming press.
Global industry
After giving attendees time to fiddle with the games, a panel discussion started with Laurenza, David Carrigg, CEO of New Hampshire gaming studio Retro Affect, and Alix Stolzer, co-founder of Robot Loves Kitty, another local studio. The panel was moderated by Matt Allard, senior product manager at Autodesk.
Allard threw out some statistics to add some perspective about the industry.
First, the consumer market for video games is exploding.
Before age 21, the average person will play 10,000 hours of video games, according to Jane McGonigal, an internationally known designer of alternate reality games.
It's not just young people, because 29 percent of people over 50 also play video games, according to Entertainment Software Association. And the association found the 50+ group increased 32 percent from 2012 and 2013, mostly due to mobile gaming. Women account for almost half of all gamers.
By 2017, the global gaming industry will grow to $82 billion, according to market research firm DFC Intelligence.
And the tools to make video games are more accessible than ever.
Stolzer and her husband Calvin Goble worked on their game, "Legend of Dungeon," a rogue beat-'em-up-game, in a treehouse in Vermont, after moving from upstate New York. They powered their computers with solar panels and actually received decent Wi-Fi signals.
Through Kickstarter, they raised $75,000, not only used to continue their game, but also to add a virtual reality element. At Dyn, players tested out the special goggles that allowed him or her to lean in and look closer at the imaginative world.
"Because of the community we created, we were able to do things for the game we couldn't otherwise," said Stolzer.
Game incubator
While the Internet has opened a treasure chest of tools, free information and a way to connect with other independent gamers, all of the panelists said they preferred a physical community and work presence.
"Its lonely," said Laurenza.
Rather than working at home, talking to people over the Internet, he'd rather move to a common space. "That's a healthy way to make games," he said.
A common space is a goal Laurenza and Carrigg have been working toward, having formed Game Assembly, a tech incubator currently looking for more sponsors and office space in the Manchester area. With such a facility, they could offer internships through Southern New Hampshire University and New Hampshire Technical Institute, the two schools in New Hampshire with video game programs.
Game Assembly also formed an International Game Developers Association chapter that has grown from 25 to 100 attendees, said Laurenza.
A video game incubator and community would also be a way to keep game majors in the state, as well as entice Boston gamers to start their own ventures in New Hampshire, said Carrigg. Beside Boston, Montreal was noted as a gaming industry hotspot.
Carrigg returned to New Hampshire to form his own gaming studio, Retro Affect. He previously worked for a few years for a gaming company in Phoenix, Ariz.
While the group noted independent programmers could sell their games to giants like EA Games and Ubisoft, they lose their independence and creativity – the same reason some programmers leave those large companies.
"Out of the ashes of those studios you have these small companies popping up," with teams of five to 10 people, said Carrigg.
Many of Carrigg's friends left for Boston, but he thinks they might have stayed if there were a gaming community in New Hampshire. Stolzer said she and her husband had planned to head to Seattle until they met Carrigg. Now they're collaborating on a new game, Upsilon Circuit.
"The quality of game education is good [in New Hampshire]," said Carrigg. "I've seen what they do down in Boston, and I know we are very competitive up here."
Why should the gaming industry matter to New Hampshire?
Carrigg put it bluntly: "As you saw … it's a $67 billion business and New Hampshire has zero of it."