Video game incubator planned in Manchester
Game Assembly aims to stimulate the state's nascent industry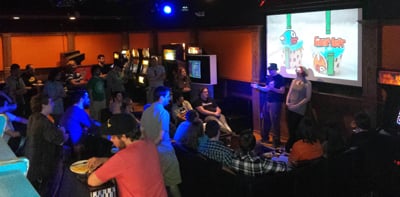 If all goes as planned, Alpha Loft won't be the only tech incubator in Manchester.
The wheels are turning for a new video game incubator that aims to appear in the Manchester Millyard before the end of the year. It's called Game Assembly.
Neal Laurenza, CEO of Skymap Games, and David Carrigg, co-founder of Retro Affect, have teamed up to form the incubator. They're currently seeking sponsorships for the space and spreading the word among the gaming community.
"We've been holding meetups in New Hampshire. We have an International Game Developers Association Chapter that [started early in the summer]," says Laurenza.
At the first meeting, about 25 people showed up, but attendance has been growing, with about 40 members as of last month, says Laurenza. The chapter meets once a month at Joker's Bistro in Manchester. (The next meeting is at 7 p.m., Tuesday, Oct. 7.)
Laurenza says he wants Game Assembly to be a nonprofit and incubator that educates the community about the game industry, entices more young people to pursue STEM careers and expands the gaming industry in the state.
"Games make more than movies and music right now, so it's a big market, and New Hampshire's had a hard time keeping developers in the area," says Laurenza.
Nevertheless, Laurenza thinks New Hampshire is the perfect place for the gaming industry.
"[For] game developers, especially indie developers, it's a great space because the cost of living isn't as high as somewhere like Boston. There is access to resources and, although the community is small, there are people who are making games who are great people to talk with."
Game Assembly would provide a co-working space for local game designers for a small monthly fee. Gamers would work alongside students, serve as mentors and talk at schools.
Ready to work
Laurenza envisions workshops with schools and connecting with the community, especially educating those who are simply interested in gaming and want to learn more.
To do that, Laurenza's been looking to work with colleges in the area. A Southern New Hampshire University alum, he says SNHU has expressed interest in supporting the incubator – the university offers an undergraduate degree in game design and development. New Hampshire Technical Institute in Concord is on board, says Laurenza. It put in an application for a U.S. Department of Labor grant, which Game Assembly will receive part of, if the grant is awarded.
"There are great reasons for universities and corporations to sponsor a space like this," argues Laurenza. "For a corporation, it may be they're looking for someone for contract work to build a game for a marketing tool, or for a company like SilverTech, they may be interested in hiring developers."
Laurenza says he has developers ready to go to work in the space, but "we need help with sponsorship to help us build the community. We can't hold these events, we can't get developers out of their houses, unless the cost is substantially lower … The sponsorship helps knock down the price per person."
Laurenza says he talked about a partnership with Alpha Loft, but his group of developers is large enough that it makes sense to get their own dedicated space for video games. He wants to make it a hub for video games specifically, not high-tech companies in general.
Today, the gaming industry is favoring smaller groups and contracting out work to individuals while large companies with 300-plus employees appear to be shutting down, says Laurenza. Inexpensive software is now available, too, that is specifically built to make games and aids the process. Skymap currently is just a team of four.
"We've done contracts with places as far as Germany. We do it basically over the Internet. The problem with that is you're not working alongside other developers; it's a lonely experience," which is why Laurenza is working on forming the incubator. "It's definitely a productivity increase to work alongside other co-workers."
Game Assembly would provide a hiring pool for New Hampshire employers as well. College graduates with experience at the incubator could pursue careers in gaming or marketing, as more companies seek new, interesting ways to attract the public's eye, he says.
"We care about the area, I graduated from SNHU, I love the people and a lot of students who are getting jobs in games are moving to Boston or going away," Laurenza says. "We're ready to make that a commitment to keep people here, and for some companies it's a lot of talk and no walk, so to speak, but SNHU seems pretty dedicated to helping us out with this … This is the time, here and now."