Utility-scale solar is key to New England's energy future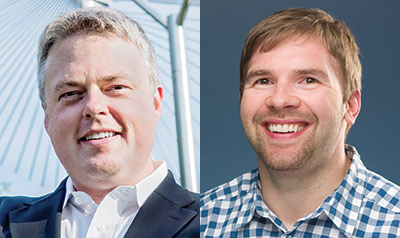 While the economic outlook in New Hampshire has been strong this year, with median household incomes up and unemployment down, there are challenges to continued growth.
Perhaps one of the biggest is the cost of energy in the Granite State. We reached out to Chris Stewart, co-founder of Manchester-based Granite Apollo, to learn about what those challenges are, what some of the solutions may be, and what New Hampshire businesses and consumers alike may see in the near future.
Founded by Chris Stewart and Jeremy Hitchcock in 2017, Granite Apollo is a development company focused on large-scale solar energy projects in New England. The company works closely with host communities, utilities, permitting agencies, landowners and residents to bring clean energy and new investment to ratepayers across the region.
Toward that end, Granite Apollo has begun to install one of the largest arrays in the state on the Auburn Road Landfill Superfund site in Londonderry. Granite Apollo signed a lease agreement with the town this spring to develop an up to 10MW solar project at the site.
The project, to be called "Superfund Solar," will generate some $6 million in tax and lease revenue for the town, said Town Manager Kevin Smith.
Click on image to enlarge plans for Auburn Road Landfill Superfund site
"The Superfund Solar Project will generate clean, renewable power at competitive prices to help Granite Staters save money on their power bills," said Chris Stewart, principal at Granite Apollo. "Well-sited utility scale solar is a key part of New England's energy future and we are excited to work with the town of Londonderry on this project."Granite Apollo will next negotiate an agreement with a buyer or buyers of the power to be generated.
Q. What are the energy challenges facing New Hampshire businesses?
Stewart: "Simple — our energy costs are too high. New England ratepayers pay too much for power and it has created a significant drag on our economy."
Q. Is there an increased acceptance of alternative energy sources?
Stewart: "Absolutely. We're seeing businesses, municipalities and states move toward adoption of renewable energy at an ever-increasing rate. Have you flown recently? Look out an airplane window as you cross the mid-Atlantic, as well as the Midwest and California, and you'll see thousands of wind turbines and solar fields. Despite some early struggles, we're now seeing solar projects find major success, bringing clean, reliable and competitively priced power to all parts of the country. We believe well-sited, utility-scale solar power is a key part of New England's energy future, too."
Q. What are some of the new technologies we'll see in the future?
Stewart: "Solar power will continue to become even more cost competitive. And while it's still a little ways down the road, a lot of people are excited about battery storage and the many possibilities it offers by increasing the efficiency of generation projects while also allowing for better grid management."
Q. How does the business consumer know what a good deal is — is it just price?
Stewart: "The most important piece is price, but it's not the only piece. We're also finding that businesses like the price stability that comes with having a long-term solar power purchase agreement (PPA). Consumers also support clean solar power for other reasons. Frito-Lay, for instance, has been really successful with their SunChips — their take on 'chips made from the sun.' They and other environmentally conscious and socially responsible companies have benefited from this type of advertising for years."
Q. Which upcoming energy projects are you most excited about?
Stewart: "We're really excited about Superfund Solar — our 10MW AC solar project recently announced in Londonderry on the Auburn Road Superfund site. Superfund Solar will generate clean, renewable power at a competitive price that will help Granite Staters save money on their power bills. We're thrilled to work with the town of Londonderry to help bring clean energy and new investment to the area."