UNH dean shares personal experience of launching research-based startup
New York-based ChromaNanoTech founded from joint university-industry partnership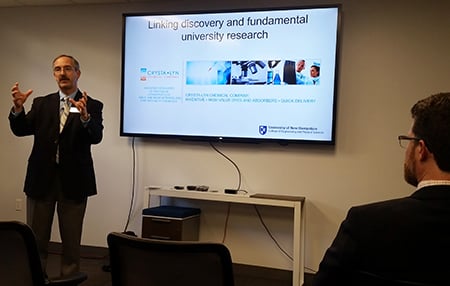 Dr. Wayne Jones Jr., the new dean of the University of New Hampshire's College of Engineering and Physical Sciences, was at the center of a Sept. 28 UNH Innovation Wildcatalyst Seminar focused on launching research-based startups.
In 2014, Jones and his partner, Dr. William Bernier, founded their startup ChromaNanoTech from a joint university-industry research project out of the Binghamton University in New York with Crysta-Lyn Chemical Company.
Crysta-Lyn had approached Binghamton, requesting assistance to make dyes used in its chemical products withstand 130 degrees Celsius. At that time, dyes were boiling away at 100 degrees Celsius. However, the joint project surpassed expectations, achieving 300 degrees Celsius.
Realizing the potential of the product, the group filed for a patent before publishing a research paper, a move Bernier recommended, to get the ball rolling on the long patent process. (Four years later, ChromaNanoTech's patent is still pending.)
Jones and Bernier also explained navigating the bureaucracy of the University System of New York and its intellectual property policy, which caused 19 months of delays, but eventually led to a startup formed with joint ownership with Binghamton and Crysta-Lyn.
"I never spent more than 6 months working in industry on any licensing deal ever," said Bernier, who explained part of the issue was Binghamton had little experience with intellectual property agreements at that time.
That is not the case with the University of New Hampshire, which is well versed in intellectual property, noted Jones.
To become acquainted with how to run a startup, Bernier and Jones participated in a pre-seed workshop offered in New York, where they learned they needed two kinds of lawyers, a commercial and IP lawyer.
They then took participated in NEXUS-NY, a clean energy seed accelerator that helps businesses assess the business environment, perform customer validation (which is "the most important thing you can do," said Bernier) and develop a minimally viable prototype.
A slide from the presentation illustrates how ChromaNanoTech
'
s technology allows light but not heat through a window pane.
After cold calling 100 potential customers over two months, ChromaNanoTech decided to pursue selling its nanomaterial as an additive to film applied to a window that allows light in but not heat and is cheaper to produce than its potential competitors. The market is $10 billion a year, said Bernier.
ChromaNanoTech, which is housed in New York, has received $690,000 in state and federal grant dollars, starting with an SBIR grant awarded from the National Science Foundation and including grants from the New York State Energy Research and Development Authority.
"So far we have actually funded our entire company largely through grants," said Bernier. "We had significant sales last year and we'll be multiplying that this year so next year we'll really be taking off."
Today, the startup is focused on scaling up its batch, from 100 grams a week to 1 kilogram.
But also noted was the START-UP NY program, which promises a 10-year exemption of property, sales, and state income taxes for businesses located in designated startup zones. The program has been praised by venture capitalist TK Kuegler, founder of Wasabi Ventures and Launch Angels, who has vocalized his wish that New Hampshire could provide similar incentives.
A program New Hampshire does provide is the New Hampshire Innovation Research Center grants, which enable companies to partner with a college or university on a particular industry problem. New Hampshire's NHIRC budget, once $500,000 annually in 2008, is now down to $275,000 and funds about eight industry-university research projects per year.
"I think it's great New Hampshire has the NHIRC program," said Jones, when asked by NH Business Review to comment on the difference between New York's programs and New Hampshire's lone program.
"To be honest, the only challenge I would like to see in the NHIRC program is more of it. We have more companies in New Hampshire that would love to partner with the university, this just draws them in," said Jones. "The key is to take the applied problem that will create a product and couple it with the fundamental understanding that will make that product better."
Jones said ChromaNanoTech would still have been successful without New York state support if it had the avenue to put all stakeholders in the same room and the tech transfer capability to negotiate the licenses, as well as federal programs such as SBIR.
"[UNH is] much further along than Binghamton was when we started the process, that's for sure," said Jones of the university's tech transfer capability and intellectual property agreements.
"I would like to see New Hampshire help promote UNH and that same business culture and manufacturing culture to states in the region and to companies beyond that," said Jones. "We have incentives like [having] no income tax, the low cost of living in a beautiful area, these are attractive for workforce. If we can show them we have the workforce and we have the technology and we have the ability to link the university and the industry together, I think we'll draw more people to New Hampshire."