Under-the-radar bills OKd at end of N.H. legislative session
Service dogs, sewer lines and farm stands are among the subjects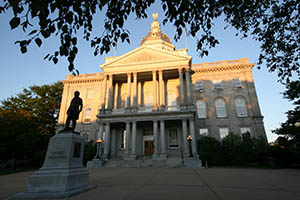 Thanks to the recently concluded New Hampshire legislative session:
• It will now be unlawful to dress up your pet as a fake service dog.
• There is a new way for communities to finance municipal sewer lines.
• A farm stand can be twice as large and not be subject to inspection.
They were among the bills passed in the last session that were under the radar of most observers, but they are of interest to particular New Hampshire businesses.
It turns out the New Hampshire Lodging and Restaurant Association came out in favor of House Bill 1568, which outlaws the impersonation of a service dog.
Seems like it was becoming increasingly common for pet owners to disguise their dog or simply insist that they need the animal because of a nonexistent disability. But the dogs weren't trained like a service dog and could disrupt the servicing of patrons, and sometimes try to play with, or even attack, real service dogs.
"We were getting lots of calls about this," said Henry Veilleux, a lobbyist with the association.
Senate Bill 223, which has the innocuous title "authorizing municipalities to enter into contracts for the private funding and repayment of construction of sewer systems," actually could have some far-reaching consequences. The bill allows a large business – like Walmart – to pay for a sewer line and then get paid back through the municipality if others wind up using that line.
In this case, Walmart is more than a hypothetical example. The retail giant wants to build a connection to a sewer line on the other side of I-93 along Route 3A in Hooksett. That will not only help Walmart, but the whole area which – without such a line – does not have the septic capacity to support more development, according to Will Stewart, president of the Greater Manchester Chamber of Commerce.
"That's why there are only fast-food restaurants off Exit 10," he said.
But this method – letting the municipality accept a developer's "zero-interest loans" in Stewart's words – could be used with Internet lines, rail and "who knows what else."
HB 1138 seems like a bill to help protect local farmers from overzealous regulations. It doubles the maximum annual gross sales for homestead food operations that are exempt from licensure to $20,000. And there is another bill, HB 508, that would allow local farmers to sell 1,000 chickens or rabbits annually to local restaurants without being inspected, as long this is disclosed to diners.
While the latter bill had the support of the state Lodging and Restaurant Association, both are of concern to the New Hampshire Retail Grocers Association. It's not that larger farm stands will offer competition without the burden of regulation that smaller grocery stores face, "it's more about the safety concerns," said John Dumais, president of the association.
Here are a few other bills you might have missed:
• HB 1558, dealing with motor vehicle title fraud, was an important bill to the New Hampshire Automobile Dealers Association because criminal rings are using "straw buyers" to register in New Hampshire and then export the cars out of the country.
"Manufacturers prohibit such sales and will punish dealers with huge chargebacks, lost incentives and lost inventory," said Peter McNamara, president of the NHADA.
• SB 305, with the humdrum title "relative to licensure of motor vehicle dealers dealer registrations, and vehicle inspections," includes a provision that allows dealer plates on tractor/trailers, allowing a driver can test-drive a truck without getting a ticket.
• HB 1210 is entitled "correcting certain references to divisions of the department of revenue administration and legalizing a Hanover school district bond warrant article and relative to notice of changes to zoning districts."
That last phrase in the title was important to the New Hampshire Association of Realtors because it requires municipalities to inform nearby homeowners about important zoning changes that could affect the ability to sell their property.
"We would consider it a positive step forward in providing a check on municipalities passing increasingly restrictive zoning," said Bob Quinn, the NHAR's government affairs director.
• You might think SB 303 would be of particular interest to the high-tech industry. The bill gives both the states and injured parties the legal tools to go after patent "trolls" – those who file patents with the main purpose of suing businesses. But it was a top priority of the New Hampshire Bankers Association. Banks in some 20 states, including New Hampshire, were hit with a patent infringement suit concerning the technology used with their ATMs. Many settled to avoid the legal hassle. There was federal legislation on this, but the association heard that it would stall, and it did. "This gives business an opportunity to fight them in state court," said Tom Fahey, the association's spokesman.
• SB 351 is a fix for a recently passed law requiring that employers give notice on noncompete agreements when making an offer to a new employee, not when he or she shows up on the first day. It turns out the law's unintended consequences was a big deal to some large firms in the Nashua area, like Fidelity Investments, prompting interest in a change by the Greater Nashua Chamber of Commerce. What happens when a company hires someone who didn't need a noncompete clause when hired, but is promoted to a position where he or she does? It is too late to give notice before the hiring. The law fixes that, as well making it clear you don't need a new noncompete agreement every time someone changes positions in the company.