UAV America drones to incorporate sense and avoid system technology
Partnering with AerialGuard, the Nottingham-based manufacturer will integrate first-of-its-kind technology in commercial and industrial space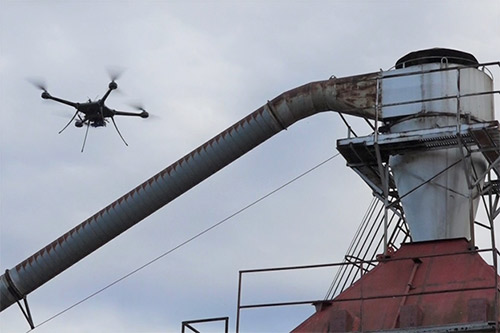 UAV America, a Nottingham-based manufacturer of drones for commercial and industrial use, is currently testing sense and avoid system technology, expected to be available on its Eagle XF quadcopter before the end of the year.
UAV America has teamed up with Tel Aviv-based advanced autonomous navigation software provider AerialGuard to design and deploy a robust navigation system using embedded video processing and computer platform Nvidia Jetson TX1 combined with vision, acoustic and laser sensors.
The fully integrated system will benefit current workflow by increasing productivity and efficiency of operations. Among the advance capabilities are: userconfigured guardian mode, distance to target read-out, emergency return to land, integrated with obstacle avoidance, precise altitude hold, first person view, and full autonomous mission navigation capable of maneuvering around obstacles and obstructions.
"We wanted to create a platform to allow our customers to conduct inspections much more safely and to get better resolution and photographs of the structures they were trying to inspect, whether it's cell towers or the electrical grid or bridges," said Jim Cooper, president of UAV America.
UAV America's customers often use drones for mapping and surveying, but conducting inspections, particularly examining aging infrastructure and the electrical grid, is creating growing demand for drone usage, said Cooper.
And this type of examination – looking for corrosion on bolts or reading a serial number on an insulator on the electrical grid – can be difficult with existing zoom lenses that may not produce a crisp picture due to the distance necessary to prevent the drone from crashing into an object.
UAV America and AerialGuard are currently testing the system to determine recommendations for how close an Eagle XF quadcopter could approach an object, though it will likely allow for at least another 10 feet, said Cooper.
The sense and avoid system involves a stereo camera on the front that seeks out objects, an acoustic sensor on top to sense objects overhead and a laser sensor on the bottom to more accurately measure altitude. If the system detects an object nearby, the drone will stop, hovering in the air.
Before the end of the year, UAV America will be releasing another layer of programming that will interpret a new path in real-time when in auto mission mode.
"By providing a system like this we should have the safest multi-rotor today in the industrial and commercial world," said Cooper. "Primarily these systems are being used with the hobby drones with less sophisticated sensors."
The sophisticated system will be available as an option on all Eagle platforms later this year.