Two N.H.-to-Boston transmission projects vying for ISO New England OK
Approval is expected this year for one of the competing plans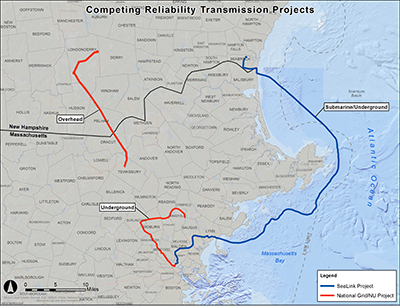 By the end of the year, ISO New England – the overseer of the New England energy market – will select one of two proposed projects aimed at boosting the reliability of the region's electric grid from southern New Hampshire to Boston's surrounding suburbs in Massachusetts.
Either project is expected to break ground in 2016 and begin operating in 2018.
The two proposals address a grid problem entirely separate from the controversial Northern Pass project proposal, which would bring in Canadian hydropower to New England.
One plan, from National Grid and Northeast Utilities – parent company of Public Service of New Hampshire – would add alternate current upgrades, constructing 25 miles of 345-kilovolt and 115-kilovolt overhead lines in existing power line areas. The new lines would connect a substation in Londonderry, N.H., to Tewksbury, Mass. National Grid would also build an underground line from Wakefield, Mass. to Everett, Mass.
The second plan, called SeaLink, and proposed by New Hampshire Transmission – a subsidiary of NextEra Energy, owner of the Seabrook nuclear power plant – would build a high-voltage direct current line originating at its transmission substation in Seabrook, traveling under the ocean floor for 50 miles before surfacing to connect to the Mystic substation in Everett, Mass. Eighteen miles of the line on land would be buried four to six feet underground.
Since 2010, ISO New England has voiced reliability concerns, after conducting a study on the Greater Boston area. By 2013, as generators that included the Vermont Yankee nuclear plant announced plans to retire by the end of 2014, load forecasts increased and ISO updated its report to forecast a dire need for new connections.
Any transmission project that addresses reliability concerns is eligible for regional cost-sharing. That means ratepayers across New England will pay for either of the projects, once one is selected. Since New Hampshire represents 10 percent of the load in New England, it will likely cover 10 percent of the cost, says Northeast Utilities spokesperson Martin Murray.
ISO New England is focused on selecting the most cost-effective and reliable transmission solution, says spokesperson Marcia Blomberg. She says some of the development costs are already being recovered from ratepayers, while typically the projects are amortized over 20 or 30 years.
ISO New England has hired an independent consultant to review the estimated costs of the major proponents of each proposal in order to make an educated decision.
Before adding required transmission system upgrades that are common to both proposals, the Northeast Utilities-National Grid plan will cost an estimated $449.8 million, while New Hampshire Transmission's will cost an estimated $804 million. With the common $221 million transmission upgrades, the total runs $670.8 million for Northeast Utilities and National Grid's plan and $1.03 billion for New Hampshire Transmission's plan.
However, New Hampshire Transmission President Matt Valle says the SeaLink project is actually $350 million cheaper, since the NU plan would temporarily affect service when working on an existing right of way. That could automatically result in $160 million lost due to the interruption, says Valle.
Equally important to cost, how will either of the projects benefit New Hampshire?
Spokespersons for both plans point to cheaper electric bills for New England residents, as well as more taxes for towns where the new lines will be built.
Bill Manzi, town manager of Seabrook, says the SeaLink team has reached out and communicated to town officials "on multiple occasions," presenting in front of the board of selectmen and Seabrook's rail team.
The New Hampshire Transmission plan includes burial of part of its line under old railroad tracks and construction of a 2-1/2-mile bike trail above ground, which is beneficial for the town, says Manzi, considering most communities don't have the funds for that kind of community project.
"I think the devil is always in the details," Manzi acknowledges, "but the response up to this point has been good from the public. And they do appreciate the fact [New Hampshire Transmission has] been transparent and come forward well in advance in the project … From a regional perspective it meets some of the energy needs the region has and [provides] additional taxes for the town of Seabrook."
A 'geographic chokepoint'
Kevin Smith, town manager of Londonderry, also expects additional tax revenue from the project. He said PSNH has reached out and held a public hearing in front of the planning board on the matter.
He says town reaction for the most part has been pretty good.
"Some abutters to the land showed up and wanted to know what the impacts would be and what would be restored after the project was completed," says Smith.
The PSNH/Northeast Utilities line would also run through Hudson and National Grid's territory in Windham and Pelham.
Building further transmission lines would bring opportunity for wind and other renewable energy as well as other generators in New Hampshire, Maine and Vermont to send power to Massachusetts and Connecticut, says Valle. He calls the current state of the New Hampshire seacoast and Greater Boston area a "geographic chokepoint."
According to PSNH's Murray, "You wouldn't tap directly through the link in the middle, nor SeaLink's, but like a road system, there are connection points that all go to central hubs. This is a line that would connect some central hubs, but all for energy coming from various projects or geographical areas to ensure that energy can all move through the system reliably."
The projects would also generate jobs in the area, mostly temporary construction positions, but some permanent jobs in the energy sector.
New Hampshire Transmission has already bid out its work and selected vendors, though it will not publicly announce company names. Valle estimates at least 400 construction jobs would be created, though the undersea effort will require specialized workers. Northeast Utilities and PSNH have not yet calculated the jobs their project will create, but National Grid, which would construct a portion of the lines in Pelham and Windham as well as into Massachusetts, estimates 1,500 jobs would be created over the next five years in New Hampshire and Massachusetts, with over 300 jobs per year on average from 2014 through 2018.
Another factor to consider is SeaLink's preparedness, which could mean the project will be completed a year earlier, says Valle, arguing speed matters in this critical energy environment.
The SeaLink team already has examined the ocean floor to confirm there is no rock in their path. They'll have one of five teams in the world that are specialized in using a plow that shoots high-pressure water to clear away sand and a mechanical arm to lay the wire – which weighs 60 pounds per foot – under the seabed. (The underwater cable is already in use in Asia, primarily China.)
One of the benefits of SeaLink, says Valle, is that because it would be underwater, it won't need ongoing maintenance or be affected by storm damage.
But Murray discredits the idea that trees or branches would be a problem for aboveground lines, and that SeaLink could be completed any faster.
"This is a cleared power corridor right of way and these types of lines have a good reliability record," says Murray. "It's very rare for a large transmission line to be lost."
Murray also doesn't think that permitting will cause any significant delay, as Valle argues, because the project will mainly use existing power line rights of way.
"The permitting may be a little different depending on the towns that will be impacted … but in our case, we do not anticipate hurdles that will prevent us from moving forward," Murray explains. "We have existing rights of way where lines are placed today. We're often in communication with towns where we have projects underway or proposed."