Transition through translation
Language Bank bridges communication gaps for NH's immigrants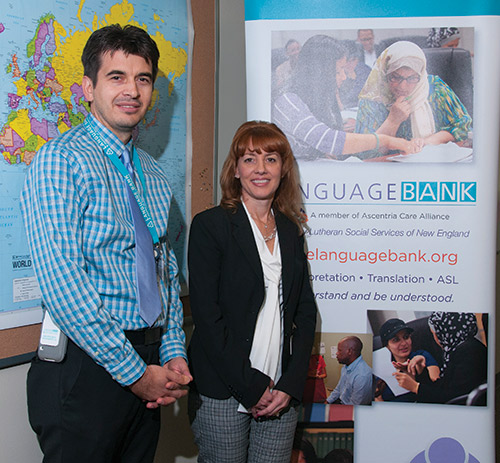 New Hampshire's fast-growing population of immigrants – 37 percent Asian, 24 percent European, 20 percent Hispanic and 7 percent African – now accounts for about 6 percent of its residents. These new New Hampshire residents have sparked the creation of Language Bank, a Manchester-based social enterprise that both employs immigrants and eases their transitions into their new lives in the United States.
Founded in 2001, Language Bank provides professional language interpretation and translation services for organizations and businesses that serve people with limited English proficiency. It is part of Ascentria Care Alliance, the 140-year-old nonprofit formerly known as Lutheran Social Services of New England, whose social services include the resettlement of refugees and immigrants in Massachusetts and New Hampshire.
Michael Alden, vice president and general manager of social enterprise at Ascentria, describes Language Bank as the "crown jewel of our social enterprises."
"Language Bank achieves its social mission of empowering people and strengthening communities through market-based strategies," Alden says. "It's a self-sustaining business model of employing refugees and immigrants at above average wages to help break the cycle of poverty and meet real business needs."
Language Bank trains and employs more than 200 immigrants as professional interpreters and document translators in 60 languages. Its employees provide language services on a fee-for-service basis to more than 300 clients each year, including the state's hospitals, court system, public schools and businesses. In 2015 the enterprise provided communications access for more than 10,000 individuals with limited English skills in New Hampshire.
Every year Language Bank generates several hundred thousand dollars in net proceeds for its parent company, Ascentria, to supplement what Alden says is inadequate government funding for immigrants' resettlement needs, such as employment placement, education and legal assistance. Language Bank's profits also support Ascentria's mental health and disability services, training and counseling for teen mothers, adoption services and other human services.
"The social enterprise model is an innovative solution for the human services sector because it builds the economy and reduces the need for public and philanthropic support," Alden said. "This is especially important at a time when government funding is limited and there are unprecedented numbers of displaced people globally."
Growing need
Language Bank's program manager, Alen Omerbegovic, who has been with the organization since its founding, helped to inspire its creation.
At age 16, he was forcibly separated from his family during the Bosnian War, and he spent the next eight years doing hard labor at several refugee camps. He eventually fled to Holland and sought political asylum, where he was accepted for immigration to the U.S. He and a group of other Bosnian refugees were resettled by Ascentria in Laconia in 1999, when Omerbegovic was 24.
Omerbegovic knew English, which put him in a position to help his fellow refugees and other immigrants in his community by interpreting for them at doctor appointments and helping them to apply for jobs and rent apartments. He was soon hired by Ascentria's Services for New Americans program as a part-time medical case worker and was later promoted to job developer. Language interpretation was central to Omerbegovic's roles and a growing demand for the SNA program. This urgent need led Ascentria to establish Language Bank in 2001 and to hire Omerbegovic as its program coordinator and first full-time employee.
What differentiates Language Bank from its competitors, Omerbegovic maintains, is the intensive 60 hours of classroom training and ongoing education that it provides for its interpreters and document translators. These legal immigrants, one-third of whom are former refugees, receive specialized training in medical, legal and other professional sectors that prepare them for their roles.
The presence of an interpreter can mean the difference between life and death in emergency situations. Omerbegovic tells the story of a Somali couple with minimal English skills who arrived at a New Hampshire hospital to deliver their baby. The doctor quickly discerned that the baby had to be delivered with an emergency cesarean section, but the husband refused to give consent for the surgery.
The Language Bank received an urgent call on its 24-hour hotline requesting that a Somali interpreter come to the hospital immediately for an emergency court hearing. In the presence of a judge, the interpreter explained to the mother that her life and that of her child were in danger and that the judge was prepared to intervene on the baby's behalf to authorize an involuntary procedure to save its life unless she consented to the surgery immediately.
"In Somali culture the husband makes all the family decisions, so it's hard for a wife to go against that," Omerbegovic explains. "But in this case the interpreter was able to explain how severe the risk was, and the mother agreed to go ahead with the surgery."
Language Bank is contracted to provide language services for eight of the state's 10 major hospitals and court system. These institutions receive federal funding, and are thus required under Title VI of the 1964 Civil Rights Act to provide equal communications access to their services.
To ensure that its clients are in compliance with the law, Language Bank sets high standards and provides rigorous training for its employees, according to Alexandra Baer, its quality control and assurance trainer.
"You can't just pull someone off the street or have friends or family members try to interpret in these critical situations," Baer says. "Proficiency is a must; it's not enough to know two or three languages. You have to have working knowledge of the court system and medical fields, such as knowing the terminology for pediatrics, orthopedics and neurology. Cultural sensitivity is also critical."
Sustainable and scalable
Language Bank's director, Kathleen Lucier, says the organization stays close to its social mission while also seeking to remain a sustainable business.
"We have this model where we're seeking to help people and communities and create sustainable career paths, as opposed to minimum wage jobs," Lucier says. "We've been cautious about our growth and want this to be a scalable solution."
Client Services Coordinator and Interpreter Almira Zukanovic who works at the Manchester office. (Courtesy photo)
In 2014, Language Bank expanded its services to Worcester, Mass., which like Manchester and Concord in New Hampshire, are gateway cities for immigrants.
Lucier and her colleagues work with their clients to provide efficient and cost-effective solutions, such as offering interpretation services over the phone, and working directly with attorneys and other clients to help them better understand their immigrant clients' cultures and needs.
"We want to help organizations figure out what the best language solution is for them. It's a very scalable model," Lucier says.
Language Bank also seeks to help immigrant communities adapt to cultural differences in the U.S. Lucier offers the example of immigrants who were accustomed to going to small clinics for all their medical needs, and when they come to the U.S., they think of hospital emergency rooms in the same way.
"We help them understand that visits to a doctor's office for minor illnesses and injuries are more convenient and affordable than visits to the emergency room," Lucier explains.
Language Bank also tracks and projects the rates of growth of immigrant communities, which helps them to envision and prepare for the future. Their data suggest New Hampshire's foreign-born population is growing at eight times the rate of the American-born population.
As program manager, Omerbegovic sees opportunities in the growth of immigrants, both for Language Bank and for businesses that provide services for them.
"We can help companies across the state to translate documents, create training manuals in the languages of their employees and help businesses to expand their products or services," he says. "We can also assist companies that are doing business with countries overseas, and help those that want to expand internationally."
Director Lucier also sees opportunities to assist New Hampshire companies with employee recruitment, hiring, training and retention, as well as with serving the needs of aging immigrants.
"If a company has a number of Vietnamese employees, for example, they may sometimes need an interpreter or document translator," she says. "We're also finding that as people age, they tend to revert back to native languages, especially when they're in pain. Language Bank can provide assisted living and extended care facilities with language services that contribute to their residents' care and comfort."
For Lucier and her colleagues at Language Bank, their mission and bottom line call on them to "do the right thing."
"We're trying to lift up not just that person but their family, their neighbors, their communities. We want to do the right thing and provide a public service while also remaining self-sufficient."