Total angel investments shrink in 2014
But number of deals, investors increase over 2013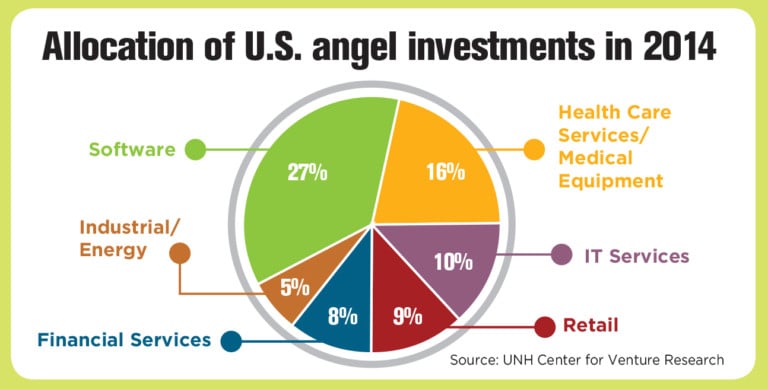 While there was a booming angel investor market in 2013, the next year brought the numbers back to reality. There were more investors putting their money into more entrepreneurial ventures in 2014, but the deal size and total dollars invested decreased, demonstrating a market correction, says the University of New Hampshire's Center for Venture Research, upon release of full-year 2014 stats on the angel market.
Investments in 2014 totaled $24.1 billion, a decrease of 2.8 percent from 2013, says the center. And the average deal size dropped 6.4 percent to $328,500 (it was $337,850 in 2013). But the number of entrepreneurial ventures receiving angel funding increased 3.8 percent over 2013. And the number of active investors increased significantly, with an increase of 5.9 percent from 2013.
Plus, entrepreneurial ventures nationwide generally received angel investments, with a yield rate of 19.2 percent, a slight decrease from 21.6 percent in 2013, but still far above the historical average of 15 percent.
"It was kind of a mixed bag," says Jeffrey Sohl, director of the UNH Center for Venture Research, about 2014. "The dollars [down per deal] were really more of a calibration of valuations, which I think was needed in the market. I think things were getting out of hand, not necessarily in New Hampshire, but in other parts of the country."
Sohl says that traditionally valuation increases when "a lot of money chases a few deals," but last year there were more deals going around, so investors "had more leverage to bang down those deal prices."
"If you couple that with a drop in the seed stage, the investors are in the driver's seat," says Sohl.
Angel investment in startups dropped to 25 percent in 2014, from 45 percent the year before, a percentage Sohl called "frightening."
Seed funding growth
When numbers for the first half of 2014 were revealed in December, Sohl told NH Business Review he had hope that the seed and startup angel market was recovering from the 2008 stock market crash.
Before the crash, 55 percent of funding went to seed and startup ventures. In 2013, the share jumped to 45 percent, but then dropped to 36 percent in 2014, and now 25 percent for the year.
"That's actually low. I'm not ready to say that's a trend yet because it really bounced around … 2012 was down, 2013 was up, the cycle may be more than a year," says Sohl.
Sohl attributed the decrease to a shift to expansion-stage financing and an increase in early-stage financing, both up about 12 percent from 2013. In addition, seed funds typically take some time to come to fruition, he says.
But Sohl says New Hampshire is doing well on the seed-funding front.
"My sense is there will probably be more seed-based stuff in New Hampshire than in other places … the seed and startup stage is higher than 20 percent than nationwide because New Hampshire has a pretty active startup community," says Sohl.
Being close to Boston, a venture capital hub, also helps attract dollars to New Hampshire.
"We will follow national trends, but we do enjoy a different lifestyle," says Sohl.