Tiny house trend makes its way to NH's lodging industry
Tiny hotels are branded as a wellness experience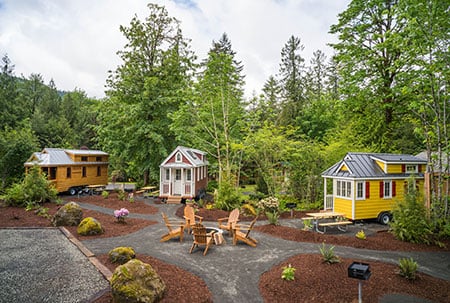 Tiny houses are big. What is often called a movement or a lifestyle is also a booming commercial opportunity that has extended to lodging in the past few years — and it's starting to roll into New Hampshire.
Its path is being paved by tiny house hotels that allow the interested and the curious to try out the concept of living in a space that's less than 300 square feet.
The California-based Tumbleweed Tiny House Company was among the first to leverage the idea of tiny houses as vacation lodging in 2015, and several companies have followed suit, capitalizing on the growing popularity of the tiny houses as an experience.
The hotel model has proven to be popular out west, in places such as California, Oregon and Colorado, where an alternative retreat from contemporary life is alluring to Millennials and others looking for something new. Now Tumbleweed and its partner, Equity LifeStyle Properties, based in Chicago, are banking that New Hampshire might be fertile ground for similar success.
In August, the Tiny House Village will open on Tuxbury Pond in South Hampton – five tiny houses grouped together at the Equity LifeStyle RV Resort there.
'Incredibly high end'
Based on the runaway success of another business, Getaway, which opened three tiny lodging houses in the woods of southern New Hampshire in 2015, Tumbleweed and Equity LifeStyle Properties may be poised to join Getaway at the leading edge of a new vacation concept in the state.
It's so new that it's not even on the radar of the NH Lodging and Restaurant Association, according to Lindsay Elitharp, social media and marketing manager. "While there are lots of cabin rentals and options for reclusive getaways, I don't know of any tiny house hotels; at least none of our members fit the description. It's certainly an interesting trend," she said.
"Every inch of space counts" when designing the interior of a tiny house, but the possibilities are endless. At right: interior of the Clara house at Getaway. Above and below are interiors of the Mount Hood houses. (Courtesy photos)
There is a definite distinction between the rustic cabins that dot the New Hampshire landscape and tiny houses, said Steve Weissmann, Tumbleweed's CEO. "We're incredibly high-end in terms of the materials we use," including sleek, finished woodwork and double-paned windows, he said. He likens Tumbleweed tiny houses to "the old craftsman-styled houses. There's a huge amount of detail, and they're designed to last a long time."
Tiny houses, which include staircases to the loft bedroom, require far more thoughtful design in order to get everything — kitchen, bathroom, bedrooms, living spaces — to fit, be comfortable and energy-efficient. "Every inch of space counts," said Weismann.
Tumbleweed started out in 2003 developing plans, hosting workshops and publishing how-to books for people who wanted to build their own tiny houses, Weissmann said, and they expanded into building their own in 2013. Two years later they embraced the vacation concept, realizing it was not only a revenue stream, but also a way for guests to try out living in their tiny spaces and perhaps be motivated to buy one.
A good fit
Tumbleweed Tiny Houses are on wheels, making them perfect for RV resorts, and the company partners with companies such as Equity LifeStyle Properties, which buys the tiny houses and installs them at their resorts all across the country. The Tuxbury Pond Tiny House Village is based on the popular hotel village at Mount Hood, outside Portland, Ore., an earlier Tumbleweed-Equity LifeStyle collaboration.
Five houses, ranging in size from 175 to 260 square feet, are grouped around a central fire pit for communal gatherings. At Tuxbury Pond, each of the five houses "has its own name and personality. We find people are attracted to that and people can book based on the exterior, the interior and the story that goes along with it," said Pat Zamora, vice president of marketing at Equity LifeStyle.
Guests who book the houses "are straying away from the traditional hotel experience and they want the accommodation to be less of a place to rest your head at night to be all-encompassing."
She added: "It's something different. They want escapism. It's all part of the experience. It's Instagrammable. It's trendy, it's unique." Starting at $139 a night, it's also affordable.
New Hampshire is a good fit for the Tumbleweed-Equity LifeStyle partnership because of its proximity to Boston, said Annie Colletti, senior marketing manager at Equity LifeStyle. "When looking at markets that are specific to the tiny house interest, Boston is a very good market," she said. "Tuxbury Pond's a great property, and we figure we have these two things going for us. It will help drive a different demographic and tiny house fans to one of our properties in New Hampshire so it was good geographically as well as demographically."
Tiny house hotels make economic sense, Weissmann said. It costs about $350 to $400 per square foot to build a new hotel, he said. "We're actually below that cost," he said, and they can build the units, which come with a full kitchen, unlike most hotel rooms, year-round. "And if it doesn't work out, you can move the hotel someplace else."
Near a city is best, Weissmann said, "and the closer it is to the city the better. The more progressive the city, the more interest there is in a tiny house hotel." Most of Equity LifeStyle's properties are near major metropolitan areas, Zamora said; a nearby, inexpensive, unique escape from the city is part of the appeal of the tiny house hotels.
Immediate success
Escape from the city and leaving it all behind is the premise behind Getaway, the brainchild of founder and CEO Jon Staff and Peter Davis, who launched their tiny house hotel company in the summer of 2015 in the woods of New Hampshire.
They worked with design students at the Harvard Innovation Lab to develop and build the structures — there are now four on the property — which are 160 to 200 square feet and sleep two to four people.
The tiny houses at Getaway in southern New Hampshire are 160 to 200 square feet and sleep two to four people. They are equipped with electricity and running water, and are winterized for year-round rental. (Photos by Allegra Boverman)
The idea germinated while Staff was traveling out west and discovered the tiny house movement. "I got what it's about: experience rather than things."
A Harvard business student, he wondered, how do we create a company out of this? Staff and Davis developed a concept of short-term lodging and searched for land within two hours of Boston. On Craigslist, they found a landowner willing to lease 40 acres.
"We were looking for land that was naturally beautiful, near a major city where people could escape the stress and hectic pace of their lives," Staff said. "It had to be beautiful and it had to be quiet."
Turns out, people did want it. Success was immediate. "We've been sold out since we launched," Staff said, and they have a long wait list. The wood-clad interiors have a queen bed and some have additional lofts, Staff said. They are equipped with a stove, mini-refrigerator, sink, toilet and shower. The kitchen is stocked and firewood and charcoal are available. Heated and winterized for year-round rental, each cabin has its own site within walking distance of the others, but set apart. A campfire ring, Adirondack chairs, a grill and a picnic table complete the accommodations.
The houses cost $99 to $119 a night, and Staff said most guests stay for at least two nights.
Getaway launched another tiny house hotel in the New York area in 2016, and that has also been sold out since opening.
"People are desperate to reconnect and recharge. Work is 24/7 now," said Staff.
Staff said the tiny house complex is not a hotel. "It's a wellness experience." They won't reveal their destination in southern New Hampshire because that's all part of the experience. Guests get directions once they're booked and are given a playlist to listen to on the car ride "to set the mood," Staff said. Getaway also provides questions guests can ask their travel companions to stimulate conversation, and they are encouraged to "just sit by the campfire and look at the stars" and discover the constellations, he said.
Curiosity factor
Caroline Rotenberg, 28, who lives and works in Boston, stayed at the Getaway complex in February with her boyfriend and returned in March by herself.
"I was curious about exploring being in a tiny house. It was an opportunity to literally get away," she said, "to take a breather and take a break from the chaos of daily life."
She said her house was surprisingly comfortable and "there were so many windows and so much light it seems spacious."
Rotenberg, who said, "I love nature and being out in the woods," added that she thinks the tiny house escape would appeal even to those who are not into camping. "It's so comfortable."
"We get everybody," Staff said, from the 20- and 30-somethings who are looking for work-life balance to retirees, families and groups of friends. The curiosity factor is undoubtedly also driving the trend, as it allows guests to experience tiny house living.
"You really learn what tiny means," said Colletti of Equity LifeStyle.
"There's a huge amount of curiosity," agreed Weissmann at Tumbleweed. "People are fascinated by tiny houses, from hippies and hipsters to women who are 45 to 60 years old and experiencing a major change in their lives, as well as Millennials 25 to 35 years old."
According to Weissmann, "people want to try a tiny house," their interest piqued by the many television shows now devoted to the lifestyle. And if they can hop on a plane or jump in a car and see what it's all about, the hotel concept will thrive.
Staff said he expects the trend to grow. "Everyone needs to get away. We're betting on it growing and hope we're right."
Rotenberg agreed: "People want an opportunity to unplug and reflect. It's an affordable, easy way to get away."