'Time is now' for action on manufacturing
Keynoter at governor's summit stresses New England's advantages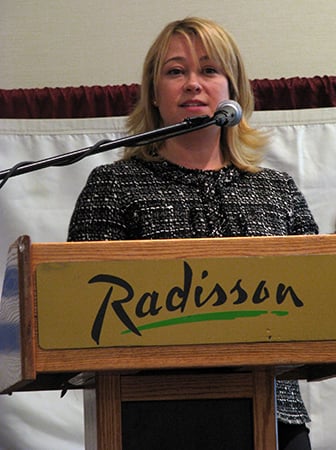 New England has the potential to be a world-class manufacturing cluster, but "the time is now to act and we have to act together," Alison Lands, senior manager in Deloitte's Strategy & Operations practice told the crowd at the 13th Annual Governor's Advanced Manufacturing and High Technology Summit, held Oct. 9 in Manchester.
Lands presented the findings from an April report Deloitte compiled jointly with the New England Council. The report identified high concentrations of firms and employees in industry clusters, including aerospace and defense; medical devices and biotechnology; semiconductors and complex electronics; signal processing, navigation, optics and measurement; and precision machining. The report also identified capability clusters in software and artificial intelligence, sensors and automation, and advanced materials.
"These advantaged clusters in New England, in New Hampshire, they're enhanced by the capabilities, and they're positioned for some game-changing technologies that will reinvent the way manufacturing is done," said Lands, who focused on its impact on product design.
"Advanced manufacturing tends to focus on innovative design, and it combines this innovative design usually with some kind of innovative or advanced material, advanced manufacturing technology or production process, and superior management methods," Lands explained.
Workforce needs
Lands said advanced manufacturing also relies on data to improve the process that could lead to machines talking to each other based on data picked up from sensors, to not only improve themselves if a component breaks but also improve the product and process.
"There's a set of capabilities, things like artificial intelligence and software, additive manufacturing that … position New England to be at the forefront of disruptive technologies, things like the Internet of Things, 3D printing, digital design and prototyping," that New England can use to its advantage, said Lands.
For instance, Raytheon has an immersive design cave where people around the world can co-design a product in a "space-age" theatre to tweak the design "in a much shorter time frame than ever before," said Lands. That means the product can be perfected before the physical prototype exists.
"In a perfectly working system, we see a high-skilled workforce feeding into a broad industry network that has enough capacity to hire them, train them, adapt their skills and technologies, and this reinforces itself in a virtuous circle of learning and growth," said Lands.
Despite high energy costs and regulations, businesses will want to move to New England to take part of the producer network and trade of industry knowledge, she said.
STEM skills
But a skills gap will dampen the industry, said Lands, and all of the manufacturers Deloitte surveyed cited that as a problem, some stressing it by listing it as their first, second and third issue.
"Clearly this state is focused on fixing this skills gap," said Lands, referring to Gov. Maggie Hassan's announcement of a new director of STEM education, Dr. Eric Feldborg, who will implement initiatives from the state's STEM taskforce regarding integrating technology into the classroom and what level of math students need to be at.
The NH Department of Resources and Economic Development is also holding its second annual video contest, with 8th-graders partnering with local manufacturers to submit videos highlighting the advantages of a career in manufacturing. And New Hampshire is the only state to hold a Manufacturing Week – which the summit was part of – when students tour local manufacturers and learn about career opportunities.
"New Hampshire's high-tech and manufacturing companies are struggling to fill job openings, even for jobs with wages over 25 percent higher than average," said Governor Hassan earlier in the summit. "That's why we're exploring innovative ways to reach our students at a young age, and help them understand they can stay in New Hampshire, find jobs here that are interesting and exciting and build careers here that will allow them to support their families and to climb the ladder of opportunity."
ConVal Regional High School in Peterborough will launch a new course this January involving eight to 12 juniors and seniors who will learn advanced manufacturing principles and spend a couple of days per week at NH Ball Bearings, where they will observe processes and perform hands on problem solving tasks. The ConVal teacher spent a month performing an externship at NH Ball Bearings to prepare for the course.
"It's evolved as we got into the curriculum and working with the teacher," Emma Johnson, HR manager at NH Ball Bearings told NH Business Review. "Some of those days are still in the works as far as planning what they're going to do when they come in, but precision measurement is obviously a big one for us, and tying back to common core with precision measurement systems, they can fulfill math requirements."