There's green in New Hampshire's forest
Study pegs forest economy's impact at $3.8b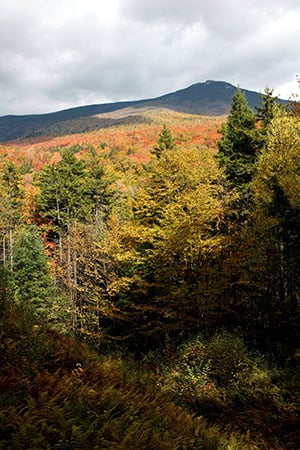 Every New Hampshire resident knows that fall foliage is a major tourist attraction for the state, but how much revenue does it and other forest-based economic activities actually pull in?
According to a 2013 study conducted by the New Hampshire-based North East State Foresters Association and the Northern Forest Center, also headquartered in the Granite State, leaf-peeping accounts for nearly half, or 47 percent, of the $1.4 billion that New Hampshire rakes in annually from the forest-based recreation economy.
According to the report, all forest-based industries contribute $3.8 billion to New Hampshire's economy.
As for the $1.4 billion in recreation-related activities, they include by wildlife watching, downhill skiing, camping, hiking, snowmobiling, hunting and cross-country skiing, respectively.
As a result of these recreational activities, nearly 10,900 jobs were generated or maintained in the state, the report said.
In 2012, New Hampshire tapped a total of $5.8 million from two other seasonal industries: harvesting maple syrup, which brought in $4 million to the state economy; and Christmas trees, which brought in the remaining $1.8 million.
The report estimated that these two industries supported about 190 full-time equivalent jobs in the state.
The nearly total $3.8 billion economic impact breaks down into three broad categories: New Hampshire's forest products industry — things like logging, heating, paper products and furniture – which totals nearly $1.4 billion; the forest-based recreation economy, also worth approximately $1.4 billion; and the multiplier effect of these industries, such as when leaf-peepers eat at restaurants or shop at local stores, which the report calculated to be an additional $1 billion in sales contributions to the state.
Beyond hard data, the report also pays special attention to issues that may affect the future of the forest's economic contributions, such as carbon storage and its effects on the ecosystem.
According to the report, most scientists believe the excess of greenhouse gasses in the atmosphere is directly responsible for the climate change that is affecting forest-based industries. As a result of those greenhouse gasses, carbon storage in trees has increased slightly over 4 percent from 2006 to 2012. However, this increase of carbon could contribute to an increase in revenue for the state.
According to Joe Short, vice president of the Northern Forest Center, "Selling carbon offsets based on the carbon stored in forests could yield significant economic benefit as public policy and markets begin to value the contributions the forest makes toward mitigating greenhouse gas emissions."
The study, which covered the four-state region of Maine, Vermont, New Hampshire and New York, reports that, in total, forest-based economic activity accounts for roughly $33 billion in revenue and provides 178,000 jobs in the region.
The report is available online at nefainfo.org.