The evolution of workplace laws according to Jagger
Just like The Rolling Stones lead singer's offspring, laws continue to pop up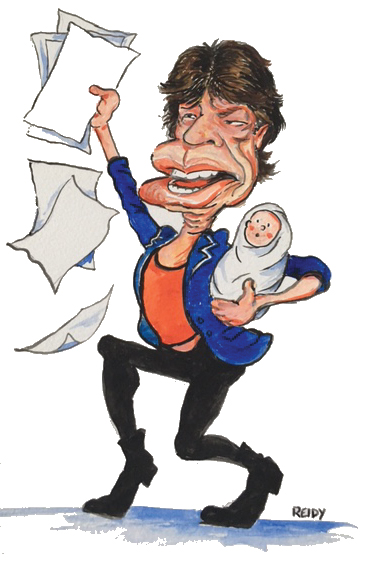 Mick Jagger, lead singer for the iconic rock band The Rolling Stones turned 73 in July. In addition to celebrating that milestone, Jagger is going to be a father. He already has seven other children, ranging in age from 16 to 45. He also has five grandchildren and one great-grandchild.
Some commentators are shocked by this news, but the singer's procreation is actually an illustration of how workplace laws have evolved over the last 50 years and continue to pop up just when HR professionals thought they had enough.
The modern workplace has more laws and regulations than any other time in history. Gone are the days, as the Stones' song title describes, when employees had "No Expectations" of long-term employment or related due-process protections against dismissal. The term "at will" employment is a concept from common law, and it means that an employer and employee are free to end their relationship at any time, for reason or no reason, with or without notice, or at the "Flip [of] the Switch."
While that concept still exists, since the mid-'60s, just as the Rolling Stones were rolling out their classic song, "[I Can't Get No] Satisfaction," Congress and state legislatures have been empowering applicants and employees with more and more legal protections from the commencement of employment though it's end.
While sexual harassment laws had their roots in federal and state civil rights and discrimination laws enacted in the 1960s, those laws were just the tip of the iceberg.
In fact it wasn't until the disco era of the late '70s and even the raucous early to mid- '80s when the first sex harassment lawsuits got employer's attention causing them to stop "Tumbling Dice" and start training their managers on how to recognize and stop inappropriate behavior before lawyers started to "Rip this Joint."
Yes, HR professionals had to deal directly and firmly with the supervisors who thought touching or commenting on the bodies of women or making lewd requests like "Start Me Up." They could also no longer permit relaxed work environments that accepted social alcohol use like "Mother's Little Helper," as that was often the cause of sex harassment claims, not to mention other safety and liability concerns that were once, like Mick's sense of chastity, not given much thought.
Just as middle-aged Mick was having his fourth and fifth children, and his oldest child bought his second home, workplace law started to get really interesting as the '90s saw the adoption of the ADA, the FMLA, HIPAA and several other workplace laws and regulations.
With these new laws, HR departments also expanded, like the Jagger diaper and tuition bills, to deal with special requirements of payroll, benefits, safety and general compliance. As more laws and regulations were adopted, more and more lawsuits commenced. The risks of lawsuits, verdicts, fines and noncompliance created a workplace culture where HR had to become the enforcer.
Yes, many HR professionals became a "Beast of Burden," having to handle recruiting, hiring, compensation, conduct, performance and termination and all of the technical requirements attached to the many laws and regulations related to those topics. With this explosion in legal obligations, handbooks expanded, more posters appeared on bulletin boards and the free reign of employers was "Shattered."
This phenomenon of the over-regulated workplace really took shape in the last 10 years, with the adoption of federal and state laws dealing with everything from pre-employment inquiries to greater accommodation to health insurance and social media privacy.
Yes, just as Mick became eligible for Social Security benefits or his youngest daughter had her Sweet 16 party (I can't remember which came first), HR professionals across the country cried out for an "Emotional Rescue" by conceding they "Ain't Too Proud to Beg," with the hopes that legislators would relent and "Get Off of My Cloud."
Sadly, those complaints and concerns received no "Sympathy from the Devil," for while the number of new workplace laws may have slowed with gridlock in Congress, the last few years have seen a tsunami of regulations and with that complex instructions that have confused and frustrated those in management.
In short, our shock and amazement at Mr. Jagger's stamina over the years and his ability to still fill a room, like our response to the onslaught of workplace laws and regulations and calls to "Gimme Shelter," should be replaced by a resignation that nothing should shock us anymore, for apparently there will always be room for another at a Jagger family reunion. And for as long as there are lobbyists, legislators, regulators and a sense of some wrong that needs to be addressed or right that should be protected, there will be more laws and regulations in the months and years ahead.
Apologies to the Rolling Stones and their fans. Condolences to HR professionals. Rock on Mick.
Attorney Jim Reidy, a shareholder at Sheehan Phinney Bass + Green, is chair of the firm's Labor and Employment Law Practice.