The case for being a CASA
Advocates' business experience, skills help children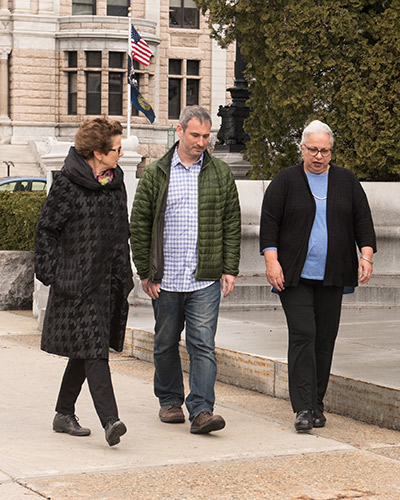 The opioid crisis has taken lives, shattered families and strained communities across New Hampshire. Often lost among the headlines and statistics are the innocent victims, the children affected by the toll the drug scourge has taken on their families. Fortunately for the kids, there's CASA — Court Appointed Special Advocates of New Hampshire.
There are some 500 CASA volunteers around the state who bring their individual experiences to their singular mission — advocating on behalf of the children during court hearings that determine whether they will return to their families, go to foster care or be put up for adoption.
Many of these advocates perform this service in addition to running companies and working full time. In addition to helping the kids, they say volunteering with CASA has made them work better and more efficiently, and they bring skills that they hope make them better able to listen, make decisions and provide guidance.
"The kids need a voice," said Carolyn Cote, director of communications at CASA New Hampshire, which was founded in 1989. "They need someone who is dedicated to making them the focus of the proceedings."
There are attorneys and caseworkers, she said, but "there needs to be someone looking out for the child, to make sure they don't fall through the cracks, and that's what CASA is doing."
Advocate's role
"I'm getting to a point in my career, as I approach retirement, that I want to do something to give back," said Peter King of Mont Vernon, a principal engineer at Geosyntec Consultants, an environmental engineering firm in Bedford. "With my children out of the house, I had more time, and I knew it was something I could dedicate my time to."
King added that he "felt an increasing awareness of the opioid crisis and how that was affecting children and families in New Hampshire. Many kids coming in the system have been neglected, not abused, because the parents are addicted to opioids. They're spending all their energy and time and money with their addiction, and the children suffer. They may lack permanent housing and food, they may not be going to school. The state will then remove the children and go to court for a finding of abuse or neglect. If that's the case, the judge will appoint a CASA advocate."
CASA advocates meet regularly with their appointed children and their families, attend court hearings, speak on behalf of the child and prepare a report for the judge on what they believe are in the best interests of the children. Cases last about a year, with hearings every three months.
"My sole role is to look out for the best interest of the child and to represent that child's interests in court," said King, who has been an advocate for 18 months. "I do that by getting to know the child. I meet with the child on a regular basis a few times a month. I get to understand what the child's needs are and make sure they're being met in the foster environment. I also meet and work with the parents. The parents have been given a plan they need to follow to be reunited with the child, and I will meet regularly with them to help them find the resources they need — whether it's mental health counseling, substance abuse treatment or something else. I participate in supervised visits. I keep track of how the parents are doing, and if they need some motivation, I'll try to motivate them."
He said that "the goal is always to reunite the child with their parents. I try to make that happen."
King believes his work as an engineer helps him as an advocate, and that it has in turn improved his work life.
"As an engineer, I tend to gather a lot of data, organize it and then present a report on what the facts are. To me, that's what a CASA advocate needs to do. We need to talk to a lot of people — the parents and the children and the foster providers and the counselors — and then present a concise plan to the judge saying these are the facts but these are what my opinions are about the facts."
"It's literally what I live for and what I do my regular job for. It's what motivates me every day. I focus more on my engineering job and do it more efficiently because I want to spend time with my CASA cases. In order to have some life besides engineering and CASA, I find I'm very focused in what I do."
Helping children
Diane Valladares, recruitment director at CASA, said the organization's goal is "to provide a CASA advocate for every child in New Hampshire that needs one."
The number of cases has increased "tremendously over the last couple of years," she said, in large part because of the opioid crisis, and CASA volunteers are a valuable part of the safety network.
"It's a matter of wanting to be engaged in something that continues to challenge them like their work life does. They want to continue to be an active part of their community and make a difference in somebody's life," said Valladares.
George Chait, who started George Chait Construction in Lake Sunapee in 1984, is now semi-retired.
"It's a little bit of juggling, but it's doable." The impetus for him, he said, was helping kids.
"I felt there was a need, and I love kids and thought if I can make a difference and help a kid through a tough time, that's worthwhile work. Raising my children was the most rewarding thing in my life, and I can't think of anything that was more important. And I've always felt, what can we do in life that's more important than helping children?"
Through CASA, he said, "you're not going to influence thousands of kids, but you can hopefully make an impact on dozens over time. You can be helpful in a tough situation and help them go through this transition."
Nigel Roberts of Hudson said he became aware of the plight of children at risk through his work with the American Bar Association and the ABA Center for Children and the Law.
"Children are the most vulnerable in our society," said Roberts, vice president for global associations at Lexis-Nexis. Roberts said that work "exposed me to issues that youths in the foster care system were challenged with. It was quite sobering. It made me sit up."
Five years ago, he said, he reached a point in his life when he wanted to give back and felt his experience and legal background would be a good fit.
He may visit with the child's parents or foster parents or even grandparents, the social workers, the DCYF attorney and the parent's attorney, but the focus is always the children.
"We are the voice of the children in these proceedings." Being that voice has also helped him professionally, he said. Writing the reports for judges "has gotten me to think differently. It's helped me in my writing reports at work. I didn't expect that. It's very rewarding. It keeps me from always working."
'Part of my job'
Bill Irwin of Meredith, part-owner of Irwin Marine in Laconia, where he is also the marketing director and vice president of sales, has been a CASA advocate for about three years.
"I wanted to do something outside my comfort zone instead of joining another board and raising money. I wanted to do something with my time and hopefully contribute."
He used to coach junior high and high school soccer, skiing, baseball and football, but with his own children off to college and beyond, he found he missed working with youngsters.
Through CASA, "you want to try to do the best that you can for the children. You learn you can't fix it, but you can share your wisdom and experiences and hopefully use good judgment," said Irwin. "In my line of work I do a lot of listening, and in CASA work you do a lot of listening. You ask the right questions to explore but not be intrusive. You want to get the information so you can make the proper recommendation."
The advance scheduling of the court dates helps him juggle his job with his CASA duties.
As the mother in a blended family of six, most of whom are now grown, Cotton Cleveland of New London knows how to juggle work, public service and family life.
Principal consultant with Mather Associates, a consulting firm that assists businesses and nonprofits with strategic planning, Cleveland said "being organized about your work day is important."
As a professional and working mom, she said, "I treat [CASA] as part of my job, even though it's volunteer. I put a priority on it and make necessary arrangements as you would with clients. Both my husband and I believe in volunteering and wanted our children to see that that's the way our society works. Volunteerism is the oil in the machinery of society."
Adept at scheduling, Cleveland brings many of her professional skills to her CASA role.
"One of the things that's important in any business is being able to listen and to really hear what somebody is saying at multiple different levels, not just their words but the affect and the tone," said Cleveland.
She added that an advocate also "has to organize things and write it down in a way that makes sense to the judge. For the court summary, the judges can quickly see that you've talked with the children, the parents or other adults in the family. You have to be very accurate about what you've seen and not be judgmental. A good business case is not judgmental; it's 'Here are the facts' and then, 'What is my fact-driven advice based on those facts?'"
A CASA advocate for five years, Cleveland said she is "passionate about helping the world be a little better for the kids who get caught up in any kind of abuse or neglect situation. I also feel passionately about helping the justice system work more effectively for the kids."