The business case for child care
NH Community Loan Fund initiative helps child care programs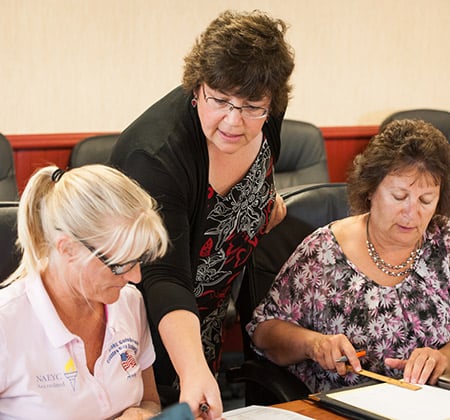 When Lyn Schmucker was growing up, she attended the Sunnybrook Montessori School in Lancaster, so when word came it might shut down about six years ago, she decided to do what she could to help save it.
The school started in 1974, when local parents made good on their desire to have a quality early education program in the area. For years, it had been run as a parent cooperative, meaning they were in charge of maintaining the child care center.
Schmucker was already serving as vice president of the board of directors and became the school's director and lead teacher.
"I really wanted my two younger children to be able to go," she said.
Sunnybrook was continuing as usual when the opportunity came along to further expand and improve their business model.
Schmucker's organization became one of the first to take part in the Business of Childcare Initiative in Coos County, a program started by the NH Community Loan Fund and funded by the Neil and Louise Tillotson Fund of the NH Charitable Foundation.
Strengthening programs
Julie McConnell is the director of the Child Care and Community Facilities Lending program at the Community Loan Fund. It's a program she helped start and has been involved with for the last 20 years.
The Community Loan Fund has awarded more than $18,000 in grants for such things as software and equipment purchases and technical assistance for board development and financial planning.
Within that, the Business of Childcare Initiative was born. Since 2014, the program has provided technical assistance through measures like surveys, self-assessments, trainings and workshops, as well as financial support for child care businesses. The goal is to set the businesses up with the skills they need to succeed as well as provide them financial support, said McConnell. "We ask ourselves, 'What can we do to help strengthen these programs?'"
As of September 2017, there were 846 licensed child care facilities in the state. That number includes child care centers, family programs and family group programs. The latter two differ from center-based programs because they are usually run out of the owner's home.
That number is down slightly from the year before. In September 2016, there were 876. However, McConnell said, the decrease is due partially to different facilities combining with each other.
Already, over 60 child care centers and 140 participants have taken part in the program. There have been 14 workshops and trainings on topics like finance, human resource, legal and advocacy.
The program has also awarded more than $18,000 in grants for such things as software and equipment purchases and technical assistance for board development and financial planning. And over $12,000 in stipends have been awarded to participants to recognize their time and commitment.
Schmucker said one of the first things representatives from the initiative did was visit the school to get a firsthand view of how it worked.
"That was very enlightening," she said. "I'm not really a businessperson, I'm an educator."
Consultant Kim
Votta
(left, standing), a trainer with the Business of Child Care initiative, works with child care program staff.
Some of the changes that resulted were getting Schmucker to be more involved with the finances, including connecting with parents about payments.
"We were struggling to find someone to be treasurer because that was very time-consuming," she said.
Through the help of a grant, Schmucker was able to purchase QuickBooks to help with accounting. This also made all of the finances more transparent.
"The staff could all see what was going on," she said.
The hours also changed to five days a week from 7 a.m. to 5 p.m. Previously, the school was open four days a week and had seven-hour days. This has allowed them to thrive more, which can be important for community members."
Positive effects
Child care programs don't just benefit families, they are vital for communities as well, for a multitude of reasons, said McConnell.
"We really see the strong ripple effects these programs have on families, children and the workforce," she said, pointing to a number of studies conducted over the years that have shown the benefits of early childhood education and child care programs.
Schmucker, as an educator, said she's been able to see these positive effects firsthand.
Children learn vital social skills, how to behave appropriately with their peers, as well as recognizing emotions in both themselves and others.
"The social-emotional aspect is huge," said Schmucker.
Schmucker said the students aren't the only ones who are affected positively.
"It allows parents to work, which is the biggest benefit," she said.
In New Hampshire, there are 34,441 families in which both parents are in the workforce and 19,125 families with single parents who are working, according to data from Child Care Aware of New Hampshire, which offers support services and data for child care providers, families and community partners.
According to Child Care Aware, there are more than 53,566 children under the age of 6 in New Hampshire who potentially need child care.
"If you're a working parent, you know how important it is to have reliable child care," said McConnell.
But that's not the only way child care helps to benefit the workforce, though, since the child care programs are "also employers in all these communities," McConnell said.
In fact, there were 2,770 child care workers in centers in New Hampshire and 573,430 in the U.S. in 2017, according to Child Care Aware.
Success story
Noah's Ark Child Care Center in Manchester has twice been helped by the Community Loan Fund.
In 2000, during the expansion of the Manchester-Boston Regional Airport, the fate of the child care center was in flux. At that time, it was part of St. Francis Church, which was set to be demolished due to the expansion. The church had moved to Litchfield, but officials opted not to include the child care center.
McConnell and her team at the Community Loan Fund helped start what would become Noah's Ark. Kari Reed, executive director for the center, said they helped them get the funding for the space they're in now on East Industrial Park Drive in Manchester.
That work continued over the course of two years.
"In March 2002, they continued to help us again when we became able to purchase our portion of our building," Reed said.
McConnell said such technical assistance is the "secret sauce" that helps Child Care and Community Facilities Lending program borrowers be successful in meeting their goals and objectives.
Recently, Reed said, she started to go through the Business of Child Care initiative, further expanding the help McConnell and her team have provided to Noah's Ark.
Reed has already attended a workshop and is focusing on learning more about the human resources aspect of the business, as well as how to manage a board of directors.
"What they're really trying to do is help with the business side of it," she said.
This outside perspective and guidance to make any needed changes is vital, Reed said. One of the main benefits is ensuring that the work environment is positive and a place where the staff is always learning the best practices.
"I think it's great that they can come in and help out with that sort of stuff," Reed said.
Reed said her child care center is lucky to have a low turnover rate, where staff can be educated and updated on the newest, best practices.
"You want quality," Reed said. "You want people who know what they're doing."
The success of the program has not gone unnoticed.
The most recent was in October, when McConnell was awarded the NH Women's Foundation's inaugural SHE Change award in recognition of its use of "creative solutions to address complex problems facing women and girls in New Hampshire."
McConnell said the Business of Child Care initiative is continuing to expand its reach since the pilot was launched in Coos County. The new focus areas will be around the Manchester area and Upper Valley.
McConnell said the program will remain fluid when it's implemented.
"We'll tweak it to what providers need," she said.