The budget and the bottom line
Trump cuts could hit businesses across NH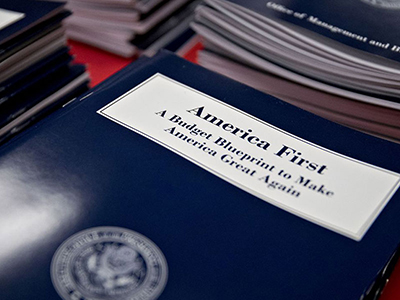 Geophysical Survey Systems Inc. in Nashua used the U.S. International Trade Administration's Gold Key Matchmaking Service to unlock the South Korea market for its underground radar survey systems and keep 82 people working.
Patti Bemis used the state's federally funded Pathway To Work program to start a marketing business after getting laid off.
New England Forest Products in Greenfield received help provided by the federal Trade Adjustment Assistance program to survive tough competition from Chinese and Canadian companies.
What do all these businesses have in common? They all took advantage of programs substantially funded by the federal government that are now targeted for elimination or major cuts in President Donald Trump's "American First" budget blueprint.
Aside from proposed increases in spending on the military and homeland security, Trump has pretty much cut everything else, including education (with the exception of charter schools and vouchers) and especially the Environmental Protection Agency.
Much of this has an indirect effect on business in the Granite State. A bigger Navy could help the shipyard in Portsmouth, a larger Air Force could help BAE Systems in Nashua, and more guns for the Army is good news for Sig Sauer.
But there are a number of budget reductions to programs that would directly affect business. And these programs are so intertwined in our local fabric that we don't even know they are funded from afar — only tentacles to some, a lifeline to others — until they are cut.
This story and the accompanying chart are an attempt to tease out a few of them.
Pathway to Work
Patti Bemis was down but not out when Office Depot laid her off three days before Christmas.
"That's corporate America. It's got no heart. That's why I wanted no part of it," she said.
She had everything going against her — a woman over 50 who had been making a big salary, since she was in management marketing and printing services. She was not exactly easy to place in a declining industry.
But she was also a perfect candidate for Pathway To Work.
Enacted by the state legislature in 2013, it aims to help people collecting unemployment benefits to start a business rather than look for another job.
So what does the federal government have to do with it?
Well, to collect those checks you have to avail yourself of services provided by the NH Small Business Development Center, which is funded through the NH Community Development Finance Authority, which receives its funds (more than $8 million in total) through a Community Development Block Grant, which in turn is funded by the U.S. Department of Housing and Urban Development. And the block grant program could be eliminated under Trump's budget. (Another $3 million going to Rochester, Dover, Portsmouth, Manchester and Nashua would also disappear.)
What does this have to do with housing? Not very much, but urban development is another matter. About half of the CDFA's Community Development Block Grant money goes to that.
Some of it goes to large projects, like $500,000 to River Valley Community College to develop Business and Industry Training Centers in Claremont, Keene and Lebanon, or to provide a loan for the Capone Iron Corp. to expand its steel fabrication plant in Berlin. And about $750,000 is set aside for microenterprises, including SBDC's Pathway to Work program.
For Bemis, this meant taking classes and developing a marketing business that helps real estate agents write personalized cards to their customers.
'New business and growth'
But before we leave the world of Community Development Block Grants, meet Michael Petrovick, a respected architect in the Monadnock Region.
Petrovick didn't move into the Hannah Grimes Center for Entrepreneurship in Keene for the cheap rent, like some other businesses do, but to take advantages of the services provided there.
"You need to learn accounting, and marketing, the things they don't teach you in architecture school. You need to work on your business as much as in your business," he said.
Petrovick now employs five others, three full-time. "It fosters new business and growth," he said of the Hannah Grimes Center. "We need these resources."
Hannah Grimes receives about $147,000 in block grant funds — about a third of its funding — not just for the "high degree of touch" on display in the incubator program, but other services to 1,400 business, reports the center's director, Mary Ann Kristiansen.
Many entrepreneurs from around the state take advantage of the center's s microlending program, both its crowdfunding venture program for startups and its Kiva Zip loans, which are zero-interest loans to entrepreneurs and small businesses.
If the block grant funding went away, Hannah Grimes would have to step up other fundraising efforts, including applying for competitive grants. One grant it recently won was $50,000 awarded through the U.S. Small Business Administration's Growth Accelerator Fund. But that program also would be cut under the Trump budget proposal.
The SBA, however, would fare better than many other agencies since it faces only a 5 percent cut, though the demand for its business loan programs has only increased as we have climbed out of the recession.
North Country effect
Another program, the Northern Border Regional Commission, would be wiped out altogether. An obscure independent federal agency, the commission serves the northern counties of four states — New Hampshire Vermont, New York and Maine. From 2010 to 2016, it spent $5.1 million in New Hampshire. Perhaps the most important project was $250,000 in funding to construct water and sewage infrastructure at the new industrial park being developed at the site of the former Wausau Paper Mill in Groveton, and the current home of Vermont-based NSA Industries' New Hampshire facility. (RBDG also threw in $49,000 for a pre-engineering study in Groveton in 2015.)
The U.S. Economic Development Administration was another important player in that deal, with a $1.2 million investment. That agency — part of the U.S. Department of Commerce — is slated to be eliminated too.
All of these federal cutbacks concern Michael Scala, executive director of the Coos Economic Development Corp.. Scala is no flaming liberal. He was a staffer for former U.S. Sen. Kelly Ayotte, a Republican who recently helped Trump shepherd the nomination of Supreme Court Justice Neil Gorsuch through the U.S. Senate.
Nevertheless, he said, "I'm definitely worried about some money going out. I met with the governor, and we are hopeful that some of it might come back through the state as block grants."
CDBG is a block grant, pointed out Taylor Caswell, executive director of the Community Development Finance Authority. "It is flexible as it is," he said. "And if they eliminate that, there will be no other funds."
But back to the EDA. Under that agency is the Trade Adjustment Assistance for Firms program (not to be confused with Trade Adjustment Assistance for Dislocated Workers, under the U.S. Department of Labor, which may or may not be cut) — if EDA goes, so does TAAF.
Both programs are meant to help those hurt by the ravages of competition from overseas companies, a big issue — thanks to Trump — in the last campaign.
New England Forest Products was one of those companies. The wood manufacturer was getting clobbered by both Chinese and Canadian competitors in the midst of the recession.
Rather than stand still, the company moved forward. It grabbed a dry kiln at an auction to help make its operation more competitive, but needed an engineer to redesign it. That's where $75,000 in TAAF funding came in handy. It not only pulled the company through, but it eventually expanded from 14 to 23 employees.
"It would be a tragedy, a shame, to cut that program," Co-owner Deb Buxton said. "What kind of message does it send our businesses? That we are not worth it?"
Buxton said that she doesn't need the program anymore. "The market that killed us back then is now helping us, but others are hurting. Why pull the rug from under them?"
Speaking of trade, there are some other programs that might be cut, also out of the Commerce Department, but it's not clear whether those cuts will happen.
Trump's budget blueprint does strengthen the International Trade Administration's trade enforcement and compliance functions "while rescaling the agency's export promotion and trade analysis activities."
No one is quite sure what's meant by "rescaling," but Robert Parillo, Asia sales manager for Geophysical Survey Systems hopes it means more, rather than fewer, services.
It's hard to go cold turkey into a strange country and hire a representative, he said, but the federal government helps companies scope out potential vendors and customers. "They've got their feet on the ground, to see that it's not someone working out of their garage," he said.
The service costs the company $750, but it is well worth it, he said, because it helps the company and the country remain competitive.