The Benson Companies: Innovative, quality products and services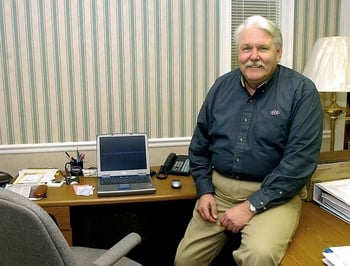 The Benson Companies — Brix & Stix Construction Corp. and Benson Insulated Concrete Forms of New Hampshire LLC (ICFNH) — has been delivering quality construction, renovation and restoration products and services to residential and commercial customers for more than a quarter-century.
Originally founded by Dick Benson as R.A. Benson Associates, Brix & Stix Construction has been serving customers since 1988 and ICFNH since 2005.
Delivering solid, lasting construction that resists nature's harshest elements, increases a home's comfort and energy efficiency, and lowers maintenance costs and noise, ICFs are the fastest-growing alternative to wood frame for perimeter wall construction, and Benson Insulated Concrete Forms has proudly taken the helm of ICF sales, training, accessories, installation and delivery throughout New England.
"The benefits of ICFs to homeowners and builders are undeniable," says Benson. "Houses and foundations built with ICFs are more comfortable, quiet, stable, energy-efficient, and almost any conventional homebuilding crews – and even many homeowners – can easily adapt to ICF construction."
Further demonstrating his longstanding commitment to delivering innovative industry products, Benson recently unveiled Fab-Form at the third annual New England Log & Timber Frame Home Show and the New Hampshire State Home Show.
A revolutionary line of products that use fabric to form concrete, Fab-Form includes efficient and cost-saving Fast-Tube, FastFoot and Fastbag products. As one of few area suppliers, Benson says he can barely keep up with the demand as their popularity continues to grow.
And, as a user and supplier of the DELTA waterproofing system DELTA-MS, Benson endorses this foundation waterproofing system and will attest to the effectiveness of its special high-density polyethylene resin makeup.
The Benson's Companies' award-winning Brix & Stix Construction is a well-known and highly respected resource for residential and commercial projects of all sizes, including additions, bathroom and kitchen remodeling, restorations, roofing, wood and vinyl siding, replacement windows and masonry.
Made up of the area's most reliable craftsman, the work of Brix & Stix is best sought when a project requires the modernization of an older space, the blending of a new addition with an existing structure or the execution of new-home construction.
"I'm very proud of the awards Brix & Stix has earned for its work, most recently the Home Builders and Remodelers Association of New Hampshire's Builder of the Year award. I believe that, in combination with Remodeling magazine's Big 50 Remodeler Award and our many customers testimonials, speak to our ability to deliver a quality of work that leaves a long lasting impression," says Benson.
For more information on The Benson Companies, ICFNH and Brix & Stix, call 1-800-762-8453 or visit icfnh.com and brixandstixconstruction.com.