Teresa Rosenberger, 2011 Outstanding Woman in Business
New Hampshire State President, FairPoint Communications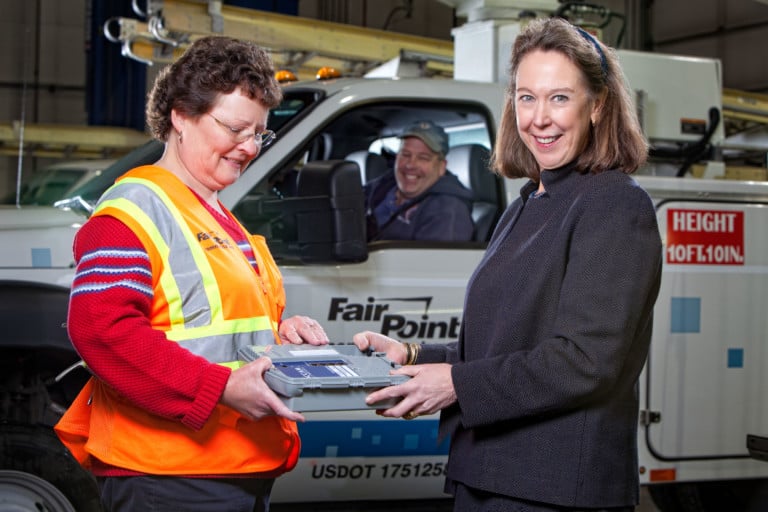 When Teresa Rosenberger recommended to FairPoint Communications that the company appoint a president in New Hampshire, she provided a list of potential candidates with no idea she would be offered the job.
Rosenberger became president of the company at a difficult time, just after it entered bankruptcy and with a workforce that had strenuously fought the sale of Verizon to FairPoint.
Rosenberger has worked tirelessly over the last year to restore the company's image and workforce morale, meeting personally with elected officials, concerned citizens and employees, listening to their concerns and representing New Hampshire's interests to the parent company, which has since emerged from bankruptcy.
Rosenberger has always been interested in government relations, launching her career in the speechwriting office at the White House during the Nixon administration. (She later worked as a speechwriter in the Ford and Reagan administrations.) In 1991, she moved to New Hampshire, working at McLane, Graf Raulerson & Middleton and subsequently Devine Millimet, where she headed up government relations for FairPoint.
The longtime Concord resident, wife and mother of three grown children has chaired several organizations, including the YMCA of Concord and the New Hampshire Historical Society. "Teresa has become a top executive in a total trial by fire," writes Susan Duprey, Rosenberger's nominator and a shareholder at Devine Millimet . "She has made it through with grace and a large amount of success by calling upon her own internal resources."
Q. What made you choose your career?
A. I love public policy. I love trying to solve problems, and make a better country to live in, so that really both us New Hampshirites and Americans have a great quality of life.

Q. Did you have a mentor, formal or informal?
A. The women where I have worked have really been the mentors and the guiding light. That really started when I was at the White House, where there were a number of women in prominent positions. They were very good at sharing with us young girls that women could do anything they wanted.

Q. How do you approach balance in your life?
A. I try to eat well. I try to exercise daily. I try to get as much sleep as one can. I value my family and friends, and I will say family comes first and I always have to be there for my family. Quite honestly, you can't be successful if you don't have balance. You've got to walk out the door, leave it at the office and let yourself enjoy another aspect of life.

Q. What has been your biggest challenge on the road to achieving your success?
A. Really, the balancing is the biggest challenge. Truly balancing family and being a supportive spouse, doing your job and keeping your friends. Balance is hard. It's a real challenge. You only get one shot at raising your kids well. There were years that I tried to find anything I could do in a part-time capacity.

Q. What advice would you give to young women just starting their careers?
A. Get involved in community. You just never know who you're going to meet and who's going to impact your life in what way. Look for the opportunities in life — when the door opens, go through it. If you see an opportunity, take it. Don't be complacent.