Technological upgrades improve Evesource's response team
Smart switches indicate outages, limit impact while also complementing real-time system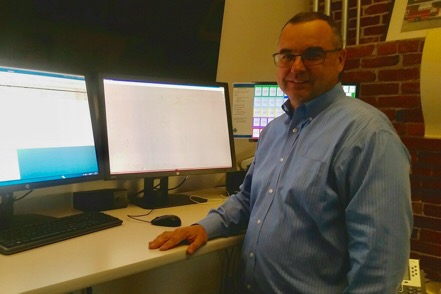 Where previously a power outage could affect a large swath of customers, Eversource is upgrading technology that allows it to isolate incidents, address them more efficiently and even reenergize areas remotely. The improvement is tied to two advancements: Evesource's Integrated Electric Operation Center in Manchester – formed in November 2015 – and the planned installation of 1,200 distribution automation devices, or smart switches, by 2018.
In its legacy system, Eversource's New Hampshire division, formerly Public Service of New Hampshire, had just 200 distribution automation devices – devices with sensors that enable power lines to reenergize after a brief interruption, shut off power to lines that have been damaged, and assists with redirecting energy back through unaffected lines so fewer customers are impacted.
Last year, Eversource invested approximately $370 million, commissioning more than 300 additional smart switches and automating 21 substations. The upgrades directly correlate and interact with the Integrated Electric Operation Center that manages daily outage management – whether it be from animal interactions, tree interruptions or car accidents that damage the pole and interfere with the electrical lines.
"It actually helps us immensely," said Donald Norse, manager of distribution system operations at Eversource NH. "We know closer to where the actual fault problem is in the field, so it actually helps us be more efficient. We get indications on the line where the fault is, we're able to open up that switch remotely and then energize those customers."
Inside Eversource's Integrated Electric Operation Center in Manchester.
The information from the smart switches also enables the center to tell the troubleshooter – an individual line man – a more precise point to examine so all customers can be restored to power.
"We're looking to fully automate our system as much as we can so we get our customer blocks that could be impacted by a certain event down to around 500 customers," said Norse. "So where we've had maybe one or two [smart switches] that help us restore 8,000 customers, we actually put six or eight on that line. So when a tree falls toward the end, only those people are impacted. We can open up a switch remotely from Manchester and restore those let's say 7,500 customers, whereas before all 8,000 would be impacted."
The integrated system has made coordination fluid and saved time. Before crews didn't have much information about where the problem could be, and had to patrol a lot of the line to determine the problem area, whereas now smart switches serve as indicators of where the interruption occurred on the line.
"So it's really saving customer impact and saving response time, because now we know it's in this area rather than that area. It's really helpful," said Norse.
Eversource's fully integrated system starts with a separate customer care call center that processes customer calls of power outages, which sometimes provide a clue as to what may have caused the outage. The Integrated Electric Operation Center oversees the coordination of troubleshooters and line men crews to temporarily address and permanently fix outages 24/7, 365 days a year.
"If we have indication in the system and we have the ability to control it, first and foremost we will take those actions in this data system. If we see a breaker trip or re-close or we see a fault and then the line locks out, it's indicated where the fault is so we can open two switches and isolate the fault and then energize. At the same time we're sending in a troubleshooter or a lineman that way," said Norse.
With the upgrades not yet complete, in rural areas troubleshooters will be deployed to determine the issue and radio back the problem to deliver the appropriate response. In some cases, troubleshooters can isolate the incident themselves, returning power to some customers in the area.
"We've heard [in some cases] the troubleshooters will respond faster than emergency responders because we saw on the electrical system before the calls come in," said Kaitlyn Woods, Eversource's media specialist.
That's because the system operates in real time, with all Eversource maps uploaded into the Geographical Information System in 2014 and information regarding crews including truck numbers, contact information and GPS tracking loaded into the system so the Integrated Electric Operation Center can see who is in the area and direct troubleshooters and crews to new interruptions by radio or through pagers.
The system also documents expected restoration times, based on historical averages, updating customers if a time must be reissued.