Tech Tidbits From Across New Hampshire
MobileBridge opens global HQ in Nashua, OakHill completes FirstLight acquisition … and more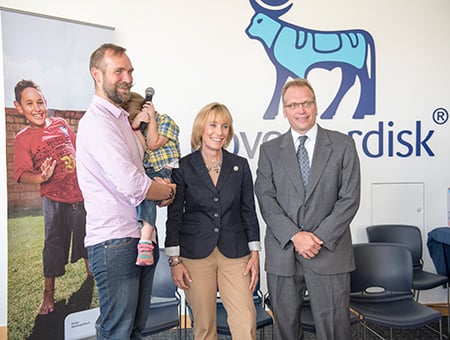 MobileBridge, a provider of advanced mobile app engagement and analytics services, has announced its expansion to the U.S. marketplace and has established global headquarters in Nashua.
Founded in 2012 with offices in the Netherlands and United Kingdom, MobileBridge's customers include Burger King, Volkswagen, Audi and Pirelli.
"This is a very exciting time for MobileBridge as we expand our global footprint and develop the U.S. market," said MobileBridge CEO Eyal Oster. "Nashua is one of the fastest growing tech hubs in the country and with its close proximity to the wealth of innovation and industry in nearby Boston, only 35 miles away, it is the perfect place to call home as we introduce our unparalleled capabilities to brands in the U.S."
MobileBridge's new global headquarters, which were previously in Amsterdam, are located in a 3,300-square-foot space in the Nashua One Tara Boulevard business center.
Geskus Studios & Yearbook Publishing, a Seabrook company specializing in school portraits and yearbooks, has launched The Geskus App, which allows families to securely purchase and store their school pictures at no extra cost.
"I feel strongly the app delivers on our core values of outstanding quality, affordability, innovation and unsurpassed customer service. In addition, I believe the app will help drive the entire industry to be more environmentally sustainable and appeal to both schools and families," said the company's president, Rich Carroll.
The app is available for both Apple and Android devices.
Oak Hill Capital Partners has completed its acquisition of FirstLight Fiber, a fiber-optic infrastructure services provider that operates in New York and northern New England.
Oak Hill acquired the company from private equity owner Riverside Partners, which is also investing in the deal and will continue as a minority investor in FirstLight. Financial terms of the completed transaction were not disclosed.
FirstLight originally started in Albany, N.Y., and expanded through the acquisitions of segTEL in New Hampshire, TelJet in Vermont and G4 in New Hampshire.
With a grant from the NH Department of Education, the NH Association for the Blind will head a research pilot study seeking to provide a team of teachers of students with visual impairments additional education in available assistive technologies and common ways to leverage technology to accelerate learning as well as strategies to provide timely and cost effective accessible materials to students with vision impairment.
The NH High Tech Council will be altering its format for the Wednesday, Oct. 12, TechWomen Power Breakfast with a forum to allow the candidates for U.S. Senate and governor to discuss their positions on major issues facing the tech community. The event will be held from 7:30 to 10 a.m.
Southern New Hampshire University's bachelor of science program in health information management was ranked 13th among the top 20 health informatics degree programs in the U.S., according to College Choice, the college and university ranking organization.
The SNHU program is offered online and focuses on the business of medical informatics and how it relates to patient care.