Tech Tidbits From Across New Hampshire
UNH School of Law professor to speak on ethical and legal issues of AI, startups to compete at TechOut on Nov. 15th ... and more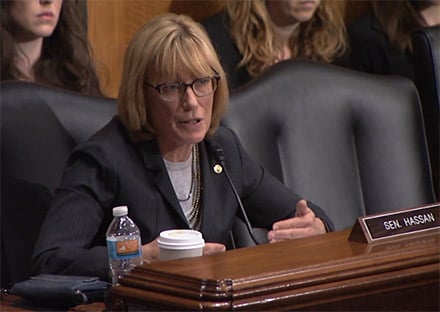 Now in its sixth year, the 2017 TechOut event will take place Wednesday, Nov. 15 from 5:30 to 7:30 p.m. at Dyn Oracle in Manchester. The revamped event includes a tripling of the investment award, thanks to funding from the Millworks II Fund, a partnership among NH investors and the New Hampshire Business Finance Authority. Click here to register.
Roger Ford, an associate professor of law at University of New Hampshire School of Law, will participate with other thought leaders in a Jan. 11th event by Blackboard to identify educational opportunities provided by artificial intelligence, explore related ethical and legal issues, and make recommendations for the ethical and legal application of these new AI approaches. For more information, click here.
Senator Maggie Hassan participated in a Senate Commerce, Science, and Transportation Committee hearing on Nov. 7 where she highlighted the cybersecurity vulnerabilities associated with the Internet of Things, pointing to the cyber-attack on the Manchester-based Dyn Inc., which infected baby monitors and other internet-connected devices with malware and led to dozens of major retailers and media websites being taken off line for several hours. Sen. Hassan asked the panel of witnesses representing technology companies what their approach to cybersecurity is and how they believe the federal government should work with the private sector to ensure devices are secure. The witnesses acknowledged that more work needs to be done to secure these products – both to protect national security and promote innovation. Michael Adcock, the executive director of Telehealth Center University of Mississippi Medical Center, noted that "if the patients aren't comfortable with that cyber security and what steps we're taking, they're not going to use it."
During the hearing, Sen. Hassan also highlighted how the bipartisan Advancing Innovation and Reinvigorating Widespread Access to Viable Electromagnetic Spectrum (AIRWAVES) Act, which she introduced with Senator Cory Gardner (R-CO), would help free up spectrum for commercial use and leverage the success of spectrum auctions to close the urban-rural divide. The witnesses testified to the importance of the AIRWAVES Act; Cartasite Founder and CEO David Armitage Founder pointed to the problems with his workers who spend a lot of time outside of coverage areas, and Lindsay Corporation President and CEO Timothy Hassinger noted the frustration of not being able to exchange real-time information in areas where spectrum and broadband coverage is lacking.
Bob Winot, UNH Class of '71, has pledged more than $2 million of his estate to students in the College of Engineering and Physical Sciences at the University of New Hampshire. His gift will ensure several New Hampshire and Vermont students with financial need and a GPA of 3.0 or higher will receive free tuition.
The New Hampshire Innovation Research Center, located at UNH, will hold three seminars in December to help businesses navigate applying for a Small Business Innovation Research (SBIR) or Small Business Technology Transfer (STTR) grant. SBIR/STTR expert Michael Kurek, Ph.D., of the consulting firm BBC Entrepreneurial Training & Consulting will lead the sessions on these programs that provide $2.5 billion in high-risk, non-dilutive capital available to innovative small businesses annually.
Live Free and Start will hold its NH Speed Venture Summit on Thursday, Nov. 30 from 5 to 7 p.m. at the Manchester Country Club in Bedford. There will be a networking reception open to startups, tech influencers, investors and ecosystem partners, followed by a fireside chat with David Verrill, founder and managing director of Hub Angel Investment Group and chairman emeritus of Angel Capital Association, moderated by Matt Rightmire, managing director at Borealis Ventures. For more information, click here.
The NH Small Business Development Center and the Peter T. Paul College of Business and Economics at the University of New Hampshire, are looking for small businesses with challenges they'd like a team of UNH honor students to tackle next spring. The teams of economics, finance, marketing, analytics and accounting students can address challenges from multiple perspectives, with the goal of improving the learning experience for students and providing a customized result for the business. Interested parties can contact Rich Grogan, NH SBDC state director a richard.grogan@unh.edu or visit nhsbdc.org/engage-students. Deadline to apply is Dec. 1.
The University of New Hampshire Interoperability Lab (UNH-IOL) recently announced new test equipment being used in their Nonvolatile Memory Express​ (NVMe) over Fabrics interoperability and conformance testing services, Teledyne LeCroy's SierraNet Ethernet and Fibre Channel analyzers. The UNH-IOL will also add the SierraNet T328 and M328 analyzers to their test bed for standard 25/50/100GE and 8/16/32 FC protocol analysis and jamming. The SierraNet T328 features Teledyne LeCroy's patented TAP4 passive probing technology, the most non-intrusive front end for Ethernet and Fibre Channel hardware based analyzers.