Tech Council aims to sell girls on STEM
The shortage of female employees pursuing science, technology, engineering and mathematics-based careers is a nationwide issue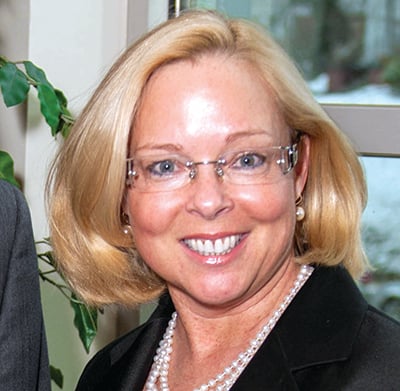 If you were to examine tech events across the Granite State, you might reach the same conclusion Catherine Blake, president and founder of Sales Protocol International, came to: "Where are all the women?"
"There are a lot of us out there that have the skills and the experience to help, particularly with some of the competitions and the various entrepreneur events where you've got judges, and we noticed there were no women judges, no women entrepreneurs applying and competing for those funds," says Blake.
How to encourage a network of women in high-tech careers? The New Hampshire High Tech Council, has created a new forum TechWomen|TechGirls, chaired by Blake.
The initiative has a twofold agenda, she says. It aims to bring professional women together to network, mentor and help each other, but also embolden these women to deploy themselves and encourage girls to enter the field.
Lack of female employees pursuing science, technology, engineering and mathematics-based careers is a nationwide issue.
Just 30 percent of Google's workforce was female in 2014, according to IT trade publication Tech Republic. And with computer systems design and related services jobs projected to grow 45 percent between 2008 and 2018, the U.S. may be short as many as three million high-skilled workers by 2018, says the National Science Foundation.
In March, TechWomen|TechGirls will assist with Girls Technology Day, a New Hampshire Department of Education and Community College System of New Hampshire initiative in its third year.
The event focuses on building a community of women enthusiastic about technology and supporting efforts where girls are exploring STEM as a career or area of study. Over 500 freshman and sophomore high school girls are nominated by their teachers to attend the event.
And this year, Girls Technology Day will last two days, due to increased demand from teachers to send more students. The event will be held Wednesday, March 18 at the New Hampshire Technical Institute in Concord and Thursday, March 19 at Manchester Community College.
"Girls, if they're not encouraged up through junior high, [and] they have an inkling or a gift for the technical areas coming up through 6th and 7th grade, statistically it's proven they don't end up in the field and that's where they can really shine," says Blake.
Girls Technology Day will have workshops on 3D modeling, game programming, app development, microbial fuel cells and more, taught by industry leaders at Air Solutions & Balancing of Auburn, Autodesk, BAE, Graphicast and the Portsmouth Naval Shipyard.
During their lunch break, students can attend a technology exhibition, where they can learn about college options, observe modern-day technology and sign up for internships.
"[The point of the event is] to encourage them and to put women leaders in front of them that are in these fields, who are successful role models, and for the girls to say 'Wow, I want to do that.'"
Blake, who has worked for and served on the boards of Girls Inc. in Lynn and Salem, Mass., wants to connect with other organizations in New Hampshire to help promote STEM career paths for girls and network with women working in the field.
"I can tell you Massachusetts is doing a great job of this already. They have a number of initiatives," says Blake. "The point is to focus on New Hampshire and build this network in New Hampshire with New Hampshire women, and to create a framework for girls to have women role models – for women role models to roll up their sleeves in front of these girls … and for even young women [early on] in their careers that want to speak with somebody whose been doing this a number of years and have a mentor. So I think a lot of connections will be made organically in addition to putting some frameworks around it."
Entering the high-tech world has exposed Blake to diversity and experiences she feels like other areas of business are only now just experiencing.
"I've spent my whole career in tech, about 20 years in high tech, and it was absolutely the best career move I made," says an enthusiastic Blake. "I got to travel the world, I got to meet a variety of people from around the world, and mostly the environment I worked in was diverse. I felt like everywhere I worked was international."
More information on Girls Technology Day can be obtained from Courtney Ritchings, education consultant at the Career Development Bureau of the New Hampshire Department of Education, 603-573-0166.