Target: PFOA
DES contacting other companies for possible chemical use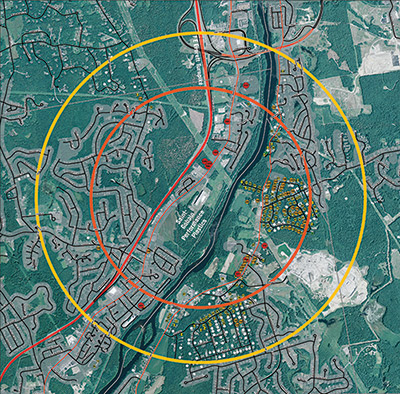 The 1.5-mile radius around the Saint-Gobain Performing Plastics plant in Merrimack is potentially not the only area of the state where varying levels of PFOA may be detected in the water.
The commonplace, far-reaching use of synthetic perfluorooctanoic acid (known as PFOA) and other perfluorinated chemicals (PFCs) in the manufacturing process has led the state Department of Environmental Services to proactively reach out to manufacturers, where additional water samples could be collected.
Through its Air Resources Division and Hazardous Waste Management Bureau, the agency is approaching manufacturers who may have used perfluorinated chemicals to produce non-stick coatings used for wires, fabrics and other materials, to determine if additional sampling is needed.
"We are aware of other manufacturing companies that did use [PFOA] similar to Saint-Gobain, and we have initiated conversations with them as well," said Jim Martin, public information officer at DES, who would not release the names of the manufacturers.
"Part of our investigation is we're looking at all of the potential pathways PFOA may have gotten into the groundwater," said Martin. "There's potential for wastewater spills at the facility, getting leaked out from drains, or something like that. We're also looking very closely at air emissions and what the emissions may have been and how much PFOA may have been included in air emissions."
11 Vermont sites
In Vermont, the Department of Environmental Conservation also has taken this proactive approach, after tests in an area surrounding a former Saint-Gobain site in North Bennington produced PFOA results ranging from 40 parts per trillion to 2,800 parts per trillion.
The Vermont agency identified 11 different sites, including operating and abandoned manufacturing facilities, where it will proactively test water samples, said Danika Frisbie, public information coordinator.
"[PFOA] has been used heavily throughout industry for many decades. Our process was to take an inventory of all the manufacturing facilities in the state, and we did a pretty thorough literature review to see what would have historically used PFOA in large quantities, and we were not just considering PFOA, but also PFOS [perfluorooctane sulfonate], which is in this family of PFCs," said Frisbie.
"We identified the wire coating industry, the semiconductor industry and locations where firefighting foam was used repeatedly at sites that might have released PFOA into the environment," she said. "At the active properties, a lot of them have environmental consultants and staff, so we were able to reach out and ask 'would you be wiling to work with us on this?' Most were cooperative, gave us access to proceed with proactive tests. Most of them have onsite monitoring wells already. They're looking at possible contaminants from their facility, and that was easier."
The Vermont DEC also reached out to the property owners of abandoned facilities and has worked with homeowners in the vicinity of the selected sites to collect water samples.
Results from one site have come back. No PFOA was detected at Phoenix Wire Inc. in South Hero, Vt.. Over the next several weeks, the agency will receive results from the other 10 sites tested, said Frisbie.
Used for decades
PFOA has traditionally been used as a processing aid in the production of fluoropolymer, a durable, lightweight material that can handle exposure to extreme temperatures.
​Fluoropolymer has been used in a variety of applications including hoses, aircrafts and automobiles, as well as lining medical equipment, in order to prevent substances from interacting with the equipment.
Polytetrafluoroethylene, or PTFE (branded as Teflon by Chemours, a spinoff of DuPont) is a fluoropolymer used by Saint-Gobain, which manufactures specialty coated fabrics and films for a variety of industrial applications.
According to Dina Silver Pokedoff, spokeswoman for Saint-Gobain, PFOA is found in the raw material of PTFE, which was supplied to Saint-Gobain by other companies.
"PTFE is a synthetic resin. PTFE is found in many consumer products such as non-stick pan coatings, waterproof clothing, and sprays that repel stains from fabrics and carpeting," she said.
New Hampshire manufacturers have not produced PFOA, but traditionally bought it from the eight major manufacturers of PFOA and PFAS (perfluoroalkyl substances) – also known colloquially as perfluorinated chemicals.
A U.S. Environmental Protection Agency press release from 2000 said manufacturer 3M supplied data to the EPA that indicated PFOS is "very persistent in the environment" and "have a strong tendency to accumulate in human and animal tissues and could potentially pose a risk to human health and the environment over the long term."
Upon 3M's voluntary motion to find substitutes for PFOS and phase its use out, a couple years later, seven other major fluoropolymer and telomere manufacturers – Arkema, Asahi, BASF Corp. (successor to Ciba), Clariant, Daikin, DuPont and Solvay Solexis – agreed to work with the EPA to establish standards for reporting the manufacture and import of 75 PFAS chemicals and to work toward voluntarily phasing them out with safer substitutes.
In 2006, the eight manufacturers agreed with the EPA to reduce by 95 percent facility emissions of all forms of PFOA by 2010, using emissions in 2000 as a baseline. They also agreed to completely phase out PFOA and other long-chain perfluorinated chemicals by 2015, which the industry has done, according the final report submitted in February, said EPA spokesperson Cathy Milbourn.
"However, PFOA is persistent in the environment, which is why it continues to show up in drinking water," said Milbourn.
And it's showing up, not only in New York, Vermont and New Hampshire, but other states, including New Jersey, Minnesota, West Virginia and Ohio.
In the middle of the voluntary phase-out, DuPont paid the EPA a $16.5 million penalty in 2005 for not disclosing a 1981 internal test that showed a high level of birth defects among children of female workers at its plant in Parkersburg, W.Va.
More recently, a jury in Columbus, Ohio, ruled DuPont's spinoff Chemours is responsible for $1.6 million in damages when it was found liable for a woman's kidney cancer, the first of 3,500 lawsuits over Teflon found in Ohio and West Virginia water. DuPont and Chemours are filing an appeal.
Safety standards
Sometime this spring, the EPA will release lifetime health advisory levels for PFOA and PFOS. In 2009, the EPA set short-term exposure at 400 parts per trillion.
New Hampshire's health advisory standard is 100 parts per trillion, in line with Maine, New York and EPA Region 2's lifetime advisory levels, while Vermont lowered its health advisory to 20 parts per trillion in March. That standard is being challenged by Saint-Gobain.
"It's been consistent with other standards [Vermont's Department of Health] created and it's all about the different assumptions you use going into that formula," said Frisbie, who explained the department uses its own formula to calculate any other compound or chemical exposure limit.
New Hampshire's DES "has been in communication with Vermont to get the information on what was the science they used to set that level and we're still working on getting that information," said Martin. "We're really anticipating and hoping the EPA will come forth with their new number as soon as possible, and that will help us guide our efforts" in Merrimack, Bedford, Litchfield, Londonderry, Manchester, the communities in the expanded 1.5-mile radius.
"The only number that has been published by EPA is a short-term health advisory for the course of 24 hours over 30 days, and that's different from a lifetime health advisory limit that's set a total lifetime of exposure," said Martin. "If you were to drink two liters of that water for 70 years, what would your additional health risks be?"