Sylvania re-ups for NHMS sponsorship
With NASCAR still recovering from the downturn, 5-year extension is good news for Loudon track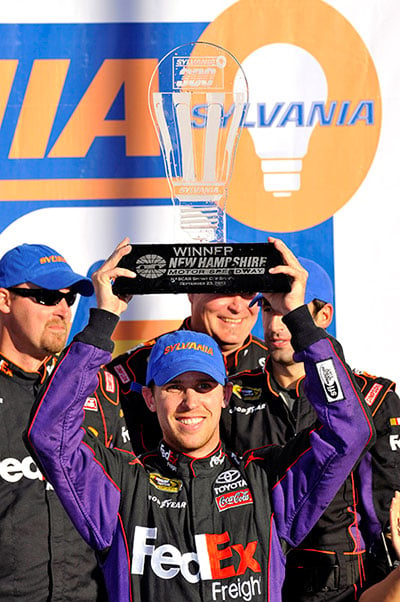 In January, New Hampshire Motor Speedway and Osram Sylvania announced a five-year sponsorship extension for the Sylvania 300, one of two marquee Sprint Cup races run at the Loudon track.
The deal – which will run through the 2017 NASCAR Sprint Cup Series season — was announced in Daytona as part of a media kickoff leading up to NASCAR's highest-profile event, the Daytona 500. But while such a deal would have been almost automatic five to 10 years ago — when NASCAR was a sports and financial phenomenon — that is not the case today.
Since the economic downturn of 2008, the economics of the industry have changed dramatically, for NASCAR, its drivers and its teams, along with tracks like NHMS.
That's why the five-year extension of the Sylvania 300 sponsorship was greeted with appreciation and a sigh of relief by Jerry Gappens, executive vice president and general manager of NHMS.
"In this day and age, long-term business relationships are becoming more of a rarity," Gappens said. "The time is gone when a driver like Richard Petty could drive his number 43 car with the STP logo for years. While we have felt very good about the tremendous partnership we've had with Sylvania for the past decade, there is no such thing as a lay-up. You can't take anything for granted. The template for some of that previous stability has changed."
A healthy New Hampshire Motor Speedway is a small but vital aspect of the state's economy.
According to a 2011 Southern New Hampshire University study, the economic impact of the two Sprint Cup races at NHMS adds up to $179 million in spending, $103 million in income and the creation of 2,500 jobs.
'A measurable impact'
The extension will take the Sylvania sponsorship to 15 consecutive years, making it the fourth-longest such race partnership in NASCAR. It also means that New Hampshire Motor Speedway joins sister Speedway Motorsports Inc. facilities Charlotte Motor Speedway and Bristol Motor Speedway as three of the five longest-tenured entitlement sponsors in the sport.
Gappens, who previously worked at Charlotte before taking the reins at NHMS five years ago, said the Sylvania partnership remains a successful effort that benefits both brands.
"We continue to work hand in hand with Sylvania to make this one of the marquee events in NASCAR's 10-race Chase for the Sprint Cup playoff," he said about the September Sylvania 300, which draws more than 100,000 racing fans to Loudon. "Fans are used to the branding and continuity. Before the Sprint Cup, there was the Winston Cup for 33 years. It takes years of doing, but fans notice."
Sylvania began sponsoring the race in 2003, and it became even more prominent when the end-of-the-season "chase" championship format was implemented in 2004.
To Rick Leaman, president of Osram Sylvania, sponsorship of the race "has been valuable to our company and brand. We believe that NASCAR fans are very brand-loyal. This is the largest sporting event in New England, and it has a measurable impact for us. It has been quite good for every aspect of our business."
Marketing shakeup
Osram Sylvania – which has three manufacturing facilities in New Hampshire, in Exeter, Hillsborough and Manchester — is very frugal with its marketing dollars, said Leaman.
The company, which has its North American headquarters in Danvers, Mass., also has its logo on a dasher board at Boston Bruins' games at TD Garden, and when a Bruins goal is scored, it's a Sylvania lamp that lights up.
But the relationship with NHMS and NASCAR is its most important sports marketing deal, said Leaman.
He explained that sponsorship of the race is an annual galvanizing force for the company, its employees and its customers. He said hundreds of employees attend the race as spectators and volunteers and customers appreciate the sponsorship as well.
"We have many valuable relationships, and for our key customers, it's a phenomenal experience for them to ride in the pace car, wave a green flag or stop by the winner's circle. We get a lot of big smiles from the VIP treatment we provide at the race."
Sylvania's continued sponsorship was among the positive announcements made in Daytona in January, following a year of continued shakeup among longtime sponsors and corporate partners of NASCAR.
According to Sports Business Journal, NASCAR began 2013 with a single-digit percentage decline in marketing dollars for the second year in a row.
Pepsi, a major sponsor, cut its NASCAR driver sponsor budget by $20 million. And Home Depot and Dodge declined to renew sponsorship contracts with NASCAR.
Even popular drivers like Tony Stewart and Dale Earnhardt Jr. saw a cutback in race sponsors. NASCAR also experienced a 16 percent decline in race attendance percent from 2008 and a continual drop in overall television ratings.
But the marketing shakeup was understandable, given the tentative economic recovery, Jim O'Connell, NASCAR's chief sales officer, told Sports Business Journal. "I wouldn't attribute it to a single sponsorship. It's a reflection of the fact that marketing budgets are a lot tighter."
In the meantime, NHMS has yet to finalize a sponsorship deal for its summer NASCAR race, the New Hampshire 300, after the former sponsor, Lenox, declined to renew its partnership deal.
"Lenox had been here a long time, and they were very satisfied with the level of brand awareness," Gappens said. The decision to drop the race sponsorship was because "they have shifted their marketing focus to Europe."
According to Gappens, races at NHMS remain very popular and their television ratings high. He is optimistic about the coming season, based on early returns on season ticket sales for individual fans and corporate customers.
"We've had a better renewal cycle than in any January in the five years I've been here," he said. "It's a testament to the fan base we have for these races."