Swenson Granite Works: steadfast commitment to quality and service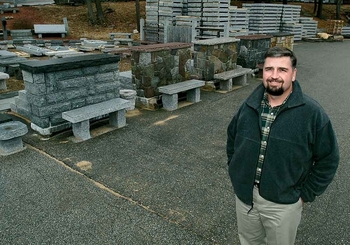 While the Swenson Granite Company — a New Hampshire-based quarrier, manufacturer and retailer of quality granite and stone products founded in 1883 by Swedish immigrant John Swenson — has certainly seen many changes since those humble beginnings, it has always been a leader in manufacturing and product innovation.
Offering the finest in New England granites, Swenson's 100,000-square-foot production facility combines the latest technology with the irreplaceable beauty of hand craftsmanship, so no matter the product, Swenson Granite delivers it to customers at an affordable price and in an industry-leading time frame.
Granite's timeless beauty and unmatched durability makes it the ultimate choice for even the most discriminating customer. And Swenson pays close attention to all the details and fulfills special orders according to every customer's individual wants and needs, no matter the size.
There are seven Swenson Granite Works locations – Concord and Amherst, N.H.; Westbrook, Maine; Medway, Rowley and Hanover, Massachusetts; and Newtown, Conn. – each stocking a complete line of cut granite, including steps, posts, curbing, benches, bird baths, treads, lampposts, hearths, mantels, pavers and edging, in addition to an impressive line of fieldstone, bluestone, flagstone, cobblestone, veneer stone and various types of wall stone.
For more information, visit swensongranite.com.