Sustainable oyster reefs answer to estuary woes
Efforts to rebuild oyster reefs are filling critical link in estuarine food chain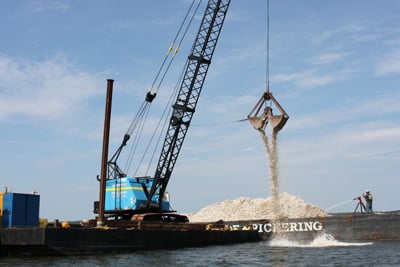 Members from The Nature Conservancy and the University of New Hampshire have taken the next step in using oysters to help rebuild the Great Bay's aquatic habitat and solve its Nitrogen problems.
Ray Konisky, the conservation organization's director of marine sciences, and Ray Grizzle, a research professor for UNH's School of Marine Science and Ocean Engineering, have been working together for nearly a decade, adding nearly 16 acres of reef and three million oysters to the southwest corner of the Bay.
With a little more than two acres expected to be added during this next phase – a significant amount according to Grizzle – the two both have high hopes for the future of the habitat.
"We're really trying to have a broader impact and it's around this nitrogen question," said Konisky. "This is really a nitrogen control strategy."
There are two parts to the project, both designed to rebuild the oyster populations that have been damaged due to years of harvesting and disease, as well as filter out much of the nitrogen in the water that harms the other creatures that live there.
The first step requires laying down a "shell base," dried, recycled clamshells that will act as the literal and figurative foundation. This was done over the past week, allowing the team to move on to the next phase of the project: the "seeding" phase. One million oyster larvae are released into the water in hopes that they make a home on the shell layer.
Over time, however, this will not only be home for oysters, but also will provide habitats for other creatures, according to Grizzle.
The success of this project relies entirely on whether or not the oysters are able to reproduce and maintain their population. In the past, over-harvesting has caused a near-collapse of the population, a fate that should be avoided from now on due to careful planning.
"We purposely build in places that aren't harvestable," said Konisky, pointing out that harvesting had been banned for the time being in this particular area of the Bay. "We do that to protect them from disturbances that wouldn't let them get to an age where they can reproduce on their own."
Though the oysters are prone to falling victim to water-born diseases, Konisky says that the group works to "give them a good start" that would allow them to mature enough to "reproduce before the effects of the disease start to happen".
The oyster restoration project first began in 2009 and receives federal, state and private funding. It is the largest project of its kind in New England and the general consensus from the team is, "So far, so good".
"We're seeing year-to-year survival," said Konisky. "We believe we're building naturally sustainable reefs."