Susan Sylvester, 2016 Outstanding Woman in Business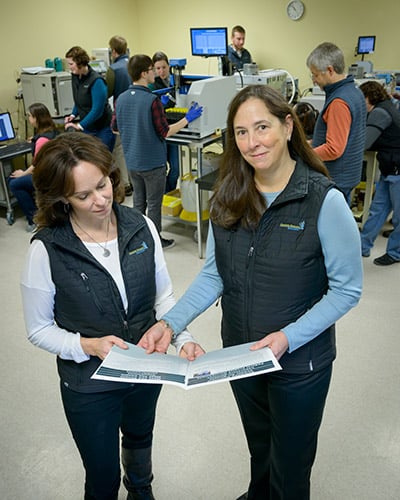 'We often say there are rockets, floaters and sinkers. Make sure you're hanging out with a bunch of rockets that are going to complement what you have to offer.'
A strong work ethic and smart business sense have served Susan Sylvester well over her 30 years in the environmental industry.
Starting her career as a laboratory technician, Sylvester moved easily into management positions, eventually becoming Northeast general manager of GTEL, a $25 million environmental firm, and lab director at Eastern Analytical, one of New Hampshire's largest environmental firms.
In 2000, Sylvester and her husband Guy purchased a Portsmouth laboratory they renamed Absolute Resource Associates. Sylvester has earned the respect of her staff, instilling in them a commitment to exceeding customer expectations, streamlining and improving processes, providing the highest quality data and services possible and nurturing relationships.
In 2012, U.S. Sen. Jeanne Shaheen highlighted Absolute Resource Associates as a small business success story, and two years later asked Sylvester to testify at hearing in Washington, D.C., to share her business story with the U.S. Senate Committee on Small Business & Entrepreneurship. Last year, Sylvester was appointed to the Environmental Technologies Trade Advisory Committee under the U.S. Dept. of Commerce, which meets quarterly in D.C. to advise upon and influence U.S. environmental polices related to commerce.
Q. How did you build up your business from a staff of six to winning federal government contracts?
A. It's one of those slow and steady kind of things. We participate in any of the training offered to us, or what they call matchmaking, a five-minute dating thing where you get to set up meetings with the contractors who are seeking your services. You get to find out who the decision-makers are at that agency and go back to the office and do your due diligence on who's making those purchases and market yourself.
It took us four years before anything happened with it, but you just have to stay the course. I think a lot of people give up too soon. It's not as easy as shaking somebody's hand and the work is handed to you. You have to prove to someone that you can meet their needs.
Q. What are some of the biggest challenges you have faced?
A. I'd say at times it's very lonely. There's decisions you have to make that are not always the popular decisions and that makes it a very lonely place to be because some of our values is to provide for the mutual success of our customers, our employees and our business. And sometimes that leads to tough decisions that are not popular. Being able to network, finding people you can reach out to and bounce ideas off of is important.
Q. Did you have a professional mentor? And have you served as a mentor?
A. I feel more like it was my mom. She raised us to be independent and to put food on your table and nothing was going to be handed to you, and I've just embraced that everywhere I've gone. I just work hard and treat people fairly.
In the industry, I've worked with a lot of people, but wouldn't say I've had a mentor. Indirectly, I'm a mentor to my staff, and we bring in our family members who are high school- or college-aged and let them work there over the summer as an intern to give them experience. I've heard through the grapevine it's made an impression on them.
One of my nieces is going into the environmental field. That makes us proud, especially a young women going into the science field and to know we had an impact on that.
Q. What advice would you give to young women just starting their careers?
A. They need to be hungry to learn and not afraid to challenge themselves. And, most importantly, make sure you're surrounding yourself with good people. We often say there are rockets, floaters and sinkers, and we try to tell people in that context. Make sure you're hanging out with a bunch of rockets that are going to complement what you have to offer.
Q. How do you balance your personal and professional lives?
A. My husband and I do really well. We have ground rules. I'm the kind of person who could get involved in a project and I'll be there long, long days, and he's really helped me step back and make some separation and distance. It helps you be clearer in your decision-making when you're not muddled in the details.
When we leave work, we're done talking about work. If we need to have a meeting on personal time, we schedule it and make sure it's a block of time and it doesn't turn into a whole day or a whole evening. Because you definitely need some space, you need to take a break from it to keep perspective.