Susan Ryan, 2018 Outstanding Woman in Business
CEO of Spaulding Youth Center in Northfield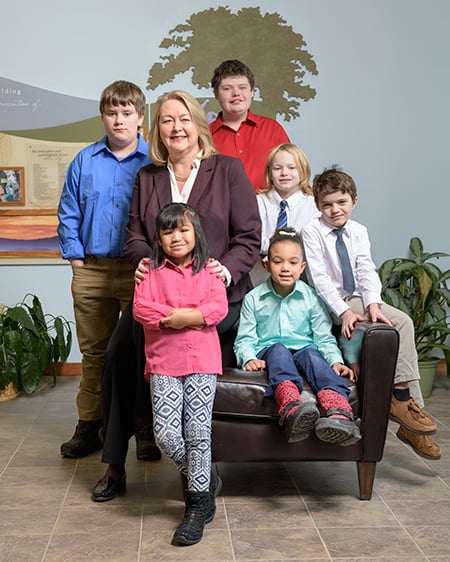 A difficult childhood forced Susan to confront early on what pathway she would embark on in life. Rather than being a victim of her circumstances, she could use her experiences to empathize with and teach others.
A sense of pride in her work, and the help of a mentor who placed trust in her, gave Susan the momentum to become the first female executive at the health insurance administrator Consolidated Group.
Today, Susan serves as the president and CEO of the Spaulding Youth Center in Northfield. The 150-year-old organization provides therapeutic residential and educational services to approximately 100 students, half of whom live on campus until they are reunited with their families or rejoin their community.
Having been in their shoes, Susan can relate to the children Spaulding serves, and uses her unique perspective to communicate to elected officials, state agencies and the community the commitment Spaulding fulfills to help make our society nurturing and productive.
Q. What is your leadership style?
A. I'm very much a planner. Every decision I make today or every expectation or direction I set today is really about something we're doing a year from now. It's about fixing and building. Nothing we do today doesn't serve something in the future, but I also recognize you've got to flex and bend. So the goal may be fixed, but the path can be opportunistic. A plan without a goal is a wish. If you don't have a plan to achieve that goal, I'm not sure how you're going to know how to get there.
Q. Have you had a mentor?
A. My mentor was a gentleman I worked for at Prudential Insurance and who had gone on to an executive position at Consolidated Group. He actually recruited me and I then went on to two other companies he worked at — he was very entrepreneurial. He was such a great mentor, and he really trusted me, and that was such an important lesson and something that has carried me from a very young age. Those people who trusted me — I am fiercely loyal to those people because I think it's such a gift when people put trust and faith in you, that's something you can't squander and take lightly. He would set the goal, set the expectation and trust I would carry it out and if I needed help, I'd seek out his advice and support. I started as a supervisor and I ended up as the first female executive at that company, so it was very empowering and it was because he had faith and trust in me, and I've tried to do that too, for others.
Q. How does someone become a great mentor?
A. You can mentor others by respecting yourself and respecting them, being authentic with them and being communicative. You have little opportunities along the way and then you can have these official opportunities to mentor too. With anyone who works for me, I feel the responsibility to mentor them in some way, whether in a deep way or just be there to support and lead them. And to do that I need to let them know what my expectations are and we need good two-way communication. As a leader I feel my main job is to inspire people to do their best and I try to do that in any relationship I have.
Q. Have you experienced discrimination because of your gender?
A. Unfortunately I think gender bias does exist. If you're doing the best work you can and you're an honest, committed, consistent person but you encounter discrimination then you may need to move on. But don't let the detractors distract you. Biases could be something you worry about and put too much energy into rather than doing the good work and proving yourself and your value by working through that.
Q. Why should young people consider a career in nonprofits?
A. Because you can really do the work you love to do. I don't think you can do that in every sector; you're uniquely able to have these personal relationships and true commitment when you're in nonprofit work. I say that from personal experience because I've worked in all sectors and I've been committed and worked hard in every job I had, but I take most pride in the work I've done in my nonprofit employment because I know it really matters and there's nothing better. I don't know how every millennial is not working at a nonprofit.
Video by Edify Multimedia Group