Summer camps serve as economic engines for NH communities
160 licensed camps generate $113 million in direct economic impact says American Camp Association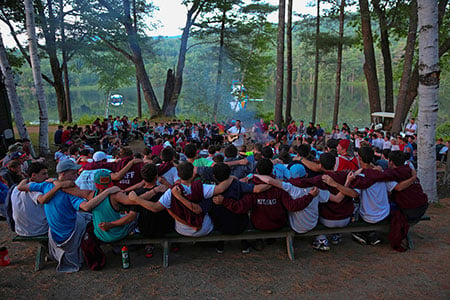 Summer camps in New Hampshire generate $113 million annually in direct economic impact, according to a report produced by the American Camp Association's New England chapter.
The Northeast Economic Impact Report examined nine states in the Northeast including Connecticut, Maine, Massachusetts, New Hampshire, New Jersey, New York, Pennsylvania, Rhode Island and Vermont. Regionally, over 6,000 summer camps contribute $3.2 billion annually to the economy, according the report.
This year, the association examined only the 160 licensed camps in the Granite State, which spend more than $105 million on goods and services including food, supplies, fuel, marketing, banking, maintenance and repair.
"I think what we see from [the report] is that camps really have a significant economic impact in the communities they're in and the state's they're in overall," said Bette Bussel, executive director for the American Camp Association, New England, who said camps are "little economic engines" for the communities they're located in.
Summer camps in New Hampshire employ 300 full-time workers and 5,500 seasonal workers who earn $32 million annually, with most of those seasonal workers in the 16-24 age group.
"You have to remember many of the camps, overnight camps, often are in rural areas," which means staff at the camp "don't go very far on their days off," said Bussel. "So they're staying in communities where the local camp is, [going to] restaurants, laundromats, stores. When you combine the direct impact and indirect impact, the total contribution in New Hampshire is $247 million."
Summer camps also attract 23,000 out-of-state and international visitors to New Hampshire, visitors that develop a lifelong and sometimes generational affinity for the state.
"We've had camps operating in New Hampshire for over 100 years, so we have families where three generations of the family have gone to the same camp," said Bussel. "The younger campers will see pictures of their family members up there on the wall and see what was different and what is the same."
Families coming in and out of the state to transport or visit their children participating in summer camps also spend $7.5 million in the state annually. When looking at the Northeast region, that rises to $8 billion.
"They want their own children to have that same connection," said Bussel. "That's kind of unique with camps. There's nothing like it. Where else these days do young people go when they don't have a phone tied to them 24 hours a day? Where they actually have to talk to other people face to face, where they need to learn to make decisions, even 'What activity do we do as a bunk?' or 'What activity do I want to do?'. These are all things camps do that don't happen elsewhere and make camp an amazing place."