Study says pay equity for N.H. women won't come until 2082
Granite State is tied with Arkansas for 12th worst in the nation in terms of the time it will take to achieve equal pay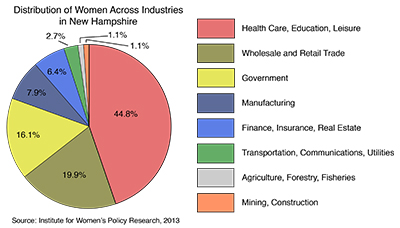 When will women in New Hampshire receive pay equal to men's?
In 2082 – 67 years from now – says the Institute for Women's Policy Research.
New Hampshire is tied with Arkansas for 12th worst in the nation, in terms of the time it will take women to achieve equal pay, according to a recent study released by the institute.
Meanwhile, Florida may be the first to see equal pay – although it won't be any time soon either – in 2038. And in Wyoming, it could take well over 100 years, with its projection set at 2159.
A shortage of women in high-paying STEM positions is one factor, but bias remains, suggests the study. It found that women earn less than men at the same educational level, and at most educational levels women earn the same or less than men with lower educational qualifications. Raising children continues to be a factor, as well.
Over a third of New Hampshire women work part-time. Some claim it works better with their children's school hours, while others are unable to find full-time work. New Hampshire ranks fourth in the nation with the most part-time female workers. It ranks 47th for most full-time, 56.6 percent of women.
On average, women in New Hampshire earn $52,000, while men earn $80,000, in 2013 dollars.
While 31.1 percent of men in New Hampshire have earnings in the top quartile, the number was cut in half when it came to women: 16.4 percent. Those figures flipped at the bottom quartile: 33.2 percent of women and 19.3 percent of men have low earnings.
Out of the 332,378 employed women in New Hampshire, 30.9 percent of women are in professional careers (New Hampshire ranks third in the country), 20.5 percent are in office and administrative support, 18.7 percent have service jobs and 13.3 percent are in business or management roles.
But only 4.5 percent of employed women are in STEM (science, technology, engineering and mathematics) careers, ranking New Hampshire 21st in the nation. The District of Columbia is first, with 10.6 percent of women in STEM careers.
However, when it comes to men in STEM-related careers, New Hampshire ranks eighth, with 12.8 percent. Massachusetts placed first, with 14.6 percent of men in STEM careers.
Millennial women face a narrower wage gap, according to the study, with an earnings ratio of 85.7 percent. On average, full-time millennial women earn $30,000, while their male counterparts earn $35,000. Between 2011 and 2013, millennial women earned less than millennial men in all but one state: New York. Young women in New York earned $38,319 compared to $37,542 for men.
Meanwhile, 2015 marks enactment of the New Hampshire Pay Equity Act, which prohibits employer from paying employees of one sex a rate lower than the rate paid to the other sex for equal work, skill, effort and responsibility, performed under similar working conditions.
The law also prohibits employers from terminating an employee, or requiring employees to sign a contract or waiver, that would prevent employees from disclosing their pay, compensation or benefits.