Study puts numbers to NH's nursing shortage
State ranks 10th on list of most overworked nurses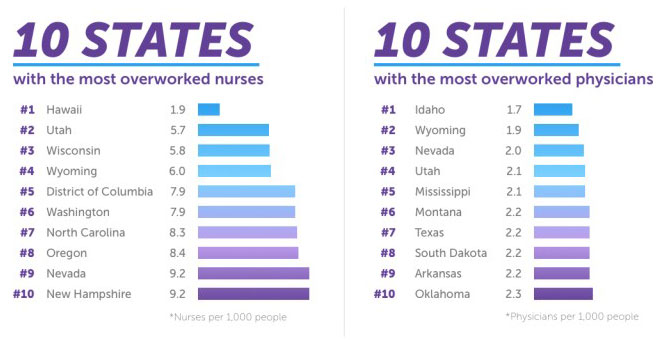 New Hampshire ranked 10th in the country among states with the most overworked nurses, according to a report from Medicare Health Plans, a company that provides reviews of health insurance companies.
The report was compiled by examining data from the U.S. Census Bureau, FBI crime data and the Kaiser Family Foundation, which allowed the company to compare doctor and nurse counts to the population data.
Nationwide, on average, there are 12.8 nurses per 1,000 people. In New Hampshire, that number drops to 9.2 nurses per 1,000 people, meaning there are 12,288 nurses for the state's 1,330,608 residents.
Furthermore, New Hampshire nurses are earning $3,500 less than the national average. According to the U.S. Bureau of Labor Statistics, the average salary for a registered nurse in New Hampshire is $68,630 — nationwide the average salary is $72,180. In Massachusetts, for example, the average nurse's wage is $89,060, according to the Bureau of Labor Statistics.
A shortage of skilled nurses in New Hampshire was an issue raised in March by health care professionals at the launch of the Health Care Sector Partnership initiative — a program of the former Department of Resources and Economic Development, now the Department of Business and Economic Affairs.
During the event, Dr. Susan Huard, president of Manchester Community College, referenced a December 2016 report submitted by then-Gov. Hassan's health care commission that noted Massachusetts' nursing salaries were much higher and that requirements for individuals licensed from another state to gain licensure in New Hampshire were too cumbersome.
This session, the Legislature passed Senate Bill 137, which provides temporary licensure for nurses from Vermont, Massachusetts or Connecticut.
Which is a good thing too, considering the state with the least overworked nurses — meaning there were more nurses to residents — was neighboring Vermont, which has 21.3 nurses per 1,000 people. In comparison, Maine recorded 16.8 nurses per 1,000 people and Massachusetts recorded 17.1.
New Hampshire fared better in terms of the number of physicians to residents, with three per 1,000 residents, higher than the national average of 2.8.