Study praises NH's online privacy regs but says there's room for more
Comparitech.com grants Granite State 50 out of 100 points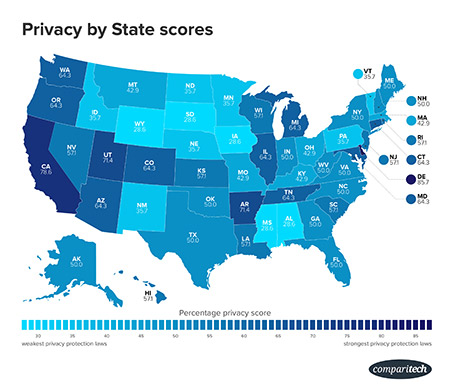 A study by security and privacy advice and comparison website, Comparitech.com gave New Hampshire an honorable mention for pioneering statewide privacy policies, though indicated the state does little to regulate how companies and the government use data.
The evaluation was part of a study that examined 14 key criteria areas in all 50 states to determine a score in regards to the level each state protected online privacy.
The top states were Delaware (which received 85.7 of 100 points), California (78.6), Utah (71.4) and Arkansas (71.4).
New Hampshire received a 50 out of 100.
The study praised New Hampshire for joining the ranks of privacy pioneering states like California when it enacted a law in 2015 modeled after California's Student Online Personal Information Protection Act. The law imposes strict obligations on companies collecting and storing data on students from kindergarten to high school age.
The study also referred to the Kilton Library, located in Lebanon, for offering users unprecedented access to Tor, a web browser that enables them to browse the web completely anonymously. "When the Department of Homeland Security alerted New Hampshire authorities about the Kilton Library's Tor access, state officials and the community stood in support of this act of privacy," says the report.
But the Granite State was criticized for lacking laws that protect journalists and employees, as well as doing little to regulate how companies and the government use data.
Alongside New Hampshire was neighboring Vermont, which received an honorable mention as well, though a lower score of 35.7. Vermont has a stringent "opt-in" privacy law, imposed on the financial sector, that requires explicit consent from consumers before their data can be shared. But Vermont lacked laws New Hampshire had passed, such as preventing employers from requesting to access an applicant's or employee's social media accounts and protecting K-12 student information
Comparitech.com found that Delaware is the most private state due to laws that require the government to dispose of customer data after a set period of time, protect the privacy of e-reader and library data, and protect employee privacy that helped the state to stand out.
Wyoming, South Dakota and Alaska ranked as some of the worst states for online privacy.
"US citizens, nor citizens of any country, should expect their government to protect their privacy from all threats," said Paul Bischoff, privacy advocate for Comparitech.com in a blog. "It's up to all of us as individuals to be proactive in guarding our privacy. No state is perfect, but at least all levels of the U.S. government allow citizens to fortify their online security at will."
To view the full table of criteria comparison, click here.