Study measures beer distributors' impact on N.H. economy
Proportionately, New Hampshire is chugging more than its fair share of suds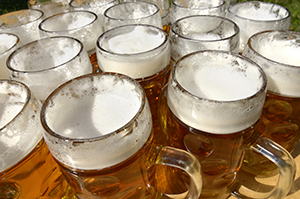 Those who plan to pick up a cold six-pack on their way to a Labor Day barbecue this weekend might want to take a moment to reflect on how much they are contributing to the New Hampshire economy.
More than in your average state, it appears.
According to a report released Wednesday by the National Beer Wholesalers Association, New Hampshire beer distributors generate more than 1,000 jobs and $411 million in the Granite State.
According to the report, a total of 2,767 people are employed either directly or indirectly in beer distribution (1,028 are directly employed).
Nationally, beer distributors claim responsibility for 130,000 jobs and $5 billion in direct economic impact.
Yet proportionately, New Hampshire is chugging more than its fair share of suds. New Hampshire accounts for a mere four-tenths of one percent of the nation's population, but the beer distribution industry in the state accounts for eight-tenths of a percent of the state's economy.
To look at it another way, Maine has roughly the same population as New Hampshire, yet beer distribution there accounts for only $261 million, or $80 million less. Massachusetts is five times as large, but beer distribution there accounts for $896 million, or a little more than double that of New Hampshire.
This doesn't mean that Granite Staters necessarily drink more than their neighbors. Indeed, it could be that the neighbors are drinking the beer distributed in New Hampshire, with purchases at stores along the borders.