Stonewall Cable expands health care technology business
Rumney-based communications cable manufacturer complements medical innovations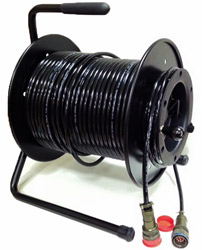 Rumney-based Stonewall Cable is currently in talks with the Children's Hospital at Dartmouth to offer cables for exoskeletons, which will help lower costs for families of children with spinal muscular atrophy.
Founded in 1985, Stonewall Cable manufacturers communications cables used in a variety of high-tech industries as well as in military operations.
Some of the top hospitals in the country utilize and rely on data cables made by Stonewall, including Johns Hopkins Hospital, Mass General Hospital, the Mayo Clinic, UCSF Medical Center, Stanford Hospital, Duke University Hospital and Bringham & Women's Hospital.
Stonewall's cables are also found in top children's hospitals across the country, including Children's Hospital Boston, Children's Hospital San Diego, Children's Hospital of Georgia, Cincinnati Children's Hospital and Phoenix Children's Hospital.
Stonewall is currently speaking with department heads at Children's Hospital at Dartmouth, said spokesperson Anthony LaMonica.
Medical professionals have also contracted Stonewall to engineer and build customized cables for state of the art medical technology such as da Vinci Surgical System, a precision surgical robot. The complex Surgical System, made by Intuitive Surgical, consists of advanced computers, robotic arms, specially developed software and precision control consoles. Surgeons and hospital directors found that they were restricted to particular motions of the robotic arms and required specialty cables from Stonewall to allow more adequate movements.
Stonewall also manufacturers a variety of data cables that can also be found on ships, submarines, tanks, control towers, drones, jets and planes. The U.S. Navy and their contractors utilize proprietary retro-fit adapters, which allows information systems to be upgraded while maintaining existing cabling, eliminating the cost and labor of replacing entire systems, according to Stonewall.
"Here at Stonewall, we sell to 9 of the top ten government contractors, and 9 of the top ten defense contractors," said LaMonica. "We've developed a tradition for offering an elite set of capabilities that is rare among small businesses. We thrive in the government sector and continue to expand into health care and aerospace."
Earlier this summer, Stonewall's cables were used to help transmit the 2016 Summer Olympics to the U.S.