State's biotech industry poises for further growth
ARMI initiative adds energy to building NH's brand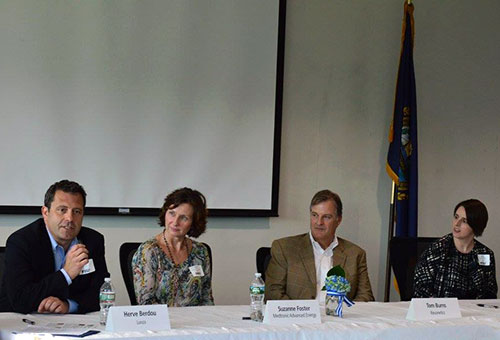 For 25 years, Cindy Conde lived in New Hampshire but worked in the medical device and biotech industry in Boston.
"Most of my career has been in Massachusetts, New Jersey and California — never in New Hampshire, because, quite frankly, I never realized how big the industry was here until six months ago," says Conde, who recently retired as chief information officer at biotech giant Sanofi Genzyme.
Ready to leave the corporate world, but not preparing for retirement, Conde reached out to the NH High Tech Council.
Six years earlier, the High Tech Council had merged with a biomed group and held industry-related events. There was some interest, but it was not industry-led, says Michelline Dufort, the council's director of business relations council.
The initiative was paused.
But a few years later, the council saw increased industry interest and presence through its Tech Women|Tech Girls initiative. Earlier this year, Conde became the chair of the new BioTech/MedTech cluster, which held its first event in May at Medtronic Advanced Energy's Portsmouth office.
This time the reaction was different. Approximately 80 people from industry and education attended the event, which featured panelists from Medtronic, Lonza and Resonetics. Representatives from Keene State College and the University of New Hampshire offered to work with companies to place students — a much-needed move as the industry faces growth constraints with a statewide unemployment rate of 2.8 percent. And at the end of the event, several people handed Dufort their business cards and inquired about future events.
"We had to wait for the right people around the table," says Dufort. The committee has grown to 12 individuals, with interest from others in the industry to get involved. "The subjects that came up from the panelists and the Q&A showed us the committee, which is very industry driven, is where it's supposed to be."
Regional economy
When preparing to relaunch the biotech initiative, Conde reached out to people passionate about the industry to join the committee.
"A lot of groups are interested in this area in New Hampshire because it's starting to grow," says Conde, including government, real estate and legal services. Also sitting on the panel at the May event was a lawyer from Bernstein Shur who has clients in the biotech/medtech industry.
Conde has met with several organizations interested in partnering, in light of the biotech/medtech industry's growth on a regional level.
Conde and the High Tech Council reached out to MassBio — the Massachusetts Biotechnology Council — and MassMEDIC — the Massachusetts Medical Device Industry Council.
"I think there's an opportunity for us to not only create our own thing, but to partner," says Conde. "I think we need to leverage the partnerships, the collaboration possibilities, to build this in New Hampshire."
For instance, Cambridge-based Alnylam Pharmaceuticals recently worked with MassBio to find cheaper real estate for a new biomanufacturing facility. Alnylam has examined property in Rhode Island and Connecticut.
"New Hampshire wasn't a part of that," says Conde. "So how do we get to the table? How do we share some of our best-kept secrets?"
A mini-Cambridge?
Conde especially wants to spread the word about the new Advanced Regenerative Manufacturing Institute, led by Segway inventor Dean Kamen and supported by a $85 million, five-year award from the Department of Defense, that's taking shape in the Manchester Millyard.
"The Millyard is starting to become a mini-Cambridge, if you will, in terms of the sector," says Conde.
Cindy Harrington, business development manager at the NH Division of Economic Development and a founding member of the committee agrees.
ARMI and New Hampshire's growing bioresearch sector will attract outside talent including scientists and professors, she says.
"You have ARMI in Manchester and it's in great proximity to Boston-Cambridge and Dartmouth. A lot of companies want proximity to the Boston-Cambridge market, to hospitals for clinical trials. They want to be accessible to research going on. They also want accessibility to quality of life," which tends to be one of the most significant factors for moving to New Hampshire, says Harrington.
"Suppliers will want to be here, and New Hampshire will be very competitive in rent to the Cambridge market," she predicts.
Already, New Hampshire's life sciences industry is well on its way. Last year, there were 6,800 jobs in the sector, with average wages of $100,468.
Working with the Department of Resources and Economic Development, Conde has learned there are nearly 300 companies in the biotech/medtech space — and that's not including companies that supply the industry.
"I did some initial work with a couple of people on the committee and when we looked at some of the data, when you look at the broader industry, when you look at hospitals and everyone touching the industry, there are more than 4,500 businesses in New Hampshire," she says.
A New Hampshire flavor
The cluster serves not to replace the major networking events held in Boston, but complement them with localized industry networking events that don't require enduring the I-93 or I-95 commute. It aims to fill a void that those in the industry have become more vocal about.
"When I speak with those in the life sciences sector in New Hampshire, they'll say 'Where do we network within our own space?'" says Harrington. "I strongly believe New Hampshire needs a biotech cluster. It's an opportunity for companies to come together in that sector, peer to peer, and you can learn best practices, what's going on at the local, state and national level, and have the NH High Tech Council voice on issues."
It's also critical for state government and educators to hear from the industry about what they need for skilled talent and suppliers. "It's a lot of good information, and it's the networking that will benefit them," says Harrington.
The BioTech/MedTech Cluster is planning to hold two more events in the fall, as part of its goal to hold three events per year.
"Let's talk about the advantages of New Hampshire," says Dufort of the High Tech Council. "Let's talk about what [the industry is] going to look like and have the conversation amongst ourselves."
But with a desperate need for new workers, the cluster will have to be jointly focused on the message it's sending outside the state.
"It's very much about building New Hampshire's brand to attract workers," says Dufort. "If there's someone positioned to make a move, we want them to think of New Hampshire as a viable option."