State offers rebates for more EV plug-in stations
$24,000 in funding targets more southern N.H. electric vehicle charging sites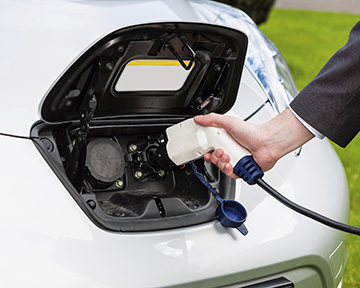 The New Hampshire Department of Environmental Services and the Granite State Clean Cities Coalition are offering rebates for the installment of additional electric vehicle charging stations along Interstate 93 south of Interstate 89.
Rebates up to $12,000 are available for "Level 3" charging equipment or "DC Fast Chargers," which provide up to 480 volts, fully charging an electric vehicle in 20 to 30 minutes.
There already are Level 3 chargers installed at the Hooksett rest areas on I-93, says Paul Lockwood, supervisor for the Pollution Prevention Section of the department. That type of charger is for "someone we would expect would plug in their car for 20 minutes to an hour as they go into the gift store or get a bite to eat at the restaurant."
Interested businesses must file a pre-approval rebate application form before submitting the final rebate request form by April 3.
New Hampshire has $24,000 allocated for electric vehicle charging infrastructure projects in 2015, with another $25,000 available in fiscal year 2016. The funds are from the U.S. Department of Energy, through the state Office of Energy and Planning.
Rebates up to $5,000 will be available for "Level 2" charging equipment at other locations afterwards.
Lockwood says businesses and destination facilities like ski areas or hotels would most likely use "Level 2," since clients would be there for two to three hours.
Electric vehicle ownership in New Hampshire is "just about doubling every year," says Lockwood.
He says in 2012, there were 244 plug-in electric vehicles registered in New Hampshire. That went up to 433 in 2013, and they now number 750.
Those numbers don't include hybrid vehicles, which are electric- and gas-powered. Lockwood says hybrids are not easily counted in the state due to how town clerks list them (owners can either categorize them as gas or electric). But he says the state does have a handle on the number of plug-in vehicles.
"Right now we have about 36 charging stations in New Hampshire. Most of them are at car dealerships or hotels – the type of businesses you would expect to support charging stations," says Lockwood.
Lockwood says the cost of charging stations vary widely.
For instance, a simple, wall-mounted Level 2 charger, such as those that might be installed in a parking garage, may run as low as $450, while more elaborate outdoor models can cost anywhere between $3,000 and $5,000.
As for the cost of installation, says Lockwood, "as you would expect, they are highly variable, depending on the amount of site preparation needed, availability of electric service, need for signage, etc. It is our expectation that our grant will cover the purchase cost of a station while the applicant would cover installation and operating costs."
The DES has already received seven or eight inquiries. The Appalachian Mountain Club already has two charging stations and is interested in a third, says Lockwood. While the applications are due by April 3, they are "not etched in granite," says Lockwood, but are "on a first-come, first-serve basis."
Additional information and Step 1 and 2 of the application process can be found under "What's New" at des.nh.gov.