Startups share thoughts on ed-tech industry
Digital transformation presents opportunities and challenges for new companies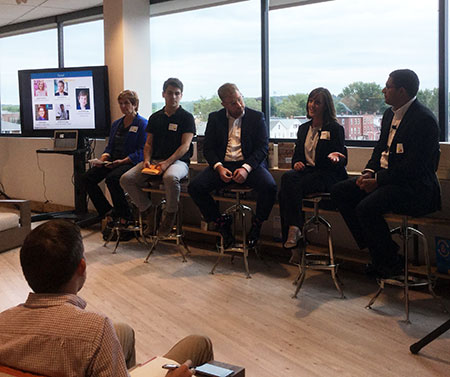 Sitting in "one of the major disrupters in the world" as she referred to it, Jean Hammond, co-founder and partner at Boston accelerator LearnLaunch, opened the discussion on the ed-tech industry at Southern New Hampshire University's Sandbox CoLABorative. The event, which took place on June 27, featured four panelists from local ed-tech startups Pulse, uConnect, EDACS and Awato.
Hammond set the tone, pointing to the fact that a few years ago the college textbook market was "humongous" but had now "hugely collapsed" with people moving to digital delivery of content.
Last year, $2.3 billion was invested globally in ed-tech, said Hammond.
Special needs and project-based tools are the new trends in K-12 space, said Hammond, as districts transform themselves to bring in digital information.
When LearnLaunch formed, five years ago, there were about 8 to 10 percent of K-12 classrooms with enough bandwidth to deliver online learning products. That has jumped to nearly 90 percent, says Hammond.
"Whatever we've been doing in ed-tech, it certainly has involved buying a lot of networking gear and now people are trying to decide what to do with that networking gear," said Hammond.
But a continuing issue for New Hampshire startups arose yet again: lack of capital.
"It's a complex and busy investor landscape," said Hammond. "Working with really early stage companies we find that a lot of them are encountering a really serious capital gap."
Hammond stressed angel groups were important for the ed-tech industry.
Terren Klein, founder of college survey firm, Pulse, noted the slow moving nature of selling to educational institutions, but had found success in fine-tuning his method to increase sales. Rather than pitching Pulse as an enterprise product, he has worked to develop relationships with each higher education institution after piloting Pulse on the campus.
"It's much easier to sell by saying 'your students are already using this, would you like to run a survey?' than 'we could do this,'" said Klein.
David Kozhuk, cofounder of uConnect — an educational resource for students to explore different career pathways — also found selling wasn't as straight forward since career centers weren't necessarily funded. So Kozhuk reached out to individuals in other departments at the college that prompted discussions among colleagues.
"I think that what has been proven is an alignment of the career center's goals and the administration's goals, and when everybody's in the room talking about it, there's more budget support," said Kozhuk.
Angela Addison, co-founder of EDACS — a learning accommodation management system that helps students with learning disabilities — discovered customers in spaces she never considered, like nonprofit organizations and community centers that manage high-risk students.
"What we found is when you're able to build a big enough platform and sell it at a low enough price you're able to create value across the spectrum, whether you're selling to a principal, a provost or a career director, you can sell something to them," said Matt Guruge, CEO of Awato. "But the biggest surprise was how much value you had to supply at what price."
Selling to educational institutions is also different in the sense that there is just one sales cycle, over the summer, versus the four quarters in the private market space.
"You can get traction throughout your sales cycle starting as soon as the last one ended," advised Guruge. "You can start talking to people, getting them excited and demoing it."
Keeping the team building new products keeps investors and customers engaged, said Guruge.
Despite the ongoing talks of tight school budgets, Addison noted she had not experienced any issues selling to the K-12 space. "We had two people tell us they would find the money, it's their number one priority for the year is selling tracking special needs students," she said.
Addison built EDACS on a Salesforce platform that allows data integration and API for siloed school systems. Bridging data across siloed systems is still a work in progress within the education sector, especially at higher education institutions that have large data structures, said Hammond. But educators want to be able to make data-driven decisions, says Klein.
"The current option is to get a spreadsheet and try to make a decision off of that. That takes a lot of work to make a data-driven decision based off of a static results survey," argued Klein. "At Pulse we're able to cross reference all surveys we're doing and each student has a profile, and so we're able to see how opinions are changing over time … Something we're working on now is allowing schools to understand how their students' social networks influence their experience, by pulling information from social media sites and other metrics, we're able to construct a social network map of their entire school and project public opinion data onto that, so schools can understand how a particular policy is being received or how it's affecting different friend groups."