Startup takes on the college application process
Manchester-based ApplyKit seeks 'to fundamentally improve the world of admissions'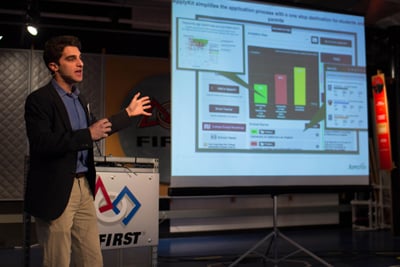 With the school year just begun, high school seniors across New Hampshire are contemplating their future. For those considering college, the complex nature of the application process can seem daunting.
That's what encouraged Bobby Touran, born into a family of educators, to create ApplyKit, a free online college application management tool. Working in Manchester at Wasabi Ventures, a venture capitalist firm and tech incubator, Touran had access to a team of engineers who developed the platform for his vision.
"Our initial thought was that we should build a virtual file cabinet for the admissions process from the perspective of a student," says Touran.
It turned into a dashboard that provides an overview of a student's college application process, including individual application statuses and deadlines, supplemental documents required and social media feeds from the schools, so students can be updated daily.
And, realizing the challenge parents have in trying to monitor their child's application process without being overbearing, ApplyKit offers a synched parent account as well as guidance counselor account.
"[It] gives parents a sense of ownership on the site too," says Touran.
While the ApplyKit team was building the initial website, Touran marketed the tool and sought out support. He formed content partnerships with college solutions websites and bloggers, marketed through social media sites and hosted scholarships published on general college information sites. Students could win a $500 scholarship by signing up for an ApplyKit account and selecting schools they were interested in.
Touran also formed partnerships with The Princeton Review and other college prep firms, which offer their services to ApplyKit users at a discount and generate commission for his business.
The first version of the site launched in August 2013. Currently, about 50,000 students worldwide have an account with ApplyKit – about 10 percent of users are international students applying to American colleges. Touran is surprised by its popularity among international students, especially since he has not done any outbound marketing.
"Interestingly, our strongest usership comes from South America, countries like Brazil," says Touran. "And we also have sort of sporadic usership from India and China, which are the main producers of students at the undergraduate level in America."
Much of the data ApplyKit uses is data from IPEDS (Integrated Postsecondary Education Data System), a free online tool from the National Center for Education Statistics that provides information on college admission rates, student body population and student-to-teacher ratios. ApplyKit takes that data, as well as separately pulling ongoing social media feeds, deadlines, cost and supplemental documents.
'Virtual guidance counselor'
Soon after the site first launched, Touran was invited to "Data Jam," a joint event presented by the White House and U.S. Department of Education. A mix of entrepreneurs, college educators and policymakers met at Harvard to discuss the challenges in education and how they could leverage open data to improve education.
A few months later, Touran visited the White House for "Datapalooza," a smaller group setting focused on providing tools addressing two major concerns in education: financial literacy (to help students avoid massive student debt) and tools for under-represented students, mainly Hispanics and Native Americans.
"In response to that, I took that as an opportunity to sort of position our product along a lot of the discussions that are going on. For example, we are – this fall – going to be offering a financial aid component to our site," says Touran, referring to the website relaunch, which also offers a complete Spanish translation.
The relaunch of the website and new mobile site and app are the result of ApplyKit's extensive market testing and research, performed after attracting New Hampshire investors in a seed round last summer, Touran said.
"That allowed us to bring on employees, really focus on doing lots of market testing and getting a good sense of what students and parents really struggle with in the admissions process," Touran says.
After discovering that colleges also struggle with meeting their enrollment goals and have limited knowledge as to which students are interested in them, Touran realized he had another market for his tool.
"We've morphed ourselves from a virtual file cabinet to a virtual guidance counselor that takes advantage of a lot of big data on high school students and makes that available to colleges," he explains.
ApplyKit's team created an algorithm that directs students to colleges they should apply to, after answering a questionnaire. When students indicate they're interested, ApplyKit makes their information available to the colleges.
It recently partnered with its first institution, Southern New Hampshire University, which notifies ApplyKit about what type of student it's looking for, and ApplyKit searches its databases to provide relevant students' information.
As for the students, ApplyKit shows them their chances of being accepted, such as a chart showing how their SAT or ACT scores compare to accepted students' scores. If their score is weak, they can purchase test prep from a partner.
Touran thinks the new website will enhance ApplyKit's offerings.
"The goal of ApplyKit is to fundamentally improve the world of college admissions – for both students and college admission officers – using the tools of the future: the Internet, smartphones and curated content."