'Startup' for startups adjusts
The goal of the NH-ICC has been to create an innovative platform to accelerate the development of high technology, early-stage startups and leverage the growing intellectual capitalization at UNH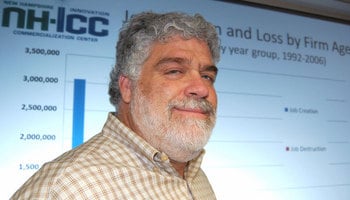 In the beginning, the concept of the New Hampshire Innovation Commercialization Center in Portsmouth was simple – every quarter, the board would choose an early-stage technology company with success potential, give it professional stewardship for a year or so, send it on its way and start the cycle again. But as with any good plan tested by market realities, the NH-ICC has had to make game-time adjustments since it started last spring.
"The center itself is a startup in its own right," said Mark Galvin, the managing director and one of the founding lights of the NH-ICC, which is a partnership operation with the University of New Hampshire. A serial entrepreneur himself – he founded Cedar Point Communications in Derry and Whaleback Systems in Portsmouth – Galvin said it's "been a roller coaster, but we're tenacious ourselves and we've received tremendous support from the community."
From its onset earlier this year, the goal of the NH-ICC has been to create an innovative platform to accelerate the development of high technology, early-stage startups and leverage the growing intellectual capitalization at UNH – while creating jobs and keeping talented employees in the state.
"What we are geared to do is to keep the (money) burn rate down for these companies so they can be methodical," Galvin said. Ideally, it gives companies the best chance to succeed by letting them focus on product development while giving venture capital investors a diversified risk avenue and an opportunity to "buy low and sell high," said Galvin.
Evan Bontemps, the founder of the four-employee company Holase Inc., said being the first company chosen was an honor and provided an immediate benefit.
"We finally had office space," Bontemps said. Holase makes portable traffic light systems and officially started operation in February 2009, but had no office and employees were working remotely at home. "It's one of the most important things once you have a business because it makes you truly legitimate," he said.
Angels and demons
In addition to the expert, on-site and on-demand professional services of Galvin, Roger Tuttle, a finance professional, and Alan Hauf, a marketing executive, the NH-ICC location at Pease International Tradeport also came with furniture, phone and networking communications already in place.
"It was a very good deal for us," Galvin said about the spacious location at Pease that has allowed the NH-ICC to change its game plan and bring in multiple tenants at an accelerated rate over the past few months.
One of the biggest changes for Galvin is spending less time mentoring and advising and more time fundraising, often with mixed success. The initial goal of a self-perpetuating $10 million fund has been downgraded significantly.
"I must say this is not a spectacular environment for anyone raising money," he said. "It's far, far tougher than I could ever have imagined."
Galvin said he knew raising investment fund money after the recession wasn't going to be a stroll in the park due to so many investors smarting from losses during the severe downturn, but figured the market had settled a bit. He said the NH-ICC investments, while not risk free, are more diversified and the organization does a rigorous vetting process that investors can access.
He said he didn't imagine he would run smack into a national trend of changes in the types and amount of venture capital funding. While there has been some growth in venture capital for early-state companies nationally, Galvin said his research has shown there has been almost zero funding in New Hampshire for the past 18 months.
A recently released study in angel investing by the UNH Center for Venture Research showed in the first half of 2010, the amount of total angel deals was slightly up nationally, but the amount of investment dollars was $8.5 billion, a decrease of 6.5 percent from the first half of 2009, showing fewer dollars invested per deal.
The number of investors also dropped by 11 percent during the same period. Galvin said his research has shown the lack of venture capital funding for early-stage companies in the aftermath of economic downturn has unleashed a "job-destroyer" phenomenon that is hampering economic growth in the state and nationally.
While companies in their first year create as many as 3 million jobs nationally, they begin to shed jobs at a rapid rate after that, due in large part to a lack of funding for future growth.
NH-ICC members Galvin said the current investment climate requires thinking outside the box and he's making a legislative push for a $50 million state-backed equity fund along similar lines to previous efforts in the 1990s. He said he is well aware of the difficulties of such a proposal given the state's budget deficit crisis, but believes this will be a financially smart investment to the long-term economic health of the state and be of little risk to taxpayers given the potential returns.
"I'm a free-market guy, but there's no end in sight for this in the near term," said Galvin, who is creating a comprehensive presentation to educate lawmakers and policy leaders on the situation. He said such a fund would be for statewide projects, not just those at NH-ICC.
In the meantime, Galvin is leveraging the more than $1 million he has been able to raise and has brought in more companies to utilize the NH-ICC model. He said the evolving formula will have the NH-ICC take equity stakes in these companies for its infrastructure and professional services. It's the type of win-win situation that he believes will help the NH-ICC reach the goal of being an entrepreneurial nerve center for the state.
In addition to Holase, there are a growing number of other companies setting up shop at the NH-ICC.
These include:
• GopherDeals.com, which leverages the viral nature of Web social networking for merchants and consumers by offering daily deals at local restaurants, boutiques, classes, entertainment and more in New Hampshire, Vermont and Maine.
• Nitro Networks is developing high-tech products for the boating community.
• PoKos Communications Corp. is creating a new mobile platform for smartphones that enables people to make new social connections by allowing brands to reach and enhance their interactions with targeted groups of consumers.
• Unified Office Dynamics, a startup developing a highly integrated, cloud-based IT platform in conjunction with resources at UNH. The goal is to free small businesses from having to deal with the complexities of communications and compute infrastructures.
Find out more about the NH-ICC at nh-icc.org.