Southern NH University reaches deal to run Daniel Webster College operations
All students, programs to be administered by SNHU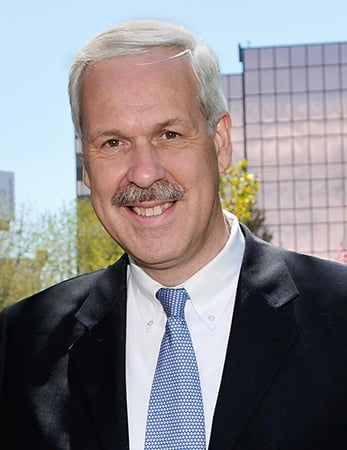 Southern New Hampshire University has reached a "teach-out" agreement with ITT Educational Services Inc. allowing it to absorb all of Daniel Webster College's students and continue running the Nashua school's programs and operations while retaining most staff and faculty.
Through the academic year, SNHU will license the Nashua campus property and hire all faculty as temporary employees until they are transitioned as regular staff, SNHU President Paul LeBlanc told NH Business Review. He said he expects to keep most of the staff because SNHU will continue all of Daniel Webster's programs.
Seniors with 90 credits from Daniel Webster will graduate with a Daniel Webster degree, said LeBlanc, while it will be determined on a case-by-case basis which college name will appear on the diploma of students with fewer than 90 credits.
In addition, all students will pay the lower Daniel Webster tuition for the academic year.
SNHU announced the agreement in a press release on Tuesday afternoon after receiving approval from the New England Association of Schools and Colleges and NH Commission on Higher Education.
By Friday, the college said, it hopes to receive approvals from the U.S. Department of Education to transfer Daniel Webster's programs to SNHU and allow SNHU to offer federal financial aid to students, LeBlanc said.
"The first priority has been trying to get the students their financial aid," said LeBlanc, who said he had been working all weekend with SNHU colleagues, a team from Daniel Webster, the NH Division of Higher Education executive committee and the New England Association of Schools and Colleges.
'An opportunity'
Last week, ITT, which acquired Daniel Webster in 2009, announced it would be closing all of campuses after the U.S. Department of Education imposed new regulatory restrictions and halted all federal financial aid to its students after ITT's accreditor said it was not in compliance. That left Daniel Webster with a Sept. 22 deadline to prove accreditation.
The U.S. agency and ITT began talking to several institutions, including SNHU about taking over the students and programs, said LeBlanc.
"ITT indicated to them we were their preferred partner in this because we were willing to take all of the programs in a turnkey way," said LeBlanc, who said other colleges wanted to continue only certain programs, complicating the transition.
"It's an opportunity to expand our programing. For a long time, we wanted to move more emphatically into STEM programs, including engineering, and Daniel Webster has some of those programs," said LeBlanc. "Our hope and aspiration is in some ways we can revitalize those programs and we have a special need for those graduates in the state; we're not producing enough engineers."
Around the clock
For now, LeBlanc and the SNHU team are focused on the transition, absorbing Daniel Webster's student and alumni records, staff payroll and other operational aspects, which will require the SNHU's team to work many weekends, he said.
"The agreement makes a special effort to ensure that Daniel Webster College students pay no more this year than they would have paid had they continued under ITT ownership, including preservation of all student financial aid and tuition pricing," said Ed McKay, director of the Division Higher Education. "Moreover, Southern New Hampshire University will not have access to tuition already paid to ITT, and will assume operating costs for the campus so SNHU is incurring substantial expense in assisting in this transition."
SNHU does not have an offer on the table for the Nashua campus, but it is interested, said LeBlanc, though that purchase would become more difficult if ITT files for bankruptcy, which it is expected to do, he said.
"Outside of the physical campus, there are no assets. There are no cash accounts. All of the cash flowed to ITT. All of the financial transactions are handled out of Indiana," said LeBlanc.
With the school year already begun, all parties involved worked around the clock over the last four days to reach an agreement in order to get students access to federal financial aid that, for off-campus students, also pays for rent and other living expenses, not to mention books.
"I was very pleased by the response of the higher education community in general and particularly the president of Daniel Webster College and his efforts to help secure a transition for his students, and Paul LeBlanc and the entire SNHU staff for their extraordinary efforts to put together an agreement in a short period of time," said MacKay.
"I'm not aware of an example remotely close to this," said MacKay, when asked if any prior college closing set a precedent for protocol. "Because of the time constraints and the pending loss of access to federal financial aid – literally we were informed at the end of last week the federal government would not release financial aid to Daniel Webster College students – it's a timeline I'm unaware has ever been matched in our history of higher education."
The next step is "the most important," said LeBlanc, because that involves "melding cultures."
"We have a lot of people down there, support staff, to answer student questions, parent questions," he said.