Solar installation firm to open second NH office
Maine-based ReVision Energy reveals plans to set up shop in Concord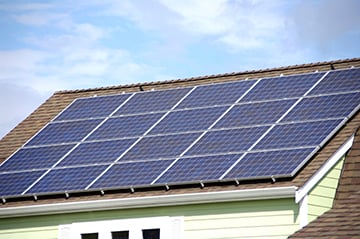 Maine-based ReVision Energy is opening a second New Hampshire office in Concord, this week.
The new office, with additional warehouse space, will allow the rooftop solar installation company to more efficiently service the Monadnock, Upper Valley and Franconia Notch areas, as well as Vermont, company officials said. It also provides a workspace for the sales and operations teams.
The office's proximity to the State House is critical as well, with Jack Ruderman – former director of the Sustainable Energy Division of the New Hampshire Public Utilities Commission – heading the government relations division of ReVision.
Last month, the New Hampshire House raided the Renewable Energy Fund in its proposed budget. Ruderman talked to NH Business Review about the consequences should the Senate do the same.
But should the state-funded energy incentives continue, ReVision Energy said it expects to add 50 new jobs in the area over the next three years.
Ruderman told NH Business Review that planning for the Concord office "predates the potential raid on the fund. It really is going to expand our reach … the further out that we are from the job, obviously, the higher the travel expenses, and crew time of course is really precious, so this will allow us to stage projects further west, further south, further north, really."
The new office reflects the increased competition and growth of the solar energy industry in New Hampshire. Last week, SolarCity, the nation's largest installer of residential solar energy systems, said it would soon be opening an office in Manchester and hiring as many as 100 people.
ReVision Energy already has an office with a showroom in Exeter, which employs 30 people. New Hampshire General Manager Dan Clapp said the smaller Concord office is located in a "clean tech hub," at the Community Development Finance Authority's building on Dixon Avenue, where the Jordan Institute and other renewable energy-focused entities reside.
"Also, a good amount of our additions in the last year are from the Concord area, so we felt it was prudent move," said Clapp. Some existing employees will operate out of the Concord office, but Clapp is currently hiring.
"We're gearing up to be the local designer and installer throughout the whole state so this is part of our bigger strategy," he says.