Sherilyn Burnett Young, 2019 Outstanding Woman in Business
Shareholder & President, Rath, Young and Pignatelli, P.C. in Concord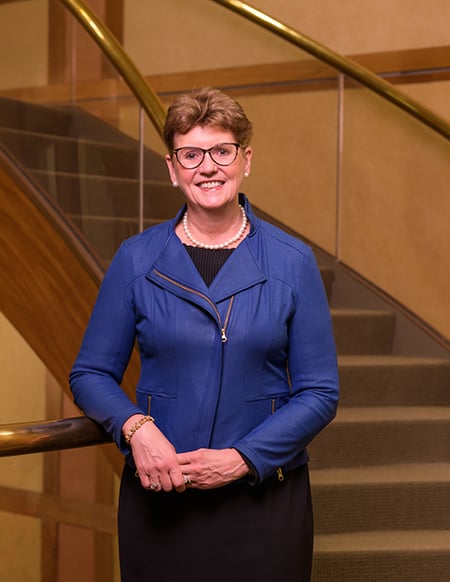 Sherry Burnett Young's business acumen and initiative has extended the reach of her firm across New Hampshire and beyond.
In the early days of Rath Young and Pignatelli, Young simultaneously worked two full-time positions, when then-Governor Judd Greg asked her to serve as his legislative counsel.
Her dedication to the formation of the new law firm required a significant balancing act, especially considering she had three children under the age of five.
Young went on to become an expert in environmental law and litigation as well as mergers and acquisitions.
She has advised Fortune 100 companies in toxic tort litigation. She has worked with a substantial electric generating facility on greenhouse gas emissions compliance. And she was the first woman to chair the State Capital Legal Group, a network of independent law firms in all state capitals and financial centers worldwide.
Q. How did you get involved in environmental law?
A. Honestly I started out in estates, trusts and tax and I thought that was an area I really loved. I had been a paralegal in New York doing estate and trust work and tax returns and I had taken a number of accounting courses to improve my skills in that regard. When I first started working at Orr and Reno, I was hired as an
estate and tax law attorney, but Superfund came along — the federal law affecting hazardous waste — and it spun out of people building houses over a waste dump and they started getting sick and the chemicals started oozing to the surface, and they realized they had a mess on their hands. The Superfund said legal or not, you are going to be responsible for the cleanup from cradle to grave, and that was a brand new approach to hazardous waste and it sparked a number of hazardous waste sites in New Hampshire and across the country.
Q. What was it like getting involved in environmental law at that time?
A. Nobody had experience in that and I got lucky. As a young associate working with Tom Rath on those cases, it grew into a fairly massive area of practice for us. It just ballooned in the '90s. I can't say I loved environmental law, but I sure loved it once I got involved in it. And part of it was determining how it was going to be interpreted in the court, and advising clients on a brand new case laws where we had no examples to guide us.
Q. How did you manage to balance raising a family while working in multiple roles and volunteering?
A. I think it's still as much of a challenge today as it was when my kids were young and I was working full time. You have to prioritize what's most important to you. You have to be happy to be a part of something and being good enough and not worrying about being perfect because it will drive you crazy. And then I had a husband who was very involved in the domestic side with the kids and he was an equal partner with everything and he was probably more than equal in a lot of situations. For seven years, from middle school to high school, he was home and was able to take care of the kids. I think he was extraordinarily supportive of me and what we were trying to accomplish. Starting a new firm, he was proud of that, and he was one of those confident guys who didn't feel diminished or challenged by staying home and taking care of the kids; he thrived on it and the whole family did. I was lucky. It was not a typical thing for the dad and the husband to do back then.
Q. Why is your law firm so accommodating of employees with families?
A. We've tried really hard to be a family-friendly company. It started right off, first of all, with me with three little kids when we opened the firm, and Tom Rath had two young children and Michael Pignatelli had two young children. We had families and we were determined to give employees the choice to be parents first and professionals second, understanding you must know where that balance is and to make it work. We give them trust and time to structure their work life around what's required for their home life.