Shelter, Manchester tech firm get creative to help animals in need of homes
'Cash Stash' campaign begins Thursday in Manchester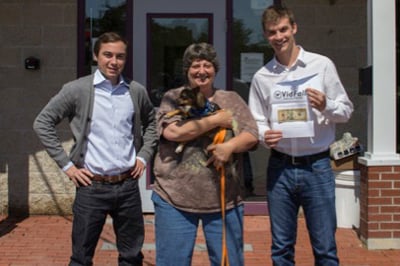 How do you get people involved in raising awareness about pooches that need a good home? Well, giving away money isn't a bad start.
From Thursday, Sept. 18, through Friday, Sept. 19, VidFall.com, an auction website for goods, services and travel, will show video clues pointing to big cash prizes hidden around Manchester. The cash prizes are in envelopes that include the image, name and story of a currently adoptable shelter pet at the Manchester Animal Shelter.
Whoever finds the cash prize will be encouraged to share the animal's picture and story on Facebook to spread the word and help get that animal adopted. VidFall.com also pledges to match the cash prizes associated with the shared images in the form of a donation to the Manchester Animal Shelter.
While classified as an auction site, VidFall.com users don't outbid each other on products and services, but instead compete for discounted goods. Prices on goods fall as users watch sponsored videos on the website. Each time a user watches a video advertisement, VidFall.com uses all of the money advertisers pay them and applies it toward discounting a retail item. The more people watching the videos, the more the price falls, with the first person who decides to buy getting the entire group discount.
As users watch the video clues on where the cash is stashed, VidFall.com will also provide discounts for gift cards and products from Manchester area businesses like Bellman's Jewelers and the Puritan Backroom.
"We wanted to do something in Manchester that generated a ton of community engagement, but also benefited a great cause like the Manchester Animal Shelter," said Joel Robinson, founder of VidFall.com. "As an auction website, we rely entirely on the engagement of our company's online community and we're thrilled to be able to generate this level of engagement and excitement in our home town."
Shelley Greenglass, director of the Manchester Animal Shelter, is excited about the campaign. "We have so many animals here at the shelter that still need their forever homes," said Greenglass, "and it's exciting to see the shelter use new technology to help promote our cause and get animals adopted."
Participants can receive email alerts with hints by signing up at https://vidfall.com/cash. Additional hints can also be found on VidFall.com's Twitter and Facebook pages.