Shaines & McEachern: quality legal services, high ethical standards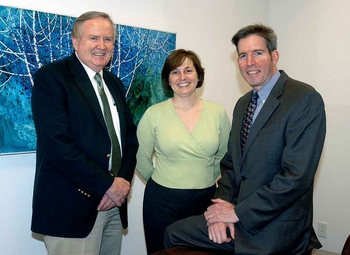 Founded by Robert A. Shaines and Fred J. Madrigan in 1960, the firm of Shaines & Madrigan began with a team of six employees and a pledge to deliver quality legal services with the highest of ethical standards to every client.
In 1966, Paul McEachern joined the firm, and after the retirement of Fred Madrigan, the firm was renamed Shaines & McEachern.
The firm has offices in Portsmouth – it recently moved into new offices at 282 Corporate Drive in the Pease International Tradeport — and Kittery, Maine. Its 10 practiced attorneys are engaged in the general practice of law, with license to practice law in New Hampshire, Maine and Massachusetts, as well as U.S. District Courts, U.S. Courts of Appeal and the U.S. Supreme Court.
Assisted by a team of skilled paralegals and support staff, the firm's attorneys serve clients in areas including banking, bankruptcy, business and corporate law, commercial lending, custody and guardianship, divorce, elder law, employment law, litigation, municipal law, personal injury, probate and estate planning, real estate, tax and trust and workers' compensation.
Over more than 40 years, Shaines & McEachern has taken pride in providing quality legal services at reasonable cost and looks forward to the continued success of its clients.
For more information, visit shaines.com or call 603-436-4110.